| | |
| --- | --- |
| | Newswatch |
---
Makaha bridge reopens after fire
The Makaha bridge near Kili Drive re-opened to traffic and pedestrians yesterday at 7 p.m. after a fire closed it last week.
Traffic will be contra-flowed for light vehicles, while the other lane will be used for pedestrians. Heavier vehicles should take the detour through Makaha Valley Road, through Kili Drive and back on to Farrington Highway.
Additional work will continue for the next two weeks to prepare for heavier vehicles.
California Boy Scouts get help after theft
Donations poured in yesterday to help the Boy Scouts from California, whose belongings valued at $2,500 were stolen from their van while they were eating lunch in Waimanalo on Friday.
Various visitor attractions, including the Polynesian Cultural Center, Bishop Museum and Dole Plantation, offered free admission to the scouts from San Jose, said Jessica Rich, president of Visitor Aloha Society of Hawaii. They even enjoyed a free lunch at Rainbow Drive-Inn.
These donations came after Rich asked for help this week from the public and from places the troop was scheduled to visit.
Rich plans to present disposable cameras, four backpacks and $2,700 to the troop tonight from donations received. The First Hawaiian Bank Foundation donated $2,500.
The 11 boys and their five leaders helped clean up Bellows Beach Park immediately after the theft. They will continue their cleanups today.
Swimmers warned to avoid Kauai bay
LIHUE » Runoff from heavy rain on the Garden Isle has prompted health officials to warn surfers and swimmers to stay out of Kalapaki Bay and other areas.
Almost 4 inches of rain has fallen since Monday morning in the Lihue area, according to National Weather Service rain gauges. And the water runoff has led to high bacteria counts at Kalapaki Beach, a popular surfing area in Nawiliwili Harbor, according to clean water officials on Kauai.
Officials urge that swimmers and surfers stay out of the water, as it may contain chemicals and pollutants from overflowing cesspools, manholes and storm drains.
Cause of camp illness being investigated
The state Department of Health continues to investigate why 30 teachers and staff members from Waialua Middle and High schools became sick last week during a retreat to Camp H.R. Erdman, a YWCA camp on the North Shore.
"We have taken samples and expect to get some results later this week," a department spokesman said.
"Everybody has recovered." Waialua Principal Valerie Kardash said yesterday.
Kardash said about 30 middle and high school staff members fell sick during a "team building" retreat held at the camp Wednesday before the opening of school Friday.
She advised that parents of students should not be concerned about illness because the Health Department arrived and scrubbed surfaces inside the school with a bleach solution before the first day of classes.
Kardash said people became sick between Wednesday and Friday with symptoms including vomiting, diarrhea, fever and body aches.
"Everyone was on such a high from the team-building activity (at the camp), despite the sickness. And everyone pitched in on Friday for those who were too sick to come to school," said Kardash, who was among the sick.
---
SHINING STARS
---
Graphic Arts chapter honors 6 students
The
American Institute of Graphic Arts Honolulu Chapter
recognized six high school students for their winning design entries in its AIGA/SkillsUSA Workshop Contest. HMSA will use the posters to educate residents about eating and exercising.
For Healthy Eating posters, Brandon Hoo of Mililani High School won first place; Teresa Pined of King Kekaulike High School, second; and Courtney Ro of Mililani High School, third.
For the exercise posters, Krystyn Fujimoto of Mililani won first; Gabriel Yanagihara of King Kekaulike, second; and Leanne Sakamoto of Mililani, third.
---
Wayne Fanning, band director at Niu Valley Middle School, was voted into the American School Band Directors Association at its annual convention in Colorado Springs.
---
The Hawaii Children's Cancer Foundation elected John L. Lederer, M.D., president; Dale F. Saito, vice-president/president-elect; Tracy Aiwohi, vice-president in charge of programs; Lynette Adams, secretary; and Mitchell Kaai'ali'i, treasurer. Diane T. Ono becomes the immediate past president; and Robert Wilkinson, M.D., will serve as president emeritus. New directors include Don Murphy and Kendis Teho.
---
M.P. "Andy" Anderson, CEO of Hina Mauka, received the Advocate for Recovery Award from the Hawaii Society for Addiction Medicine.
Hina Mauka, which serves adolescents and adults at 23 sites on Oahu, Kauai and Maui, provides prevention, treatment and recovery services to those touched by alcoholism, chemical dependency and related problems.
---
The Honolulu Chapter of Executive Women International gave its 2006 Adult Students in Scholastic Transition Program scholarships to college students Gloria Tumbaga, first place, $3,000; Florentina Kobuke, second, $2,000; and Rachel Kekaula and Justine Kauhane, third, $1,500 each. Tumbaga also won an additional $2,500 for the EWI National Scholarship Program. Finalists were awarded $1,000 each. They included Tara Reed, Jennifer Cilfone, Sonia Wah Yick and Leilani Bumanglag. A special $1,000 award was given to Skye Grahovac for winning the essay award.
---
Diamond Tachera of the Education Laboratory School received a science award from the United States Achievement Academy and will appear in its annual national yearbook.
---
"Shining Stars" runs Sunday through Thursday.
| | |
| --- | --- |
| | Police, Fire, Courts |
---
FIRE DESTROYS BEACHFRONT HOME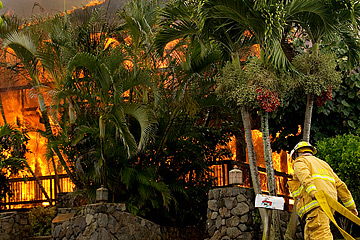 NEIGHBOR ISLANDS
Teen killed in Big Isle car crash identified
Big Island police have identified a 17-year-old South Kohala boy who died in a car crash Saturday as Caleb Mahi of Waikoloa.
Police said prior to 10:23 p.m., Mahi was traveling north on Route 190 when his car crossed the center line, ran off the left side of the road and overturned. Investigators said they are uncertain what time the crash occurred and that it may have been several hours before Mahi was found.
Mahi was taken to Kona Community Hospital, where he was pronounced dead at 2:16 p.m. Investigators said it appears Mahi was not wearing his seat belt.
This is the 20th traffic fatality on the Big Island this year, compared with 19 at this time last year.
Suspects sought in theft of equipment
Big Island police are looking for thieves who stole a truck and heavy equipment worth about $35,000 from a Kona pool construction company last week.
Police said the thief or thieves entered a gated baseyard on Hoomaluhia Place off Alii Drive in the early-morning hours of July 26 and removed a white 1993 Toyota pickup truck with the license plate 350 HDD, a bright red 8-by-24-foot Big Tex car trailer, a green John Deere riding mower, a red Honda generator, Makita grinders, various Dewalt cordless drills and assorted hand tools specific to concrete work.
Police ask anyone with information about the stolen items or the person or persons who took them to call the Kealakehe police station at 326-4646, ext. 253, or CrimeStoppers at 961-8300 in Hilo, or 329-8181 in Kona.
HONOLULU
Man arrested after girl's sex assault
Police arrested a 26-year-old man who allegedly sexually assaulted a 4-year-old girl Monday.
Police said the incident happened between 8:30 and 9 a.m. at Hickam Air Force Base and that the suspect is a family friend of the victim.
Police arrested the suspect Monday for investigation of first-degree sexual assault.
WAIKIKI
19-year-old allegedly breaks into hotel
Police arrested a 19-year-old man who allegedly broke into a Waikiki hotel room Monday morning.
The man allegedly shattered the window of a 25-year-old man's room at a hotel on Ala Wai Boulevard at 4:19 a.m., police said.
Police said the broken glass fell to the street.
At the time of the break-in, the hotel guest was out of the room, police said.
Hotel security officers notified police of the illegal entry. Arriving officers caught the suspect allegedly inside the hotel room.
---
[THE COURTS]
Attack was allegedly gang-related in Kalihi
Four alleged members of a gang from Kalihi Valley Housing apparently beat up a group of adult corrections officers in an apparent case of mistaken identity, prosecutors said.
An Oahu grand jury indicted Gerret S. Siamani, Laupo Kivaha, Emanuel Paita and Logovae Afuola yesterday for second-degree assault and first-degree terroristic threatening in connection with the June 21 attack at Lanakila Park in Kalihi.
According to prosecutors, the males are members of East Side Pyru and they apparently attacked a group they believed to be members of another gang with wooden sticks and bats, causing substantial bodily injury, said Deputy Prosecutor Vickie Kapp. The assault apparently was unprovoked, she said.
Siamani was charged with second-degree assault. Bail was set at $20,000. Kivaha was charged with second-degree assault and first-degree terroristic threatening with bail set at $15,000.
Paita was charged with second-degree assault. Bail was set at $11,000. Afuola was charged with first-degree terroristic threatening. Bail was set at $15,000.
Judge increases bail in sex-assault case
A state judge increased bail to $150,000 from $75,000 for a man who allegedly stalked and harassed his ex-girlfriend, then broke into her home and raped her.
An Oahu grand jury indicted Kendall Kaipo Kam yesterday with first-degree burglary, first-degree sexual assault and harassment by stalking.
According to prosecutors, Kam repeatedly harassed her on the phone or in person beginning from late June until the end of July.
On July 19, he allegedly broke into her home after her mother had left for work and raped her while her 4-year-old son was also home.