---
FAST FACTS HAWAII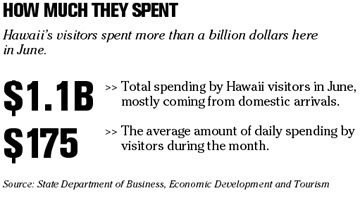 ---
HAWAII
Hawaii hotels fullest in nation
Hawaii's hotel room rates and total revenues both set records in the first half of this year, with the statewide average daily rate jumping 13.4 percent to $183.48, second in the nation only to New York, according to a new report.
The islands also had the honor of having the fullest hotel rooms in the country during the first six months of 2006, with average occupancy of 80.9 percent, edging out New York's 80.7 percent, according to the report released yesterday by Honolulu firm Hospitality Advisors LLC.
Hotel occupancy in the islands was actually down a hair from 81 percent occupancy in the first half of 2005. The report notes that the state's supply of hotel rooms dwindled by 3.1 percent during the period, and demand for rooms fell by a similar amount.
The survey, compiled by Smith Travel Research, included 139 hotels representing 77.4 percent of all lodging properties in the state with 20 rooms or more.
Shidler sells California buildings
The
Shidler Group
, in partnership with
Angelo, Gordon & Co.
, has sold an 18-building portfolio offering more than 1 million square feet of space in Southern California for $209 million.
Shidler acquired the portfolio for $138.5 million in 2004, and said it invested more than $6 million in improvements.
Broadreach Capital Partners, a Palo Alto, Calif.-based private equity firm that invests in commercial real estate, is the buyer.
The 18 buildings, most of which are in the greater Los Angeles region, stretch from Artesia, Calif., to San Diego.
Oceanit wins $25.9 million contract
Oceanit Laboratories Inc.
of Honolulu has been awarded a five-year, $25.9 million contract to develop an advanced missile sensing system for the U.S. Department of Defense's Missile Defense Agency.
The work will be done primarily at Oceanit Laboratories offices in Kauai, with additional work in Goleta, Calif., the agency said. The contract runs through June 2011.
$29 fare triples carrier's bookings
Mesa Air Group Inc.
's new interisland airline, go!, said it has tripled its bookings since unveiling a $29 one-way fare last weekend.
Under the new fare, which both Hawaiian Airlines and Aloha Airlines matched, tickets have to be purchased by today for travel through Sept. 30.
Jonathan Ornstein, chairman and chief executive of Mesa, said yesterday that accusations that Mesa is "dumping on the market" is incorrect. He said Mesa's local competitors seem to be ignoring the fact that go! has fares from $39 to $79 and that go! doesn't sell all its tickets at the lowest prices.
"What we're doing is attracting people to our Web site," he said. "If you can assume we would run the same load factors (percentage of seats filled) on larger aircraft as we develop our business further at these fare levels, we could make money. We're close to that right now, and that blows us away."
HTA to fund Hawaiian culture
The Hawaii Tourism Authority, the state agency responsible for overseeing the visitor industry, is seeking proposals to meet the requirements of its Hawaiian Culture Program.
The program supports initiatives that honor and perpetuate the Hawaiian culture and community as outlined in Hawaii's tourism strategic plan. The deadline for submitting final proposals to the HTA is Sept. 15.
The application and information packets are available for download on the HTA's Web site at www.hawaiitourismauthority.org. Call 973-2258 for more information.
Local firm wins key certification
Honolulu-based
Commercial Data Systems
has earned a HUBZone certification from the U.S. Small Business Administration that will help broaden the company's services and give it a competitive edge in applying for federal jobs.
The HUBZone program promotes economic development and employment growth in distressed areas by providing access to more federal contracts. Certified businesses must meet criteria including being located in a "historically underutilized business zone."
[HAWAII INC.]
NEW JOBS
»
American Savings Bank
has hired
Susan Lai Young
as financial consultant in its financial services group. She will be responsible for serving customers primarily in the Kahala/Aina Haina area. She has over 10 years of banking and investment experience.
» Maui Divers Jewelry has appointed Lori Okawa-Alvarez human resources director. She has several years of human resources experience with companies such as Fairfield Resorts, Chaney Brooks & Co., the Marriott Ihilani Resort and Spa, and Macy's.
» Goodsill Anderson Quinn & Stifel LLP has appointed H. Gregory Nasky a partner and hired Robert G. Stevens as chief operating officer. Nasky most recently served as an of counsel to the Las Vegas firm of Kummer Kaempfer Bonner Renshaw & Ferrario. Stevens most recently served as executive director for Ogden Murphy Wallace in Seattle.
>> First Hawaiian Bank has appointed Donn Natori and Marvin Yee to the bank's private advisory services division. Natori will help individuals with their insurance needs as part of their financial goals. He has over 18 years of insurance and investment experience. Yee will help employers with group and cafeteria plans for their employees. He has over 16 years of experience in insurance and Worksite products.
» The Waikiki Health Center has appointed Linda Ross chief financial officer. Ross previously served as vice president and CFO of Easter Seals Hawaii. Ross has over 25 years of financial management experience.
» Dixie Grill has appointed a general manager for its Ward Avenue location and two assistant managers for its Aiea location. Scott D. MacKenzie has been appointed Ward Avenue general manager. He previously served as general manager of food concessions for Scotty's Barbecue Shack. Cindy Morales and Renee Puckett have been appointed assistant managers for the Aiea location. Morales has worked for the company for four years. Puckett previously managed B.D.'s Mongolian BBQ in Traverse City, Mich.
» Pleasant Holidays has hired Bruce Rosenberg as senior vice president, sales and marketing. He will be responsible for the sales, marketing and Internet departments. He has over 22 years of senior management experience in the travel industry.
» Benchmark Hospitality has appointed Warren Martinez as the Turtle Bay Resort's controller. He previously served as the Fairmont Kea Lani Maui's assistant controller.
AWARDS
» Heald College has awarded
Gerald Sparks
its outstanding instructor award. He teaches a wide range of subjects such as management, law, sales and marketing, humanities, and professional development. He has worked for the college's Honolulu campus since 1988.
---
BUSINESS PULSE