---
FAST FACTS HAWAII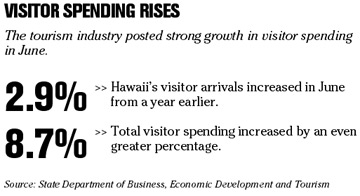 ---
HAWAII
Honolulu lawyer wins national women's achievement award
Ellen Godbey Carson of Honolulu has been selected as one of five lawyers in the United States to receive the 2006 Margaret Brent Women Lawyers of Achievement Award from the American Bar Association's Commission on Women in the Profession.
A director with Alston Hunt Floyd & Ing, Carson has fought to change discriminatory policies of private clubs, ensure the religious rights of inmates in prison and prevent discrimination against families with children.
Named for the first woman lawyer in America, the Margaret Brent Women Lawyers of Achievement Award honors female lawyers who have achieved professional excellence in their area of specialty and have actively paved the way to success for others.
The award ceremony luncheon will take place in Honolulu on Sunday during the ABA Annual Meeting.
NATION
Northwest, union head for brawl
MINNEAPOLIS >>
Northwest Airlines Corp.
remains at contract loggerheads with its flight attendants union, an impasse that could lead to random work actions against the carrier and complicate its bankruptcy reorganization.
Northwest said a strike -- which could spook travelers and send them to rival airlines -- would be illegal and that it would seek a court order to block one. The Association of Flight Attendants pledged to give 15 days' notice before any strike.
The sparring came yesterday after the airline's 9,300 flight attendants rejected a wage-cutting contract.
Northwest has sought $1.4 billion in annual labor savings as it reorganizes under Chapter 11 of the bankruptcy code. Flight attendants are the last union at Eagan-based Northwest, the nation's fifth-largest carrier by the standard industry measure, without a wage-cutting contract. But the airline's deals with pilots and ground workers don't take effect until there's a new contract for flight attendants, too.
McAfee security software flawed
SAN FRANCISCO » Consumer versions of
McAfee Inc.
's leading software for securing PCs is susceptible to a flaw that can expose passwords and other sensitive information stored on personal computers, researchers said yesterday.
The vulnerability affects many of McAfee's most popular consumer products, including its Internet Security Suite, SpamKiller, Privacy Service and Virus Scan Plus titles, said Marc Maiffret, chief hacking officer at eEye Digital Security Inc., a competing maker of security products.
McAfee spokeswoman Siobhan MacDermott confirmed the vulnerability and said software engineers were testing a fix. She said officials expected to release the patch Wednesday using a feature that automatically updates McAfee products over the Internet. The flaw does not affect 2007 versions of McAfee products, which were released Saturday, she said.
Maiffret said he has found a way to connect to PCs running the flawed McAfee products over the Internet and make them run code of his choosing. The flaw, if exploited, would make it possible for a criminal to track bank account numbers, and access, modify and delete sensitive files and do other damage on machines running the McAfee products, he said.
Web gambling CEO pleads not guilty
ST. LOUIS » The former chief executive of one of the world's largest online gambling companies,
BetOnSports
, will remain in federal custody after pleading not guilty yesterday to charges of mail and wire fraud and racketeering.
Ex-Qwest CEO wants trial moved for family
DENVER » Former
Qwest
CEO Joe Nacchio is asking that his insider trading trial be moved from Denver to New Jersey partly so his family could attend the insider trading trial.
"Mr. Nacchio is widely presumed to be guilty," his attorneys wrote in their change of venue request filed yesterday, the day U.S. District Judge Edward Nottingham set as a deadline for filing a motion.
Nacchio's attorneys said the price decline of Qwest stock, layoffs, losses to the pension plan, along with media coverage of numerous civil lawsuits, including one by the Securities Exchange Commission, would make it difficult to get an impartial jury.
Nacchio is charged with 42 counts of insider trading, accused of selling $101 million in stock in 2001 based on inside knowledge that Qwest Communications International Inc. would be unable to meet targets because it had improperly used nonrecurring revenue to meet those goals.
WORLD
India's sugar exports may triple after move
India, the world's second-biggest sugar producer, may triple exports in the year starting in October after record harvest prompts the government to lift a ban on overseas shipments of the sweetener.
Exports of refined, or white, sugar may rise to 3 million metric tons next year from an estimated 1 million tons this year, Prakash Naiknavare, managing director of Maharashtra State Co-Operative Sugar Factories Ltd. and Atul Chaturvedi, president of Adani Exports Ltd., a commodities trader based in Ahmedabad in western India, said yesterday.
Increased output in India, which consumes 13 percent of the world's sugar, may likely extend last month's 6 percent drop in white sugar prices in London. India may have a record harvest this year as farmers planted more sugar cane after global sugar prices rose by more than half in the past year.
---
BUSINESS PULSE