Detour for Makaha bridge will continue
A fire has made the structure unsafe until repairs can be made
Some Makaha residents were upset to learn a fire-damaged bridge on Farrington Highway will remain closed next week and traffic will continue to be rerouted through residential areas.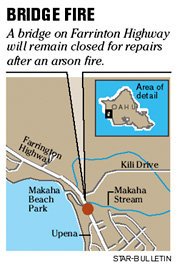 "It takes like seven minutes when you go through it," resident Henry Kong said of the detour. "What if get one emergency?"
Thursday's arson fire on the bridge near Kili Drive forced traffic officials to detour motorists through Makaha Valley Road, Kili Drive and back onto the highway.
"I know cannot help, but with school starting, going get so much traffic," said Jan Soon. Soon said she has to leave earlier than usual to take her two children to school because of the detour.
State transportation officials further inspected the bridge yesterday by driving empty dump trucks across it and conducting structural tests.
Additional repairs will be made, including replacing the wooden pedestrian sidewalk and making repairs underneath the bridge, which had the most damage.
"This is a slight inconvenience, but we're just playing it safe before opening the bridge up to traffic, especially after the beating it took," said Department of Transportation spokesman Scott Ishikawa.
He advised motorists to use caution while driving through the residential areas.
The bridge will be reopened to cars and light trucks sometime next week. Buses and trucks must take the detour into Makaha Valley until after additional repairs are made, according to Ishikawa.
As for emergency vehicles, city Emergency Medical Services Department spokesman Bryan Cheplic said the department does not expect the detour to affect response times.