Radar shows missing plane's rapid descent
A single-engine Cessna aircraft was rapidly losing altitude just before it disappeared over the ocean off Molokai's Kalaupapa Peninsula on Thursday night with two men on board, according to recorded Navy radar data.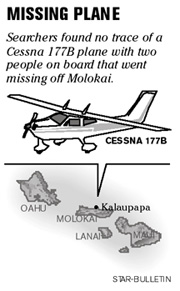 In the span of just over a half-minute, the aircraft went from a flying altitude of 5,100 feet to 3,700 feet 12 seconds later, to 1,400 feet another 12 seconds later, then to 200 feet after another 12 second interval, Nicole Charnon, National Transportation Safety Board investigator, said yesterday.
"I think it's pretty fair to say, once you do the calculation, that was a pretty rapid descent," she said.
The Cessna 177B is owned by Anderson Aviation Inc., a professional flight training school near Honolulu Airport. Owner Kelly Anderson said a commercial pilot and a commercial pilot student were aboard the plane. The company did not release the names of the pilot and student pending notification of their families.
According to the pilot's flight record, Anderson hired the pilot as an instructor in May 2004, Charnon said.
The U.S. Coast Guard suspended the search for the aircraft yesterday afternoon due to rough seas. Coast Guard officials were to determine whether they will resume the search this morning.
Even though searchers have not found any trace of the missing plane or occupants, Charnon said the NTSB is proceeding as it would for an accident. In addition to the radar data, Charnon collected the aircraft's maintenance record and pilot's flight record from Anderson.
The Cessna last appeared on radar at 8:54 p.m. Charnon said the plane's location was about five miles east of Kalaupapa Peninsula and about a mile off shore, she said.
The plane had been traveling east, turned south five to six miles past Kalaupapa Peninsula then started its rapid descent, Charnon said.
A witness, Jesse Broder Van Dyke, called 911 to report seeing a plane in distress and hearing a crash.
"All of a sudden out of the clouds, we saw some orange and red lights," Van Dyke told KHON-TV. "We heard a whirring engine noise as it wobbled and dropped. It disappeared behind the point and a couple seconds later, we heard what sounded like a crash into the ocean."
Allen Kenitzer, Federal Aviation Administration regional public affairs spokesman, said the pilot did not file a flight plan. But officials believe he was headed for Hana.
Charnon said the pilot received a weather briefing for Honolulu to Hana from the Honolulu flight service station. She said the pilot was training the student in a commercial pilot course that would eventually enable him to do flight instruction and charter flights.
She said it is not unusual for the pilot to take his student for a night flight because the course has a nighttime cross-country requirement. If they were on a cross-country night flight, they would have landed in Hana, she said.
The aircraft left Honolulu about 8 p.m., said Scott Ishikawa, state Department of Transportation spokesman. At 9:15 p.m. an airplane was reported down off Kalaupapa, he said.
Initial reports indicate the first call came from an air traffic control tower that noticed on radar that the aircraft was descending, Charnon said.
The air traffic control tower contacted a Continental Airlines flight that was able to make radio contact with the Cessna, but the plane kept descending and disappeared from the radar screen, she said.
A Coast Guard HH-65 Dolphin helicopter and C-130 aircraft from Barbers Point started the search Thursday night using night-vision equipment. They were joined yesterday by the cutter Ahi, a 47-foot motor lifeboat from the Coast Guard Station Maui and crews from Maui County Fire Department.
Their search area spanned 10 miles east and west of Kalaupapa Peninsula and six miles out.
---
The Associated Press contributed to this report.
---
BACK TO TOP
|
Plane crashes in Hawaii
A list of Hawaii plane crashes since 2002.

June 8, 2006 » A twin-engine Piper Seminole being ferried to Australia crashes in the ocean 535 miles northeast of Hilo after the plane developed engine trouble. The pilot and co-pilot survive and are picked up by a container ship.

April 30, 2006 » A Hawaii Tora Flight Adventures twin-engine Partenavia P68 Observer, carrying four passengers and a pilot, crashes shortly after takeoff from a grass runway at a private ranch in west Molokai. The four passengers are hospitalized after the crash.

March 8, 2006 » A Hawaii Air Ambulance Cessna 414A crashes in a BMW car lot in Kahului, killing pilot Peter Miller and two medical personnel, Marlena Yomes and Brien Eisaman.

Dec. 15, 2005 » Alan Gerow, a 58-year-old Salt Lake City businessman, dies when the rented, single-engine Cessna 172S he was piloting crashes in a forest reserve mauka of Hana Airport.

April 6, 2005 » A Soar Hawaii Sailplanes Schweizer SGS 2-32 glider crashes in the mountains above Mokuleia. Pilot Tyler Nelson is killed, but two passengers survive with just scrapes and bruises.

Feb. 6, 2005 » A rented single-engine Cessna 152 crash-lands in an east Maui pasture. Student pilot Jeffrey Marsh was en route to Kahului from Hana when he reported engine problems. Marsh was not injured.

Oct. 17, 2004 » A twin-engine Cessna 310 crashes into the western slope of Haleakala at the 3,700-foot level on pasture land owned by talk show host Oprah Winfrey. Ward M. Mareels, the pilot and sole occupant of the plane, is killed.

April 18, 2004 » The pilot and two passengers suffer serious burns when an Island Hoppers single-engine Piper Warrior tour plane crashes near Milolii on the Big Island.

Feb. 18, 2004 » A Piper PA-31 Navajo crashes just short of the runway at Kahului airport after the right engine of the twin-engine airplane failed while being ferried to Canada from Australia. The pilot, Alan Walls, survives.

Jan. 31, 2004 » A Hawaii Air Ambulance Cessna 414A crashes in a forested area at the 3,600-foot elevation of Mauna Kea, 22 miles northwest of Hilo. Killed in the crash are pilot Ron Laubacher and paramedics Mandy Shiraki and Daniel Villaros.

Jan. 18, 2004 » A home-built plane crashes into the ocean about 25 miles southeast of Lihue. Pilot Bob Justman survives the crash of the Van's Aircraft RV-8 single engine aircraft.

Nov. 16, 2003 » Pilot William Swears survives the crash of his home-built Cozy III plane in the ocean 94 miles northeast of Maui.

Jan. 25, 2003 » Chezray Hayes, a 17-year-old student pilot on his first solo flight, dies when his single-engine Cessna crashes into the west side of Manuahi Ridge near Pelekunu Valley on Molokai.

July 13, 2002 » Maui businessman Stephen Betsill and three passengers -- Jerry Betsill, 11-year-old Emma Betsill and 10-year-old Merideth Fenimore -- die when his single-engine Cessna Cardinal 177 crashed 200 yards mauka of Hana Highway near the 26.4-mile marker in Nahiku.