The Bloomberg /
Star-Bulletin Index
---
Hoku bounces back
Hoku Scientific Inc.
, which last week posted an 8.2 percent drop in fiscal first-quarter earnings, jumped 10.4 percent this week to highlight performances in the Bloomberg Honolulu Star-Bulletin index. The Kapolei-based fuel-cell technology developer closed yesterday at $2.98 after hitting an all-time low of $2.60 on Tuesday.
Mera Pharmaceuticals Inc. led the way with a 33.3 percent gain to 1.2 cents.
Central Pacific Financial Corp. was last as it fell 7.5 percent to $35.51 after its second-quarter earnings fell 2 cents short of analysts' estimates.
The Bloomberg / Star-Bulletin Index is a price-weighted index designed to measure the performance of Hawaii-based companies. The index was developed with a base value of 100 as of December 31, 1999. A chart of the index which shows the weekly performance of its members is published weekly in the Honolulu Star-Bulletin.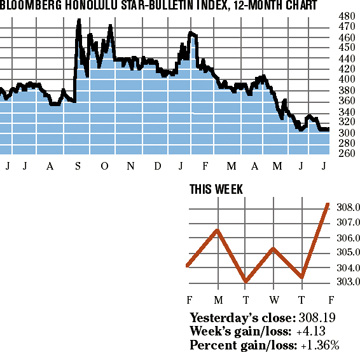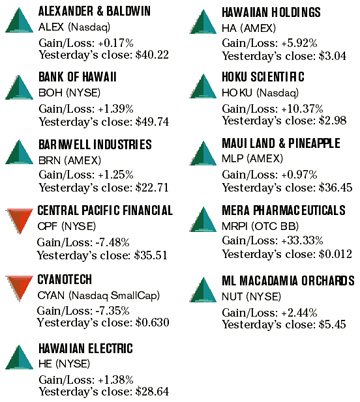 SOURCE: BLOOMBERG NEWS / STAR-BULLETIN GRAPHIC