---
FAST FACTS HAWAII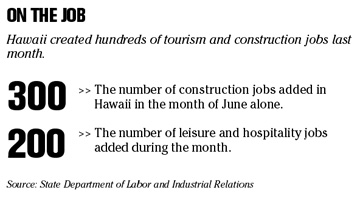 ---
HAWAII
New-home sales drop on Oahu
Sales of new homes on Oahu fell by about a quarter in the first half of this year from a year earlier as developers struggle to unload increased inventory and consumers grapple with rising prices.
Buyers entered into 838 sales contracts for new homes and condominiums in the first half of 2006 -- a 26 percent decrease, according to an update compiled by Ricky Cassiday for Central Pacific HomeLoans.
High-rise condominiums have enjoyed strong demand, but single-family sales are slowing due to a lack of inventory and high prices, Cassiday said.
Buyers paid $246,203 more for their units this year than last year, bringing the average price of new inventory to $645,950, he said.
Honolulu Harbor to get pilot vessel
A new pilot vessel will be commissioned and ready to serve as a back-up boat on Tuesday to manage increasing congestion at Honolulu Harbor.
Ship pilots help captains of cargo vessels, oil tankers and other freight ships navigate safely into Hawaii's harbors. Pilot boats are used to transport pilots to vessels calling at harbors.
The vessel, designed by Naiad Design Ltd. and built by Reliance Engineering, both of New Zealand, is the latest addition in the Hawaii Pilots Association replacement program that began in 2002. HPA will retire one of its older boats and donate it to Honolulu Community College's Marine Education & Training Center on Sand Island.
The new vessel is called "Kawika" in honor of the late Capt. David Lyman, a ship pilot.
A&B's stock rises 1% on earnings
Even though
Alexander & Baldwin Inc.
's earnings beat Wall Street's consensus expectation by a whopping 19 cents per share yesterday, investors didn't exactly cheer on A&B's shares.
The company's stock closed up 40 cents at $40.22 yesterday, a rise of 1 percent.
A&B's earnings of 68 cents per share was 35 percent higher than the Wall Street consensus of 49 cents. The company's net income of $30.2 million was up 3 percent compared with the same quarter a year earlier.
Executives attributed A&B's solid quarter to improved results from A&B's real estate, food products and logistics segments, which offset lower operating profit in its ocean transportation division.
NATION
Tower Records up for sale again
SACRAMENTO, Calif. »
Tower Records
named a new chief executive yesterday -- its third management change in four years -- and publicly acknowledged that it's for sale again.
Joseph L. D'Amico, a Chicago consultant who specializes in troubled companies, became the newest leader of the West Sacramento-based music retailer. Tower said D'Amico is an interim CEO whose "main objective" is to sell the company, which is 85 percent owned by its bondholders.
He replaces Allen Rodriguez, a former broadcasting executive who was Tower's CEO for three years and led the company in and out of bankruptcy in 2004.
Tower said Rodriguez chose not to renew his contract, which expires at the end of this month. He couldn't be reached for comment.
Resolution near in Topps battle
A bitter proxy contest between the
Topps Co.
, the maker of baseball cards, and two activist hedge funds neared a peaceful resolution yesterday as both sides agreed to a last-minute compromise on candidates for the board.
The agreement came after two hours of negotiations that had delayed the company's annual shareholder meeting and a vote on two rival slates for three seats on the board.
---
BUSINESS PULSE