---
FAST FACTS HAWAII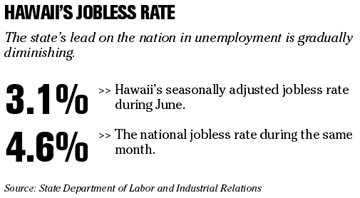 ---
HAWAII
HECO's board gets reshuffled
David Cole, the chairman, president and chief executive of
Maui Land & Pineapple Co.
, and B.J. Kobayashi, president and CEO of
Kobayashi Group LLC
, have been appointed to the board of directors of Hawaiian Electric Co.
In addition, Maurice Myers, Diane Plotts, Crystal Rose and Jeffrey Watanabe, the chairman of parent company Hawaiian Electric Industries Inc., have resigned their potions on HECO's board.
Cole and Kobayashi join HECO directors Constance Lau, president and CEO of HEI; Thomas Fargo; Timothy Jones; Michael May, David Nakada; James Scott; Anne Takabuki; Kelvin Taketa and Barry Taniguchi.
A&B's options to trade on Amex
Alexander & Baldwin Inc.
's options were to begin trading today on the American Stock Exchange.
The AMEX yesterday named nine companies, including A&B, from the three major stock indexes that would be eligible for options trading. Joining A&B were Xethanol Corp., Nuance Communications Inc., Insteel Industries Inc., Trump Entertainment Resorts Inc., Aventine Renewable Energy Holdings Inc., Hexcel Corp., Pilgrim's Pride Corp. and Rogers Communications Inc.
A&B, the parent of Matson Navigation Co., will report its second-quarter earnings on Friday.
NATION
Oil prices rise to $75 on supply concerns
WASHINGTON » Oil prices jumped to $75 a barrel yesterday following reports of several refinery snags that helped push gasoline futures higher.
Earlier in the day, prices had fallen on traders' growing belief that the violence in Lebanon and Israel is unlikely to spread across the oil-producing region. But reports of refinery snags from Texas to California reignited concerns about fuel supplies during the busy summer driving season.
James Cordier, president of Liberty Trading in Tampa, Fla., downplayed the minor refinery troubles, explaining that oil futures simply are trading in a new range between $73 and $78. However, he said it will take a significant supply disruption to push them higher from there.
While the fighting between Israel and militants in Lebanon hasn't spread -- a key reason why oil has declined from highs above $78 -- the potential remains and that is weighing on the minds of traders, analysts said.
Honda plans to enter passenger jet market
Honda Motor Co.
, the world's largest maker of engines for autos, motorcycles and power products, plans to enter the aviation market by selling a six-passenger jet plane, according to a person familiar with the plan.
The company will make the announcement today, said the person, who didn't want to be identified because the decision isn't yet public. The commitment would come a year after Tokyo-based Honda flew an experimental six-person HondaJet in public for the first time, calling it faster and more fuel-efficient than any similar aircraft.
Honda's arrival as an aircraft manufacturer puts it in competition with industry leaders such as Textron Inc.'s Cessna and Eclipse Aviation Corp. Both companies are readying similar-sized "micro-jets" for use as small corporate planes and for chartered flights, or so-called air taxi services.
States, cities could lose $3 billion
WASHINGTON » States and cities could eventually lose $3 billion a year if Congress prohibits them from taxing companies that earn income in their states but do business without local employees or offices.
The House expects to debate a bill today mandating that businesses have at least one employee in a state for 21 days, or have leased or bought property, to be subject to that state's business taxes.
That includes taxes on business income, profits, receipts and other figures, but not sales taxes paid by consumers. It also applies that rule to companies selling services, not just goods.
Its supporters say companies need the federal government to intervene and make sense of confusing state laws, which can subject out-of-state businesses to taxes even when a company's employees or goods just pass through a state for a few days.
WORLD
World trade negotiations collapse
GENEVA » Negotiations aimed at reaching a new global trade agreement collapsed here yesterday, touching off a bitter new round of recriminations between the United States and Europe over farm trade barriers and dealing a blow to the Bush administration's international economic agenda.
After two days of wrangling by negotiators from six leading trade powers, the director general of the World Trade Organization, Pascal Lamy, formally suspended the talks, declaring that he no longer had hope of overcoming resistance in wealthy countries to sharply reducing domestic protection from their politically powerful farm sectors.
With the apparent failure of the negotiations -- which have been proceeding in fits and starts for five years -- went the hopes voiced recently by President Bush and the leaders of the richest countries for a deal they have said would create jobs at home while reducing poverty in Asia, Africa and Latin America. The breakdown in talks does not mean that the global effort to reduce trade barriers is completely dead. But there now appears to be little chance of a trade accord being negotiated before the end of Bush's term in office.
---
BUSINESS PULSE