ARENAFOOTBALL2
af2 players from Hawaii are all the rage in Quad Cities
The four arenafootball2 players are enjoying themselves as much as fans are enjoying them
MOLINE, Ill. » It was Aloha Shirt Night on the banks of the Mississippi River.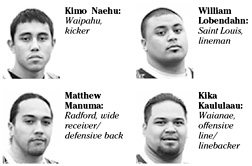 The Quad Cities Steamwheelers auctioned off their jerseys for charity after a 59-21 romp over the Tennessee Valley Vipers in an arenafootball2 game two weeks ago.
And the shirt bringing in the most money?
That of Kika Kaululaau. His was sold for $575.
Kaululaau didn't mind that the amount was more than twice the $250 he'd be paid for the af2 game he just played.
"Hey, how can I complain? I'm playing football, and I got to help a hospital," he said.
Kaululaau (Waianae), William Lobendahn (Saint Louis), Matt Manuma (Radford and University of Hawaii) and Kimo Naehu (Waipahu) have all found at least a temporary home in the Midwest, and all four made major contributions -- and not just to charity -- in the 'Wheelers' win that kept them in the hunt for a playoff spot.
(Last night, Quad Cities kept its hopes alive by routing the Wilkes-Barre/Scranton Pioneers 55-34. The 'Wheelers improved to 7-8 with one regular-season game left).
"It's easy to see why they're so popular here," Marc Nesseler, sports editor of the Quad Cities Dispatch/Argus, said of the Hawaii players. "They play with passion and they're gentlemen away from the field."
» Kaululaau, an offensive lineman at Nevada, lost nearly 50 pounds since playing in the 2001 Hula Bowl and is down to 305.
"I always wanted to play defensive line and linebacker, and now I'm getting the opportunity," he said.
He's also carried the ball as a running back.
"It's something I never thought I'd be able to do," he said.
Kaululaau blocked a field-goal attempt against the Vipers, and was the lead blocker for a 1-yard touchdown by Manuma, the first for the former Warriors safety since high school.
"He was long overdue," Kaululaau said. "I'm glad I could help get him in."
Kaululaau said he has no illusions about making it to pro football's highest level. He's enjoying the ride while he can.
"I have no complaints. We have a really good booster club, there are a lot of people from Hawaii who come see us play and they take care of us with barbecues," he said. "To be honest, the AFL would be my NFL. At my size and position going to the NFL would be a million-to-one shot. I'm playing for the love of the game. It's not like the game owes me something."
» This may be the final go-round for Lobendahn. He has a job lined up coaching the offensive line at his college alma mater, Virginia Union.
The 1999 all-stater hasn't decided yet whether to try to make an AFL team.
"There's a few tryouts after this season," he said. "But I really have to take into consideration if I think my body can handle it. I've been injured my whole career."
If anything, spending time in the Quad Cities made him a more open-minded person, he said, because of how gracious people in the area have been to him and the other Polynesians.
"We all talked about that when we got here," Lobendahn said. "It's pretty amazing how well the people have treated us. It's different than the other white areas I've been to ... Utah, Idaho. It helped eliminate my misconception, my stereotype of haoles."
Lobendahn stuffed a fake field-goal attempt and recovered a fumble in the Tennessee Valley game.
» Manuma hopes to move up.
"I still have the desire to see how far football can take me," he said. "This is a good opportunity to continue to play and see how good I can be."
He was a quarterback coming out of Radford, but was in the same class as Tim Chang at UH and soon was moved to safety. Injuries slowed him down and he played mostly special teams early in his college career, but earned a few starts at safety as a senior because of his savvy.
"UH was a great experience, but of course it was disappointing being injured and not playing as much as I would've liked," he said.
The joy of the game was back against the Vipers.
"It was great, it was like being a kid again," he said of reaching the end zone for the first time since 1999 while playing for the Rams.
Manuma was suspended for the Steamwheelers' next game because of his participation in a fight with 13 seconds left. He'd retaliated after being hit in the head by an opponent swinging a helmet.
"The only number the refs could remember was mine, No. 1," Manuma said.
» Naehu plans to return to Hawaii this week to see his grandfather, Moses Naehu, who has been in hospice care at St. Francis because of terminal cancer, Kimo Naehu said.
"It's pretty rough, because he was a father to me," Kimo said. "He was the man who raised me and taught me to be a man."
Hawaiian Islanders fans will remember Naehu as that team's kicker. When the Islanders folded, Naehu went to the San Diego Riptide, where he kicked eight field goals last year.
He made a 30-yard field goal and seven extra points against Tennessee Valley.