911 tapes reveal last desperate plea for aid
Frantic pleas for help end with the sound of a fatal crash on a desolate Kona road
HILO » Janelle Nardin screams into her cell phone, "We need help, please! Please!"
She tells a police 911 operator that Vernon Costa, later identified as her ex-boyfriend, is chasing her car with his truck through the night on a lonely Kona road. Police released 911 tapes from the case yesterday.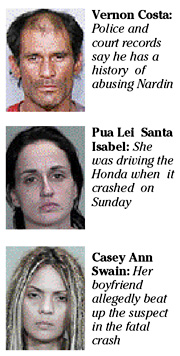 The operator tries to calm Nardin so she can understand what is going on.
But the plight of Nardin and two other women in their 19-year-old Honda gets more desperate as the truck rams their car repeatedly.
"Oh my God, you guys, he's not goin' stop. Oh my God!" Nardin screams.
The sound of a crash is heard, and the phone goes dead.
"Ohhh," the operator says to another police staffer. "It's really bad. Oh, it's like really, really bad."
The 911 tapes reveal the final desperate moments of Pua Lei Santa Isabel, 26, driving the Honda, and Casey Ann Swain, 35, a back-seat passenger, shortly after midnight Sunday between Kailua-Kona and Waimea.
Their voices are indistinguishable among the screams. Both were thrown from the Honda and killed.
Nardin, who turned 20 yesterday, was wearing her seat belt in the front seat and survived.
Police and court records say Costa has a history of abusing Nardin.
A police affidavit says Costa flagged down a ride after the Sunday crash and took Nardin to a hospital in Waimea where he left her.
When police arrested Costa Monday south of Hilo, he had been beaten, allegedly by Swain's boyfriend. He remained under treatment in Hilo Medical Center yesterday but is expected to appear in court on Wednesday.
Besides Nardin's calls, the 911 tapes give a description of the crash phoned by a man on the highway to his wife at home and relayed by her to police.
"Two cars just hit a mountain," the wife says, a possible reference to rock embankments along Mamalahoa Highway where the crash took place.
"He said they smashed into the mountain and they're in the bushes. They're down in a gulch. There's debris all over the road," the woman said.
"He said they were speeding. He said they were probably doing about 100 miles an hour," she said. "They crashed into the mountain and flew up in the air and went down into the gulch.
"He said both cars were doing, he said it had to be over 100 miles an hour. He said it was like he was standing still," the woman said.