---
FAST FACTS HAWAII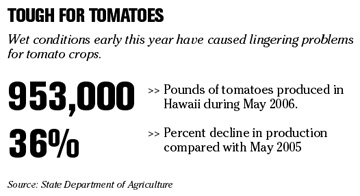 ---
HAWAII
Alumnus donates $1M to UH business school
The University of Hawaii at Manoa's College of Business Administration received $1 million to establish two professorships from William and Sylvia Sue Johnson.
The board of regents yesterday approved the establishment of two professorships with the money -- to be named the William R. Johnson Jr. Distinguished Professorship and the W. Ruel Johnson Distinguished Professorship.
Each professorship will be endowed with $500,000 apiece, and managed by the University of Hawaii Foundation.
William R. Johnson Jr., a 1965 alumnus, is the owner and CEO of Johnson Machinery in Riverside, Calif.
Vance Roley, dean of the College of Business Administration, said the endowment will allow him to recruit and retain top faculty. The college is ranked among the nation's top 20 graduated schools for international business by "U.S. News & World Report."
NATION
Microsoft confirms iPod-rival plans
SEATTLE »
Microsoft Corp.
confirmed yesterday it's working on music and entertainment products that are expected to compete with
Apple Computer Inc.
's wildly popular iPod and iTunes music service.
The Redmond-based software maker said in a statement it planned a series of hardware and software products, with the first expected to be available this year. The products will be called Zune.
Microsoft refused to provide more details beyond the statement, such as whether anyone in the music industry has expressed serious interest. Microsoft has been briefing music industry executives on the project for some time.
Jupiter analyst Michael Gartenberg, one of a handful of industry analysts briefed on the project, said Microsoft probably feels like it has to get into the portable player market because it is such an important jumping-off point for getting people to embrace its technologies in the living room. That's key for the company as the traditional market for its Windows desktop operating system grows saturated.
Immigration laws nab employers
WASHINGTON » The number of employers arrested on charges of hiring illegal immigrants has more than doubled this year. And some employers themselves are in the United States illegally, immigration officials say.
With cases this week in Arkansas, Kentucky and Ohio, U.S. Immigration and Customs Enforcement has arrested 445 people so far this year on criminal charges and has picked up an additional 2,700 people suspected of immigration violations.
In 2005, there were 176 arrests on criminal charges and 1,116 on immigration violations, ICE said.
The stepped-up enforcement is intended to demonstrate the risk to companies that ignore the law in pursuit of cheap labor.
American asks pilots for talks
DALLAS »
AMR Corp.
's American Airlines wants to start early contract talks with its pilots union to help lower its labor costs and compete against rivals that trimmed expenses in bankruptcy.
American, the world's largest airline, and the Allied Pilots Association each had the right to call for negotiations any time after May 1 on the contract that's not set to change until 2008. The pilots are ready to talk, union President Ralph Hunter said yesterday in a hotline message to members.
American is trying to lower its pilot costs as competitors such as UAL Corp.'s United Airlines, Delta Air Lines Inc., Northwest Airlines Corp. and US Airways Group Inc. have used federal bankruptcy law and voluntary concessions to trim expenses.
---
BUSINESS PULSE