---
FAST FACTS HAWAII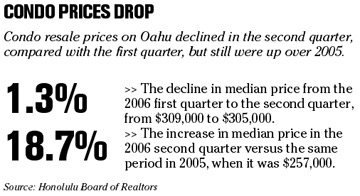 ---
NATION
Google's earnings soar past expectations
SAN FRANCISCO »
Google Inc.
's second-quarter profit more than doubled, maintaining the Internet search leader's penchant for topping analysts' high expectations and further underscoring the advantage the company has built over its chief rivals.
The Mountain View, Calif.-based company said yesterday that it earned $721.1 million, or $2.33 per share, during the three months ended in June. That compared with net income of $342.8 million, or $1.19 per share, at the same time last year.
Excluding one-time expense items, Google said it would have earned $2.49 per share -- well above the average estimate of $2.22 per share among 32 analysts surveyed by Thomson Financial.
Revenue for the period totaled $2.46 billion, a 77 percent increase from $1.38 billion a year ago. However, Google's revenue was $1.67 billion after subtracting commissions paid to its advertising partners; that post-commission revenue figure was just $26 million above the average analyst estimate.
Ford reports unexpected loss
DETROIT »
Ford Motor Co.
reported an unexpected second-quarter loss as sales of sport-utility vehicles plunged amid rising gasoline prices, threatening Chief Executive Officer William Clay Ford Jr.'s plan to revive the No. 2 U.S. automaker.
Ford lost $123 million, or 7 cents a share, compared with earnings of $946 million, or 47 cents, a year earlier. Net income at the Ford Credit finance arm, which kept the automaker profitable last year, dropped 40 percent. The company's Premier luxury unit, including Jaguar, swung from a profit to a loss. Ford said it plans more production cuts and bolder restructuring.
Excluding costs the company considers one-time items, Ford's loss was $48 million, or 3 cents a share. The net results included one-time costs of $486 million, or 17 cents, related to buyouts in North America, where Ford plans to cut 30,000 jobs by 2012.
New product helps Hershey Co.
HERSHEY, Pa. »
Hershey Co.
, the biggest U.S. chocolate maker, said second-quarter profit rose 5.6 percent on price increases and sales of Ice Breaker mints and dark chocolate.
Net income climbed to $98.4 million, or 41 cents a share, from $93.2 million, or 37 cents, a year earlier, the company said yesterday. Sales grew 6.4 percent to $1.05 billion.
Hershey, which bought Mauna Loa Macadamia Nut Corp. in December 2004, has introduced Ice Breakers Tropical Sours and Jolly Rancher Sour Blasts in the quarter and also boosted revenue with the Kissables line. Hershey is extending its sales lead over No. 2 Mars Inc. after buying premium-chocolate makers Joseph Schmidt Confections Inc. and Scharffen Bergen Chocolate Maker Inc.
30-year mortgages at highest since 2002
WASHINGTON » Rates on 30-year mortgages rose this week to the highest level since the spring of 2002.
Freddie Mac, the mortgage company, reported yesterday that rates on 30-year, fixed-rate mortgages increased to a nationwide average of 6.80 percent, up from 6.74 percent last week. The increase pushed 30-year rates to the highest level since they stood at 6.81 percent the week of May 24, 2002.
Rates on 15-year, fixed-rate mortgages, a popular choice for refinancing, increased to 6.41 percent, up from 6.37 percent last week.
Rates on one-year adjustable rate mortgages rose to 5.80 percent, up from 5.75 percent last week. Rates on five-year adjustable-rate mortgages rose to 6.36 percent, up from 6.33 percent last week.
First CEO charged in options investigation
SAN FRANCISCO » Former
Brocade Communications Systems Inc.
Chief Executive Officer Gregory Reyes became the first CEO charged in the U.S. probe of illegal backdating and other manipulation of employee stock option grants.
Reyes, 43, ousted as head of the Silicon Valley maker of computer equipment in January 2005 after an earnings restatement, was charged with securities fraud. Also charged was ex-human resources vice president Stephanie Jensen. They were sued by the Securities and Exchange Commission along with former Brocade Chief Financial Officer Antonio Canova.
More than 66 companies are conducting internal inquiries or are under federal investigation.
---
BUSINESS PULSE