---
FASHION SHOWDOWN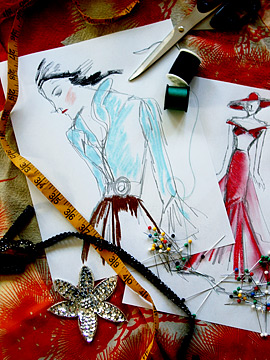 FASHION ILLUSTRATION BY TAKEO
Contest gives Hawaii designers a creative outlet
Now that "Project Runway" is back on Bravo, it's time to call all Honolulu's would-be fashion designers to come out from hiding and show what they can do with needle, thread and a little imagination.
Adding to the artistic ambience of downtown Honolulu, the Fresh FACE of Nuuanu Fashion is staging a showdown Oct. 14 and has put out an open call to artists and designers to submit designs in categories of day wear, Hawaiian wear and evening wear.
All garments must be completed by Sept. 15.
Each designer must have a model for his or her garments, and each artistdesigner will be allowed to submit only one garment per category. Entry fee is $20 fee per piece, with an opportunity to win a cash prize. Entries will be judged by Honolulu-based designer Takeo and fashion editors.
To enter, submit a full-color, 8 1/2-by-11-inch illustrationpicture of your project, with your name, address, phone number and e-mail address on the back. Make entry check out to "Honolulu Art and Culture District" and send to Nuuanu Fashion Show, care of Louis Pohl Gallery, 1111 Nuuanu Ave., Honolulu 96817. Call Sandra Pohl, 521-1812, for more information. Otherwise, make it work!
Bamboo Sky 'Therapy'
If shopping's not enough to get you out the door, how about the idea of nibbling free sushi off a male model's ti leaf-draped body? That we gotta see, and it's part of "Retail Therapy," a girls'-night-out event taking place 6 to 10 p.m. today at Bamboo Sky.
The event is expected to be so huge, the boutique is taking over Osake next door, which will be transformed into Sanctuary, where specialists from Genesis 7 Spa will be offering free massages, aromatherapy hand treatments, makeup touch-ups and hair blow-outs.
You'll be able to check out new L.A. arrivals and meet the designers of Scrapbook, Ginger 13, Golden Child jewelry and more, plus shop their lines at wholesale prices.
The first 150 shoppers in Bamboo Sky will also be treated to a free cocktail.
The boutique is at 1700 Kapiolani Blvd., between 24-Hour Fitness and Quiksilver.
Vera Wang sparkles
The Vera Wang Boutique at Halekulani will be hosting a fine jewelry trunk show from 9 a.m. to 9 p.m. tomorrow and Saturday.
The event offers an opportunity to examine the simple elegance of the Vera Wang Collection of fashion and bridal jewelry.
For more information, call 921-8100. The Halekulani is at 2199 Kalia Road in Waikiki.
Icon remembered
Today marks the 33rd anniversary of Bruce Lee's death, and to commemorate the martial arts icon, ChoiceShirts has developed a limited-edition collection of exclusive Bruce Lee designs.
From "Enter the Dragon" to "Game of Death," Lee amazed fans with his talent whose cinematic martial arts work in the 1970s continues to influence mainstream Western cinema.
The shirts are $19.95 at choiceshirts.com.
She Wants Revenge at Pipeline
The Los Angeles deejay duo She Wants Revenge will bring their Joy Division-via-Interpol sound to the Pipeline Cafe Aug. 25. Linus the Band will open the concert. Tickets are $20 tickets and are available at Ticketmaster outlets, including Times Super Markets; charge by phone at 877-750-4400 or online at
ticketmaster.com
.
Calling all brats
"Supernanny" Jo Frost is looking to help Hawaii parents with their uncontrollable kids. Bring your mischievous young ones to Center Court at Kahala Mall on Sept. 2 from 3 to 7 p.m. Casting producers from ABC and Hawaii Pacific Entertainment will audition each household for the show's third season. If you don't make the cut but still want the help, check out "Ask SUPERNANNY," Frost's latest book, which will be in stores on Sept. 9.