---
GOLFING FOR DOLLARS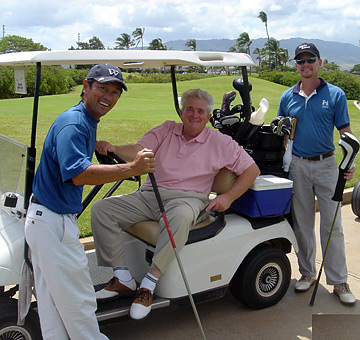 Reggae singer back in town
Roots Empress Dezarie returns in concert, 10 p.m. tomorrow at Pipeline Cafe. The reggae artist will headline the show with performances by Ikabba, Paula Fuga and the One Love Ohana Band. Tickets are $22 (advance) and $27 (at-the-door). Doors open at 9 p.m.for this 18 and over show.
---
[ MORSELS ]
Times showcases store's new look
Times Super Market is celebrating the renovation of its Beretania store with special events this weekend.
The store now has a new kitchen, producing panini sandwiches, wraps, salads, sushi and plate lunches, along with grab-and-go meal items. The wine department has also been improved with additions from Times' wine consultant, Lyle Fujioka.
A wine-tasting will be held from 3:30 to 6:30 p.m. Friday, followed from 11 a.m. to 1 p.m. Saturday with Kids Day -- cookie decorating, face-painting, a balloon artist and slack-key performance by Jeff Peterson at 1 p.m. Events are free.
The store is at 1290 S. Beretania St. Call 532-5400.
Restaurant Association plans mixer
The Hawaii Restaurant Association is holding a mixer July 26 at Diamond Head Grill in the W Honolulu.
The 5:30 to 7:30 p.m. event -- with live entertainment, heavy pupus, wine beer and martinis -- will raise funds for the association's education program.
Admission is $40. Reservations needed by July 24; call 944-9105 or e-mail hra@hawaiirestaurants.org.
The association is also holding a "Meet the Candidates" event from 1:30 to 3 p.m. Aug. 2 at the Ocean Club in Restaurant Row, with candidates for the U.S. Senate and House.