| | |
| --- | --- |
| | Newswatch |
---
TAKING NOTICE
Japan-America Society earns grant of $5,000
The Friends of Hawaii Charities Inc.
gave $5,000 to the
Japan-America Society of Hawaii
for the Continuum of School Programs Project. Students are taught to ask questions, see different perspectives and think with inquisitive and open minds to become better risk-takers, have broader vision and become less prone to prejudice.
» Ryan Funayama of Kapolei received the Muscular Dystrophy Association's 2006 Personal Achievement Award for Hawaii. Funayama, an accounting assistant at the Hawaii Agriculture Research Center in Aiea, was selected for his determination and active participation in the society throughout his life. He was diagnosed with Becker muscular dystrophy, a progressive disease that causes weakening of muscles, at the age of 3, and uses a wheelchair.
» Jacquelyn Grace was awarded the Honolulu Delta Gamma Alumnae Chapter Scholarship of $1,000 for the 2006-2007 school year. She is a member of the Beta Pi chapter of Delta Gamma at Willamette University in Salem, Ore., where she is studying biology.
» The University of Hawaii selected four faculty members as winners of its 2006 Frances Davis Award for Excellence in Undergraduate Teaching: Amy Donahue, a doctoral candidate in philosophy at UH-Manoa; Grace Ihara, an associate professor in speech at Honolulu Community College, who received the award posthumously; Kendall Inada, an instructor of classics in the Department of Languages and Literature of Europe and the Americas at UH-Manoa; and Lorelle Solanzo-Peros, an instructor of hospitality and tourism at Maui Community College.
» The nonprofit Tony Group Foundation donated more than $5,000 in scholarships to 10 high school graduates from Central and Leeward Oahu. Recipients are Janell Yanaga of Aiea High School; Kristi Ayakawa, Pearl City High School; Ronalyn Gamayo, Waipahu High School; Luana Mayfield, Campbell High School; Russell Romano-Kelly, Mililani High School; Raechelle Pereira, Waialua High School; Leah Sevilla, Leilehua High School; Aaron Watson, Nanakuli High School; Desiree Caminos, Waianae High School; and Jonathan Wong, Kapolei High School.
» Sisters Marie Tanaka and Joelle Tanaka, seniors at Kailua High School, are two of 35 winners nationwide of $5,000 scholarships from the MassMutual Foundation for Hartford Inc. through its association with the United States Tennis Association's Tennis & Education Foundation.
» Sharon Y. Miyashiro, interim associate director of the Social Sciences Public Policy Center at UH-Manoa, received the National Education Association's Ellison S. Onizuka Memorial Award. The award is given for distinguished leadership in education and advancing the achievement of equal opportunity for Asian and Pacific islanders.
» Kate Donnellan of Kailua wrote one of 25 award-winning essays in the Armed Services YMCA's national art and essay contests. The fourth-grader won a $100 U.S. savings bond for her essay on how she has learned to make a difference in the world. The entries were displayed in the U.S. Senate's historic Russell Rotunda the week of the July 4th celebration.
| | |
| --- | --- |
| | Police, Fire, Courts |
---
WINDWARD OAHU
Man, 41, dies after kayaking off Lanikai
A 41-year-old Honolulu man died yesterday morning after kayaking with friends off Lanikai Beach, police said.
The man, identified by the Medical Examiner's Office as Edwin Roberts, fell unconscious while kayaking, police said.
Roberts slumped over and fell into the water, police said. His friends pulled him out of the water and brought him in to the Lanikai Boat Harbor.
Firefighters and lifeguards responded to the call at about 9 a.m. and began cardiopulmonary resuscitation.
Roberts was taken in extremely critical condition to Castle Medical Center, where he was pronounced dead.
An autopsy will be performed Monday to determine the cause of death. No foul play is suspected, police said.
HONOLULU
Suspect sought in bank robbery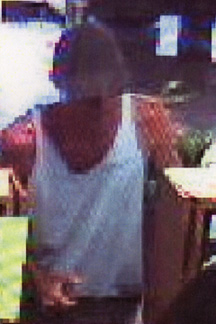 Police are still searching for a suspect in a bank robbery Thursday in Makiki.
Police said a man in his 30s entered the Makiki branch of First Hawaiian Bank at about 9:50 a.m. and presented the teller with a demand note.
The man ran makai on Pensacola Street and was last seen going into the Kaiser Permanente building's Young Street entrance, police said.
He is described as 5 feet 8 inches tall, 170 pounds with a slim build, wearing a blue baseball cap, blue tank top, blue denim shorts and prescription or sunglasses with silver frames.
Anyone with information is asked to call CrimeStoppers at 955-8300 or *CRIME on a cell phone.
NEIGHBOR ISLANDS
2 rescued off Kauai after craft capsizes
A 41-year-old Oahu woman and her 15-year-old niece, whose kayak capsized in rough seas off the Na Pali Coast on Kauai, were rescued yesterday.
The two kayakers got separated from their tour group at about 10 a.m., an hour after leaving Kee Beach. A large wave slammed into their two-person kayak after they entered a sea cave called "Two-door," according to a news release from the Kauai Fire Department.
Their kayak was pushed to the back of the cave and capsized, and the woman and girl managed to climb onto nearby rocks, the release said.
Waves were breaking 2 to 3 feet, and conditions were hazardous, an Ocean Safety Bureau supervisor said.
A 911 call was made about noon, the Fire Department said. A firefighter and an ocean safety supervisor on an inflatable boat and two lifeguards on a motorized watercraft arrived at 12:30 p.m.
The woman and teenager were helped down into the water, placed in a rescue tube and taken out of the cave by watercraft. They rejoined the tour, scheduled for a two-night camp-out at Kalalau Beach. The two received a few scratches, an Ocean Safety official said.