---
FAST FACTS HAWAII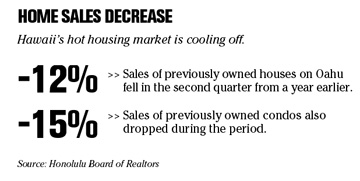 ---
HAWAII
Castle Resorts picks up management of hotel
Castle Resorts & Hotels
has added the Hokele Suites Waikiki, formerly the Marc Waikiki Suites, to its resort management portfolio.
As part of the changes, Hokele Suites Waikiki will undergo $4.5 million in renovations. The work, which will start this summer and continue into 2007, is designed to reposition the hotel from a two-star budget property to a three-star boutique hotel, Castle said.
Castle will handle all management of the resort, including operations, accounting, sales, marketing, and reservations. It will take over the 114-unit all-suite hotel on Oct. 1.
NATION
Computer snafu misses tax fraud
WASHINGTON » The Internal Revenue Service cost the government $200 million to $300 million this year because a computer program that screens tax returns for fraudulent refunds wasn't operating.
The tax agency said yesterday that a contractor promised to deliver by January a new version of a program, used since 1996, that searches for signs of fraud in every tax return claiming a refund.
The contractor, Computer Sciences Corp., did not produce a working program by the deadline, and IRS officials could not put the old program back into operation in time for this spring's tax filing deadline.
As a result, the IRS has stopped only 34 percent of the fraudulent refund claims that it had caught by this time last year, the tax collectors said. It estimates the loss to the government at $200 million to $300 million.
Northwest union replaces leader
MINNEAPOLIS » After 12 years representing workers at
Northwest Airlines
, IAM District President Bobby DePace was voted out of office yesterday, as union members signaled their displeasure with the recent employment contract that will cut their pay by 11.5 percent and eliminate about 645 jobs.
DePace, president of District 143 for the International Association of Machinists and Aerospace Workers, was defeated by Stephen Gordon. The vote totals were not disclosed.
Gordon, a ramp, baggage and cargo handler in Detroit, joined the IAM in 1990 and is the president of the Detroit Air Transport Local Lodge 141.
Ruling escalates Mesaba battle
MINNEAPOLIS » After weeks of fruitless labor talks,
Mesaba Airlines
won the right yesterday to unilaterally impose deep cost cuts on its unions.
The carrier's pilots and flight attendants said they intended to appeal the decision by U.S. Bankruptcy Judge Gregory Kishel, and they also raised the prospect of a strike at the regional carrier.
"If they impose (contract terms), there will be a strike. If you've got travel plans at the end of July or early August, we could well be on strike," said Tom Wychor, chairman of the Mesaba pilots union.
The company could seek a court injunction to prevent a walkout, but Mesaba spokeswoman Elizabeth Costello said the airline still is focused on getting negotiated agreements.
"We have to all step back, take a minute to absorb what the judge said, and get back to negotiations," she said.
Hertz to sell $1 billion in shares
Hertz Global Holdings Inc.
, owner of the largest U.S. car-rental company, plans to sell as much as $1 billion of shares to the public, seven months after being acquired by buyout firms led by
Clayton, Dubilier & Rice Inc.
Proceeds will repay debt that financed a $1 billion dividend to its owners last month.
Ford may beat goal of cutting 30,000 jobs
Ford Motor Co.
expects to shed between 22,000 and 24,000 hourly jobs in North America by the end of next year and likely will exceed its goal of cutting some 30,000 factory jobs by 2012, according to company sources.
They say the company's downsizing effort is proceeding more rapidly than analysts have projected. The apparent success of Ford's buyout program is one sign of progress amid an otherwise deteriorating financial situation, and could go a long way toward helping the company rein in its legacy costs.
However, it is unlikely to make much of a difference to Wall Street, which has lost patience with Ford's turnaround effort and is bracing for more bad news when the automaker reveals its second quarter earnings on Thursday.
GM agrees to study Renault, Nissan alliance
DETROIT »
General Motors
,
Renault
and
Nissan
agreed last night to begin studying whether they want to form a three-way alliance that could change the shape of the global automobile industry. The American, French and Japanese companies, in a statement, said the review would take about 90 days.
"The potential benefits of such an alliance to each company, and the feasibility of achieving them" will be examined, the statement said. Once the review is concluded, GM, Renault and Nissan said they "will consider whether further exploration of the alliance concept is warranted."
Ex-analyst pleads guilty to insider trading
A former
Merrill Lynch
analyst accused of feeding confidential information to a $6.7 million insider trading ring pleaded guilty in federal court yesterday to one count of insider trading.
In a plea agreement with prosecutors, the former analyst, Stanislav Shpigelman, 23, of Brooklyn, admitted that he provided information about coming deals from October 2004 until August 2005 to an insider trading network that stretched from Croatia to California.
With his family and girlfriend sitting behind him, Shpigelman read a statement accepting responsibility for his role in the scheme.
---
BUSINESS PULSE