WEEKEND: JULY 14 / 15 /16
BB Shot
A trio of isle bluesmen will record a special session
The popular party combination of the three Bs -- blues, brews and barbecue -- is back for this weekend's annual summer party along Nuuanu Avenue downtown. Organizers are also promising it'll be an additional couple of Bs: bigger and better.
Nuuanu Blues, Brews and BBQ
Place: Nuuanu Avenue, between Pauahi and King streets

Time: 5 to 10 p.m. Saturday

Admission: Free

Call: 550-8457
This time around, Hawaii Public Radio's summer blues event, regularly held separate from the street festival, will join forces with the Honolulu Culture and Arts District-sanctioned event. A special grouping of local bluesmen Downtown Charley King, Northside Art Suankum and Mark Prados of Mojo Hand will be recorded in concert Saturday for airing on KIPO 89.3 Aug. 19.
The station's unofficial house band, Jeff Said No!, led by its avuncular production director, Jeff Ilardi, will warm up the crowd on the main stage starting at 6 p.m.
It will be a welcome change of location for the fun-loving band. Last year, Ilardi said they played on the festival's second stage -- the back of a flatbed truck on Hotel Street. (This time, a deejay will handle the dance music, situating himself in front of the thirtyninehotel/Bar 35/Next Door location.)
Jeff Said No!, mostly made up of station staff and volunteers, has gone through many configurations since it was co-founded five years ago by Ilardi and singer-guitarist Gene Evans.
"But we still play in the spirit of the blues, and have fun at the same time," Ilardi said. "When we do indoor gigs, bartenders have told us that it's rare to see a band like ours involve the audience as much as we do. We figure that, if we're having fun, and likewise the audience, it's a win-win situation."
The band keeps its chops up by playing every other Sunday at the University area's Eastside Grill. "We also try to rehearse every week," said Ilardi, who's also the band's roadie.
Needless to say, the band has gone through its share of interesting personalities. Ilardi remembers one former lead singer who was stationed at Hickam Air Force Base. "Three years ago, we did the base's air show ... Because things ended up running long, we were supposed to do only 20 to 25 minutes to finish things up. ... Sometime during our third song, I tried to stop our singer because time was up, but he kept blowing me off. By then, the MPs had come in to try to stop us. But the guy was determined to finish. The rest of us were terrified over what could happen next.
"But the singer told us later on that he didn't stop because a general he knew was there specifically to hear us. He figured that there would ultimately be no trouble because the general outranked the MPs!"
MARK PRADOS has been home since last August after spending some eight years working out of the college town of Lancaster, Pa. Since returning, he's done brief stints with bands Slim Mango, Bluzilla and Downtown Charley's Humbones. Now he's concentrating on the re-formed Mojo Hand, which just played a reunion gig at Anna Bannana's.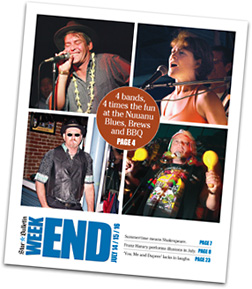 The singer and harmonica player said he left the islands in 1998 after six years with a band he'd co-founded with Jim Kneubuhl. "The band was played out and tired. Everyone had already seen us many times over."
Through a musical contact located smack dab in the middle of Amish country, a tanned Prados moved to Pennsylvania and redubbed himself Honolulu Slim. Honolulu Slim and the Diamonds toured several times a month, playing up and down the East Coast and occasionally going west to Chicago.
But when Prados came back to Oahu for a short visit in April of '05, he realized that he missed home. "I was boogie boarding at Old Man's, just off of the Elks Club in Waikiki. That's when I felt I needed the Pacific Ocean back in my life. I also missed the little things, like baked manapua and eating poi at Helena's. And living in Pennsylvania, it would be cold nine months out of the year, with summers of super humidity. It was just a better quality of life back out here."
As a teenager, while everyone else was grooving to Jimi Hendrix, Prados was first turned on by the possibilities of the harmonica, through the debut album of the Chicago-based Paul Butterfield Blues Band. He delved into the music of Butterfield's black, South Side influences -- men such as Little Walter, James Cotton, Junior Wells and Sonny Boy Williamson.
Prados still finds the blues a rich field to mine. "I like doing the odd blues cover. The music is such a big neighborhood that I don't like to hang out at the same street corner. You've got your jump blues, Chicago blues, Texas blues, Delta blues ... there's a lot of styles within the same genre.
"Butterfield's sound on the harmonica was such a revelation to me because, before then, all I knew was Bob Dylan's folk way of playing. I wanted to make the same sound Butterfield did. The same with Little Walter. He could make it sound like a sax, or a trumpet, or glasses tinkling together, and even nature sounds."
Prados just turned 50, and while his chops on the blues harp were never in question, he feels he became a better singer after he left Mojo Hand to live and work on the mainland. His skills will be on display at the street festival as part of a featured acoustic trio, with Downtown Charley and Northside Art.
"We'll be doing some Muddy Waters and Slim Harpo tunes," he said, "so we'll probably end up sounding like some Delta swamp group."
Afterward, Prados will rehearse more with Mojo Hand -- with guitarist Byron Lai and drummer Paul Gomes, and bassist Dave Chiorini and guitarist Rick Baldwin rounding out the band.
"We're going to concentrate on songs with a higher degree of difficulty, something I learned while on the mainland with the Diamonds."