---
FAST FACTS HAWAII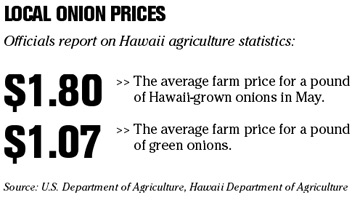 ---
HAWAII
Hawaii leads the way in fuel-efficient cars
Hawaii's cities have the highest percentage of fuel-efficient vehicles in the nation, according to a study released yesterday.
Motorists in Kapaa on the island of Kauai were more likely to drive fuel-efficient cars than anywhere else in the United States, according to MapInfo Corp.
The Kahului-Wailuku area on Maui was No. 2, followed by Hilo and Honolulu.
MapInfo said with the nation's highest gas prices in Hawaii, it's no surprise that the top four cities were in the Aloha State.
Hawaii drivers paid an average of $3.37 for a gallon of regular unleaded yesterday, about 12 cents higher than the next state, California, and 22 cents higher than the national average, according to AAA's Fuel Gauge Report.
Family trust buys Mililani building
An unidentified local family trust has bought the Castle & Cooke Building in Mililani from
Castle & Cooke
.
Castle & Cooke will continue to remain a tenant in the building, which is located within the Mililani Technology Park.
Honolulu-based Colliers Monroe Friedlander Inc. brokered the sale. The buyer intends to hold on to the property, Colliers said. Several bids were received from qualified buyers, but Castle & Cooke decided that the local family was the best fit for the property.
[HAWAII INC.]
NEW JOBS
»
Pacific Guardian Life Insurance Co.
has appointed
Stanley "Stan" Tandal
district sales manager. He will be responsible for the new Wahiawa sales office. He has 20 years of executive experience in the insurance industry.
» Benchmark Hospitality International has appointed Patrick Bolt as Turtle Bay Resort's facilities director. He most recently served as the assistant chief engineer at the Lansdowne Resort in Leesburg, Va.
» State Farm Insurance has appointed Lori Pasion as a Kaneohe agent and Margaret Yamashita as a Pearl City agent. Pasion previously served as a University of Phoenix, Hawaii campus enrollment advisor. Yamashita previously served as Better Brands' finance vice president.
» PM Realty Group has hired Anthony "Britt" Craven Jr. as manager of its new Kona office. He has 15 years of commercial real estate experience. Ron Waller has been appointed manager of the company's new Maui office. He has over 20 years of experience in property and asset management and real estate banking.
PROMOTIONS
» Bishop Museum has promoted
Blair Collis
to vice president of public operations. He will oversee museum exhibits and education programs, the Hawaii Maritime Center, the Amy Greenwell Garden, and the sales and marketing department. He previously served as
Mutual Publishing
's sales and marketing director.
» Hawaii Preparatory Academy has promoted Bob Bonar to development director. He most recently served as assistant development director. He will oversee the development office, including the implementation of a school fundraising plan.
» American Savings Bank has promoted Debbie Hayashi to assistant vice president, customer service and productivity officer. She will be responsible for relationship services and productivity strategies for the retail sales and service division. Hayashi has more than 27 years of experience in the banking industry.
---
NATION
SEC looking into insider trading
DENVER » Federal regulators have requested information from energy giant
Anadarko Petroleum Corp.
about its $21.1 billion acquisition of
Kerr-McGee Corp.
and
Western Gas Resources
, a company spokeswoman confirmed yesterday.
The Denver Post reported the SEC was looking at possible insider trading because some stock options for Kerr-McGee and Western Gas spiked in the days before the deal was announced.
Representatives of Anadarko and Kerr-McGee confirmed the SEC inquiry into their companies but declined to provide specifics or make additional comments. A Western Gas official did not return a call seeking comment.
Lawsuit planned over papers' sale
SAN FRANCISCO » A prominent businessman who turned the sale of the San Francisco Chronicle into a drawn-out legal drama six years ago is now suing to prevent
McClatchy Inc.
from completing a $737 million deal to sell three of the newspapers it picked up in its recent acquisition of
Knight Ridder Inc.
Clinton Reilly, a millionaire real estate investor, plans to file an antitrust lawsuit today that could derail or at least delay McClatchy's plan to unload the San Jose Mercury News, Contra Costa Times and Monterey Herald, according to his lawyer, Joseph A. Alioto.
The lawsuit, to be filed in U.S. District Court in San Francisco, names as defendants MediaNews Group, publisher of The Oakland Tribune and other newspapers; the Hearst Corp., which publishes the San Francisco Chronicle; Gannett Corp. and Stephens Media Group, a privately held a company.
Sacramento, Calif.-based McClatchy reached an agreement in late April to sell the three San Francisco Bay Area papers to MediaNews with backing from Hearst and the other publishers.
34 states will sue 7 semiconductor makers
SAN FRANCISCO » At least 34 states are expected to file a lawsuit today against seven semiconductor makers, accusing the companies of overcharging their customers for computer memory chips.
Separately, Elliot Spitzer, the attorney general of New York, sued yesterday to recover damages for consumers in the state.
The legal cases will open a new chapter in the 4-year-old investigation that has already led to large fines for the companies and prison sentences for several executives.
The multistate suit, which is to be filed in U.S. District Court in San Francisco, accuses the chip makers of conspiring to fix prices and manipulate supply from 1998 to 2002.
"They met and conspired to artificially increase prices, to reduce competition and to allocate market share," Bill Lockyer, the attorney general of California, said. "The result was that consumers got overcharged, and equipment manufacturers got overcharged."
Lockyer, who is taking a lead role in the multistate lawsuit, said the end users -- the consumers -- might have overpaid for the memory chips by hundreds of millions of dollars because of the price fixing.
$130M settlement in Gabelli fraud case
NEW YORK » Prominent money manager Mario Gabelli and related companies will pay $130 million to resolve civil fraud allegations that Gabelli created fake companies to gain an unfair advantage in the auctions of cell phone spectrum, the government announced yesterday.
The deal was approved yesterday by U.S. District Judge Paul A. Crotty. It includes Gabelli and 38 affiliated entities and individuals involved, the government said.
According to the terms of the settlement, neither Gabelli nor any of the affiliated entities or individuals admitted any wrongdoing or liability.
The government had sought to intervene in a 5-year-old lawsuit brought by private parties alleging Gabelli and others should pay hundreds of millions of dollars in damages for their participation in auctions conducted by the Federal Communications Commission between 1995 and 2000.
---
BUSINESS PULSE