Corrections and
Clarifications
---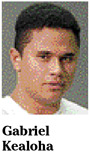 » Gabriel Kealoha, 27, pleaded guilty Monday to two counts of first-degree terroristic threatening for nearly running down a jogger last year. An
incorrect photo of another man with the same name was used on Page A4 in yesterday's morning edition
. The correct photo is shown here. The Star-Bulletin regrets the error.
» Daniel W. Trulove, 24, was gunned down near Chinatown just before midnight on July 1. Trulove's last name was misspelled in several stories since the shooting occurred.
» In a written statement, 1st Lt. Ehren Watada said, "How could I wear this honorable uniform now knowing we invaded a country for a lie?" An article on Page A1 in June 8's morning edition incorrectly quoted him as saying "horrible uniform."

The Star-Bulletin strives to make its news report fair and accurate. If you have a question or comment about news coverage, call Editor Frank Bridgewater at (808) 529-4791 or email him at corrections@starbulletin.com.