---
A LION'S SHARE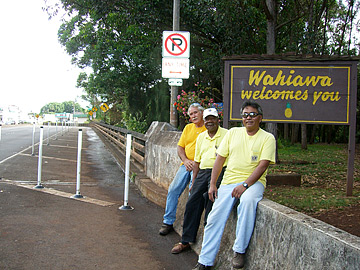 Powerful demonstrations of healing
Dr. Zhi Gang Sha, a doctor of both traditional Chinese and contemporary Western medicine, presents a series of public meetings on power healing, a method of treatment that combines practical techniques with a 5,000-year old history.
A free "Soul Mind Body Medicine" introductory workshop will be held from 7 to 9 p.m. tomorrow at the John A. Burns School of Medicine, Medical Education Building, Kakaako Campus, 651 Ilalo St.
Register with Dr. Elizabeth Chen Christenson at chimedical@doctor.com.
Other presentations:
July 15: 6:30 to 9 p.m. Workshop and viewing of the documentary "Qigong: Ancient Healing for the 21st Century," University of Hawaii, Art Auditorium. Cost is $45.
July 16: Introductory workshop, 6:30 to 10 p.m. at Pohai Nani Auditorium in Kaneohe. Cost is $25.
July 17: Workshop and documentary viewing, 6:30 to 10 p.m. at The Aloha Theatre in Kainaliu on the Big Island. Cost is $40.
July 18: Introduction to power healing, 6:30 to 7:30 p.m. at Unity Church, 3608 Diamond Head Circle. Sha will sign and bless copies of his new book "Soul Mind Body Medicine, A Complete Soul Healing System for Optimum Health & Vitality," 7:30 to 8:30 p.m. Donations accepted.
July 20: Introductory workshop, 9 a.m. to 6 p.m. at Unity Church of Maui. Cost is $25.
July 22 and 23: Two-day workshop, 9 a.m. to 6 p.m. on the first day; 9 a.m. to 3 p.m. on the second; Hawai'i Convention Center. Cost is $150 for both days; or $100 for Saturday's workshop and $75 for Sunday.
For information or to register for events, visit the Web site, www.drsha.com/events/hawaii.html or call 877-339-6815.
Docents needed for Contemporary Museum
The Contemporary Museum is now accepting applications through July 31 for volunteers interested in serving as docents.
Training sessions run weekly from September through May and cost $100. Sessions cover such topics as artistic methods, art history and other skills needed to guide visitors through the galleries.
Volunteers are asked for a minimum two-year commitment. No previous background in the arts or teaching is required.
Call Inger Tully, 526-1322, ext. 17, or e-mail itully@tcmhi.org for an application packet. Or download an application from the Web site, www.tcmhi.org/ep_docentsmain.htm.
---
[ MORSELS ]
Wine and football
Think of football and liquid refreshment and beer probably comes to mind.
But let go of that thought and imagine wine instead, specifically the Sheraton Hawaii Bowl's Flavors Wine Tasting, which benefits charities including the University of Hawaii's Rainbow Fever Scholarship fund.
An international selection of more than 100 wines will be featured at 6 p.m. July 20 in the Sheraton Waikiki Ballroom.
Also included: a wine seminar, door prizes and a silent auction that includes sports memorabilia and trips to Sheraton properties. Sheraton Hotels and Resorts is the title sponsor of the Hawaii Bowl.
Cost is $65 in advance; $75 at the door. Tickets are available at the UH ticket office or through www.etickethawaii.com.
Call 548-2695.
Free cooking demo
Chef Fred DeAngelo of Ola at Turtle Bay Resort hosts a cooking demonstration at noon Saturday at Macy's Ala Moana.
He'll show how to make his Slow-Poached Togarashi Salmon and Hamakua Mushroom Risotto with Truffle Oil.
The event is free and takes place in the demonstration kitchen on the fourth floor. Call 945-5894.