---
FAST FACTS HAWAII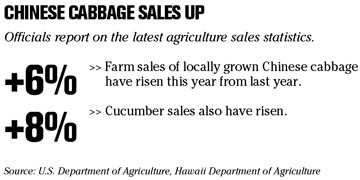 ---
HAWAII
EPA fines Hoku Scientific $14,200 over violations
The U.S. Environmental Protection Agency announced yesterday that it recently reached a settlement with
Hoku Scientific Inc.
, requiring the company to pay a $14,200 fine for hazardous waste violations at its former facility on Oahu.
Agency inspectors found in November 2004 that the facility did not have a hazardous waste identification number, failed to correctly label two 55-gallon drums in a waste storage area and hadn't posted emergency contact information in the waste storage area.
The Hawaii-based high-technology company has since moved to a new facility in Kapolei.
Hawaii Longs leader will retire
Longs Drug Stores Corp.
has announced the retirement of Gerald Saito, senior vice president over Hawaii's 31 stores, which will take effect Aug. 3.
Saito began his career with California-based Longs as a store clerk 36 years ago and was promoted over the years, rising to his current position in 1991.
"Gerald has been an invaluable member of the Longs team," said Warren F. Bryant, chairman, president and chief executive officer of Longs. "We honor his hard work and service ... and know that he leaves behind a tremendous legacy."
Hawaii District Manager Bob Ingersoll will be promoted to group vice president upon Saito's retirement. Ingersoll also began his career at Longs as a store clerk more than 30 years ago. He was promoted to his current position in 2004.
Cool award for local ice cream
Roselani Ice Cream, produced by Valley Isle-based
Maui Soda & Ice Works Ltd.
, has received a Directors' Coin award from the U.S. Department of Defense Commissary Agency.
The award, made in recognition of product excellence, was presented by Pat Nixon, chief executive of the Defense Commissary Agency, to Cathy Nobriga Kim, company vice president, and Diane Lee, brand manager.
The local ice cream brand has been in military commissaries for three years.
Hawaiian Air traffic gained in June
Hawaiian Airlines
' passenger traffic increased 7 percent in June, boosting the percentage of seats filled to 87 percent from 86.3 percent a year earlier.
Hawaiian's revenue passenger miles, or the total miles flown by paying passengers, rose 1.1 percent to 575.5 million from 569.2 million.
[HAWAII INC.]
NEW JOBS
»
KMH LLP
has hired
Sheri-Lyn Angala
as human resources administrator. She has over five years of experience in human resources administration. She previously served as
Altres Staffing
's industrial division personnel manager.
» The Mortgage Group Inc. has hired Paulette P. Suzuki as a loan officer. She has 15 years of experience in the financial service industry.
» Heide & Cook Ltd. has hired Holly Matsuda as contract administrator. She will oversee accounting, monitor service agreements and reply to customer questions. She previously served as a PricewaterhouseCoopers associate.
» Hawaiian Eye Center has hired Camilla Neicy Gray as an ambulatory surgery center nurse. She previously worked as a registered travel nurse in Florida. She will work at the company's Wahiawa location.
» Island Insurance Company Ltd. has appointed Sharon M. Lee president, administrative services.* She will manage the administrative services division. She has over 30 years of administrative experience.
» Shriners Hospitals for Children Honolulu has hired Tod Fujioka as management information services director. He will oversee the operations of Shriners' computer and network operations and information-services projects. He has over 25 years of diverse information technology experience and more than 10 years of management experience.
» Kaanapali Beach Hotel has hired Peter Bowes as its associate sales director. He will assist in the direction, coordination and supervision of the sales department staff in all sales-related activities, and manage the domestic and international wholesale tour operator markets. He previously worked for Intercontinental Hotels in San Francisco as sales director.
» Castle Resorts & Hotels has announced recent hires, promotions and restructuring of its management team. Jeff Caminos has been promoted to the company's operations director. He has over 27 years of hotel and condominium association management experience. Mark Bandsma has been hired as engineering director. He previously worked for Embassy Vacation Resorts in Poipu, Kauai. Cameron Hewines has been hired as the Kona Reef's general manager. He has over 23 years of management experience. John Tobin has been hired as the Poipu Shores general manager. He has 21 years of experience in the hospitality industry. Diane Pavao has been promoted to general manager of four resorts on Kauai. She has 18 years of Hawaii travel industry experience. Sheree Moffat takes on additional responsibilities overseeing the reservations department and financial analysis. She currently serves as sales vice president. Raymond Yoshimura has been promoted to financial analysis director. Christie Rivera has been promoted to contracts and account service manager. She has been worked for the company since 1992. Thaila Lonoaea has been hired as marketing coordinator. She previously worked for Regal Travel's marketing department.
» Rider Hunt Levett & Bailey has hired Brian Lowder as a senior project manager and promoted Paul McElroy to associate. Lowder has over 20 years of experience in the construction industry in cost estimating, cost control and project management. McElroy joined the company in 2000 as a cost manager.
NATION
Microsoft discloses 7 new flaws
Microsoft Corp.
, the world's largest software maker, reported seven major flaws that hackers can exploit in its Windows computer operating system and Office business programs.
Microsoft identified 15 flaws, seven of which warranted its "critical" designation, reserved for the most severe risks. Two Windows flaws can let hackers remotely run computers that never access fraudulent Web sites or infected files.
Hackers often target Microsoft programs, which run more than 90 percent of all personal computers, and the company has taken steps to increase protection for users of its products.
Google to employ 1,000 in Michigan
DETROIT >>
Google Inc.
plans to open a new facility in the Ann Arbor, Mich., area that will employ 1,000 people within five years to handle advertising generated by the search engine, Gov. Jennifer Granholm and company officials said yesterday.
CORRECTION
Thursday, July 13, 2006
» Island Insurance Company Ltd. has appointed Sharon M. Lee vice president of administrative services. An article on Page C2 yesterday incorrectly said she had been appointed vice president of sales.
---
BUSINESS PULSE