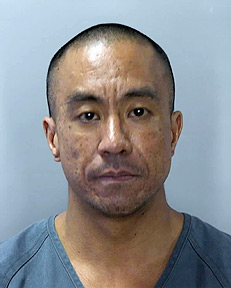 David Domingues
Man gets 5 years for neighborhood terror
A year ago, 9-year-old Taylor Ishida would not have been able to set off fireworks with her family and friends in their Ahuimanu cul-de-sac.
This time, with neighbor David Domingues in jail, they felt free to celebrate the Fourth of July.
Domingues terrorized his neighbors on Henoheno Place for more than a decade by screaming verbal abuse, vulgar language and obscenities to anyone within earshot. He threatened to kill his neighbors and burn down their homes if they even dared to cross him.
Yesterday, Circuit Judge Steven Alm sentenced Domingues, 38, to the maximum five years in prison for threatening another neighbor, Lamonte Kapec, with bodily injury and threatening to kill Ishida's father and her family.
Defense attorney Randall Oyama argued that Domingues never actually physically harmed anyone, and asked for probation. With several of his neighbors in the courtroom listening, Domingues apologized to the court for his behavior, saying he accepted full responsibility for his actions, but he barely acknowledged his former neighbors.
Unlike other first-degree terroristic threatening cases where someone threatens another with a dangerous weapon, Alm said he considered Domingues' case just as serious because of the period of time that he held his neighbors hostage under a climate of fear. And Alm disagreed with the defense's characterization of the impact Domingues' conduct had on his neighbors. "When people's stomachs are churning, can't sleep -- that's physical harm."
What was missing yesterday from Domingues was a genuine expression of remorse toward his former neighbors, Alm said. "The court needed to see you real remorseful, and I don't see that," he said.
Only after Alm prompted him did Domingues finally turn around and glance over at his neighbors, but he did not address them directly.
Alm had given Domingues a chance earlier this year to participate in the Sand Island drug treatment facility but ordered him back to prison after he apparently threatened a staff member.
Alm said he has not seen anything in Domingues in the last three months that showed he had changed.
"I think your former neighbors deserve a chance to sleep in peace and the Sand Island program a chance to not be threatened," Alm said.
"It was all about power," said Deputy Prosecutor Clinton Peiper in explaining why Domingues tormented his neighbors. None of his neighbors did anything to provoke him and would go out of their way to avoid being in his line of sight or avoid crossing his path.
Kapec, who filed the first restraining order against Domingues, said he did not expect Domingues to get jail. "I think the right things took place today."
Ishida said he is reassured that at least for a while Domingues will not be around to harass them. "I'll be safe. We can play in the streets, talk to the neighbors, mow the lawn without problems," he said. "Now we can have friends and parties, and get together."