---
FAST FACTS HAWAII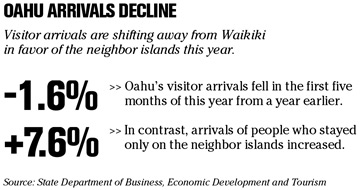 ---
HAWAII
Fly on Aloha's birthday, get a free round trip
Anyone who buys a ticket to fly on
Aloha Airlines
on July 26, the airline's birthday, will get a round-trip interisland ticket to fly free on their own birthday in 2007, the carrier said yesterday.
The special promotion is part of Aloha's 60th anniversary celebrations. "We're thanking the people who fly us on our birthday by celebrating their birthday," said David A. Banmiller, Aloha's president and chief executive officer.
A passenger who travels on July 26 will get a certificate that can be redeemed for a roundtrip flight that begins on his or her birthday in 2007. The return leg of that flight must be within seven days of departure.
To obtain a free ticket, a passenger must submit the July 26 boarding pass stub along with a copy of a government-issued document verifying the date of birth.
NATION
Paulson takes over Treasury
WASHINGTON » Henry M. Paulson Jr. took over yesterday as Treasury secretary and as President Bush's top economic adviser, filling out a new economic team with a more pragmatic cast for the final two and a half years of this administration.
Bush, who wooed Paulson from his post as chairman of Goldman Sachs, said yesterday that the former executive would have a central role in setting the agenda and implied that the Treasury Department would regain some of the power it lost to White House advisers during Bush's first term.
"Hank Paulson will be my leading policy adviser on a broad range of domestic and international economic issues, and he will be my principal spokesman for my administration's economic policies," Bush said before Paulson was sworn in.
Underwriter pulls out of JAL share sale
Nikko Citigroup Ltd.
has pulled out from a group of 15 domestic brokerages arranging
Japan Airlines Corp.
's share sale that is estimated to raise as much as $1.96 billion, the nation's largest carrier said.
Japan Airlines was notified by Nikko Citigroup on July 7 of the decision to drop out as an underwriter of the share sale, the Tokyo-based carrier's spokesman Tatsuo Yoshimura said in a telephone interview today, without elaborating. Nikko Citigroup spokeswoman Kaori Tsubooi declined to comment on the issue.
Google may start online storage service
Google Inc.
, the most-used Internet search engine, may release a virtual hard-drive service that lets computer users store their files on the Internet, a
Bear Stearns & Co.
analyst said.
The service, code named Platypus, would let users synchronize files on different computers and give other people access, Robert Peck, an analyst in New York, said yesterday in a note to clients. He cited a screen shot posted by Web log writer Corsin Camichel.
NYSE fines trading company $3.5 million
Van der Moolen Holding NV
, the fourth-largest market maker on the New York Stock Exchange, was fined $3.5 million by the NYSE after one of its units made improper payments to family and friends of trading partners.
The stock-loan department at Van der Moolen Specialists USA paid about 29 people a total of more than $2.65 million in fees for transactions they never arranged, a NYSE disciplinary panel determined.
Van der Moolen, which closed the department last year, said in a statement that it consented to the findings of an investigation by a NYSE hearing officer.
WORLD
Finance official opposes rate rise
TOKYO » Japan's finance minister urged the central bank today to keep interest rates at zero when it meets later this week.
Finance Minister Sadakazu Tanigaki said it would be desirable for the Bank of Japan to stay with the zero rate at its policy meeting because the country is faced with little inflation risk.
"Given that there's little concern about inflation, I think zero interest rates are desirable," Tanigaki told a news conference.
The policy board of the Bank of Japan is holding a two-day meeting ending Friday to weigh a decision on interest rates. If it decides to raise interest rates, it will mark a milestone for Japan's central bank.
Japan's consumer sentiment falls
Consumer sentiment in Japan worsened for a second straight month in June, the government said today, suggesting there might be some growing concerns about wages and the job market.
The index for the Cabinet Office's consumer confidence survey, which measures consumers' economic outlook for the coming half year, fell to 47.2 in June from 49.8 in May. That's the lowest since December 2005, when it was 46.5.
Isuzu to produce trucks in Russia
TOKYO » Isuzu will start producing small trucks in Russia, the Japanese automaker said today, the latest move among global manufacturers to strengthen their business in that growing market.
Isuzu Motors will begin full-scale production of the ELF light-duty commercial truck in Russia in July and the vehicles will be sold under the Isuzu brand, aiming for sales of 500 vehicles this year, the company said in a statement.
---
BUSINESS PULSE