| | |
| --- | --- |
| | Newswatch |
---
Homeless shelter names director
Connie Mitchell was named executive director of the Institute for Human Services, Oahu's largest emergency homeless shelter, last month. Mitchell brings nursing, pastoral work and management experience at Hawaii State Hospital to her new position.
She established the state's first nurse-run rural mental health clinic in Kau on the Big Island through an innovative Department of Health and University of Hawaii collaboration, according to an IHS release.
BOOK SALE PROVIDES COMIC RELIEF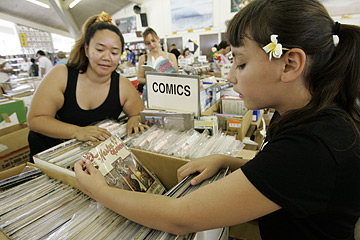 | | |
| --- | --- |
| | Police, Fire, Courts |
---
HONOLULU
Fire damages Kapiolani condo
An electrical failure set off an early-morning fire yesterday that caused $430,000 in damage to a Kapiolani Boulevard apartment, fire officials said.
Nine units responded to the 3 a.m. fire, which was contained to one bedroom on the eighth floor, said Capt. Jerry Spencer of the Honolulu Fire Department.
Four people who had been at the apartment when the fire began were not injured, Spencer said.
NEIGHBOR ISLANDS
Luau building blaze traced to fire knife
A smoldering fire knife used in a luau show the night before is blamed for a blaze that caused an estimated $500,000 damage to a luau hale yesterday morning, Kauai officials reported.
The fire at the ResortQuest Kauai Beach Marriott Waipouli resort, formerly known as the Courtyard by Marriott at Waipouli Beach, was reported at 4:32 a.m. by a security guard.
Firefighters from Kapaa and Lihue extinguished the fire within 10 minutes of arriving, according to a written news release from the mayor's office. No one was injured.
About half of the 2,400-square-foot wooden structure was destroyed, including the roof, part of the stage and the dressing room, which contained costumes used in luau shows.
Skin diver drowns off South Kona shore
A skin diver apparently drowned in waters off the South Kona shoreline yesterday afternoon, police said.
Divers and witnesses along the Milolii shoreline brought the 53-year-old man in and tried to revive him.
The diver was taken to Kona Community Hospital where he was pronounced dead at 4:28 p.m., police said.
LEEWARD OAHU
Losses set at $70,000 in 3-car garage fire
A 3 a.m. fire in a garage in Waianae yesterday caused about $70,000 damage, the Honolulu Fire Department reported.
Three cars were parked in the garage, said Capt. Jerry Spencer of the Honolulu Fire Department.
Officials were investigating the cause of the fire on Ala Akau Street.
WINDWARD OAHU
Federal firefighter helps save swimmer
An off-duty federal firefighter helped bystanders pull a tourist out of the water yesterday afternoon at Kailua Beach Park, and administered CPR to her until lifeguards arrived on the scene, an Emergency Services Department spokesman said.
Bryan Cheplic, the department's spokesman, said the 43-year-old visitor from California nearly drowned shortly before 4 p.m. at Flagpoles.
He said she was taken to Castle Medical Center in critical condition.