| | |
| --- | --- |
| | Island Mele |
---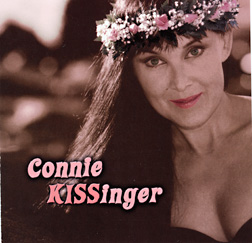 "Kiss"
Connie Kissinger
(Jelly Notes)
Connie Kissinger is remembered by many island residents as the vocalist of Kit Samson's Sound Advice at the old Kahala Hilton. Samson went through at least half a dozen singers during his long run in the hotel's popular Maile Lounge, but Kissinger is the one most people think of first. Her self-produced solo album will surprise longtime residents who remember her as a sophisticated pop chanteuse.
She establishes a tropical fantasy theme with a beautiful arrangement of "Love Song from 'Mutiny on the Bounty.'" Kit Ebersbach, the arranger of that selection, is the musical director of Don Tiki; he adds a similar touch of exotica to her romantic rendition of "Shells."
Steve Jones and Bryan Kessler get the credit for the calypso-style feel of "Kona Coffee Song," a Kissinger original that coffee growers should adopt as an advertising theme. "Papaya" isn't an original, but her version would likewise be a great jingle for the local industry.
Kissinger reaffirms her talent as a song stylist with "Just a Little Girl," "Sailing" and "He Aloha Mele." Her reworking of the latter as light Latin-style jazz offers a fresh perspective on Iva Kinimaka's signature hit.
Three songs are original comic hapa-haole tunes that Kissinger sings in stereotypical stage-style pidgin with varying degrees of success. "Swingin' Hawaiian Style" is the closest to traditional hapa-haole material, and also the best fit for her as a veteran pop singer. "Island to Island," obviously a true-to-life account of her experiences moving to the Big Apple, makes such excessive use of heavy pidgin that it sounds contrived. "Holoholo Maika'i," on the other hand, is an admirable experiment done in a late-'60s rock style that works surprising well despite a bit of pidgin foolishness.
"The Queen's Prayer," sung with the lone accompaniment of slack-key guitarist Jeff Peterson, closes the album on an introspective note.
---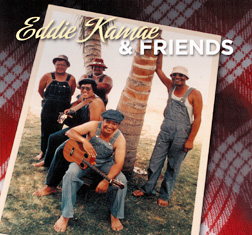 "Eddie Kamae & Friends"
Eddie Kamae
(Hawaiian Sons)
The "friends" heard performing with Kamae on this anthology are other members of the old-time Sons of Hawaii -- David "Feet" Rogers, Joe Marshall, Moe Keale and Dennis Kamakahi -- and people who recorded with them over the years. Sonny Chillingworth takes the lead vocal on two songs, and Diana Aki on three. Joe "The Fiddler" Bourque adds the rarely heard sound of country violin on others.
Kamae evidently compiled this album for people who already know the complete history of the Sons and the meaning of these songs. He provides no information on either topic, but his comments about his "friends" add a personal touch to this collection of beautiful traditionalist Hawaiian music.
---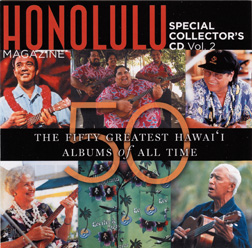 "The 50 Greatest Hawai'i
Music Albums Ever Vol. 2"
Various artists
(Mountain Apple Co.)
This is the second anthology to come out of a controversial article on the "greatest Hawai'i albums of all time" that Honolulu magazine ran in 2004. The first one generated additional controversy when reviewers pointed out that the cover art showed artists who weren't included on the album (the cover art was subsequently changed).
This new volume doesn't have that flaw, but it comes with no information whatsoever about the artists, the significance of the songs or the history of these recordings. The music is pretty, but buyers deserve more for the price of a local CD than what the compilers of this bottom-of-the-barrel project put into it.
No wonder so much illegal burning of CDs goes on these days!
John Berger
, who has covered the local entertainment scene since 1972, writes reviews of recordings produced by Hawaii artists. See the Star-Bulletin's Today section on Fridays for the latest reviews. Reach John Berger at
jberger@starbulletin.com
.