Home prices rise on Maui, Big Island; Kauai's fall
All three islands see a drop in sales of homes and condos
Neighbor island homes were selling at a slower pace last month, a trend similar to the one recorded on Oahu.
But on Kauai, unlike the other islands, the median home price dropped compared to the same month last year -- to $599,000, according to Hawaii Information Service. That was 14 percent less than the median price a year ago, which was close to $700,000.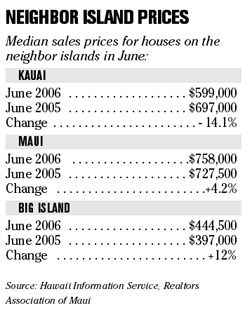 Kauai's condominium median price also dropped -- to $424,000, about 5.8 percent lower than it was in June 2005.
As with the other islands, fewer homes on Kauai changed hands: Only 41 previously owned homes were sold in June, 29 less than the same month last year. Fewer condos also sold -- only 62 in June compared to 74 the same month last year.
Rick Shaw, president of the Kauai Board of Realtors, called it a "leveling off of the market" following a seven-to-eight-year upcycle.
"We're long overdue," said Shaw, "and we could use a breather and let the market catch up. Because the market is starting to level, people who overshot are starting to scale back."
The Kauai real estate market is seeing more price reductions, he said, and longer days on the market.
Debra Blachowiak, principal broker of Sleeping Giant Realty, a Sotheby's affiliate, said she wasn't surprised.
"There's so much inventory coming on the market now from people who think they're going to miss the market," she said. "People are still looking, but I think in order to sell, people are lowering their prices."
A slowdown in home sales is also occurring on Maui and the Big Island, though prices on those islands continue to rise.
The median price for a home on Maui continued to increase in June to $758,000, 14 percent higher than a year earlier at $727,500.
But the number of homes sold dropped to 82 in June, 64 less than sold the same time a year ago.
Terry Tolman, executive vice president of the Realtors Association of Maui, said the market continues to taper off.
The median price of condos on Maui hit another all-time high of $675,000 -- $75,500 higher than last June, mostly due to sales of high-end properties, he said.
But fewer Maui condos changed hands, with 101 recorded in June, 93 fewer than last June.
On the Big Island, the median home price in June was recorded at $444,500, about 12 percent higher than June of last year. Condominium prices were recorded at $369,000 in June, about 4.7 percent lower than last June.
Sales were also down, with only 190 existing homes trading hands in June, a dramatic drop from 295 at the same time last year. Only 67 existing condos were sold, compared to 110 last year.