---
FAST FACTS HAWAII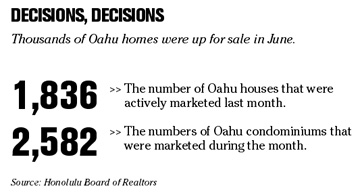 ---
HAWAII
Mesa-Hawaiian hearing delayed
A hearing on a preliminary injunction sought by
Hawaiian Airlines
to prevent
Mesa Air Group Inc.
's startup interisland airline go! from selling new tickets for one year has been pushed back to Aug. 7 from Aug. 4.
Mesa had sought the delay because its lead counsel has a conflict with a previously scheduled hearing on a different matter and Mesa wanted more time to file its opposition to the injunction. Hawaiian is seeking the injunction because it alleges Mesa used confidential information gained while it was a potential investor during Hawaiian's bankruptcy to help start its own Hawaii operation.
In a related motion, Hawaiian has received a 45-day extension to decide whether it wants to add its former consultant, Mo Garfinkle, as a defendant in its pending lawsuit against Mesa. A trial on the suit is scheduled for next April. Garfinkle is now a consultant for Mesa.
NATION
Lay funeral to be held tomorrow in Aspen
HOUSTON » Family and friends, including co-defendant Jeffrey Skilling, will attend private memorial services for Kenneth Lay in Houston and in Aspen, Colo., where the Enron Corp. founder died suddenly on Wednesday awaiting sentencing for his role in one of the biggest business debacles ever.
The 64-year-old executive faced spending decades in prison after he was convicted of fraud and conspiracy charges earlier this year by a federal jury in Houston.
A small, private memorial service is set for tomorrow afternoon at the Aspen Chapel just outside the northern city limits of Aspen, family spokeswoman Kelly Kimberly said in a statement. Lay died in the glitzy western Colorado ski resort town where he and his wife, Linda, were vacationing. A coroner said an autopsy showed severe coronary artery disease caused Lay's death.
A second memorial service is scheduled for Wednesday at First United Methodist Church in downtown Houston.
Illinois sues Liberty Mutual
Illinois accused
Liberty Mutual Insurance Co.
of fabricating prices and paying kickbacks to brokers, becoming the third state to sue the company for bid-rigging.
The Boston-based property and casualty insurer participated in a scheme orchestrated by Marsh & McLennan, the world's biggest insurance brokerage, Illinois Attorney General Lisa Madigan said in a complaint filed this week in a Chicago state court. Marsh and insurers including Liberty used phony bids to create the illusion of competition for excess-liability coverage where there was none, the complaint said.
It is the third time Liberty, the fourth-largest business insurer in the United States, has been sued by a state over its practices. In May, the attorneys general of New York and Connecticut accused the company in coordinated suits of making up bids and paying off insurance brokers in exchange for new business.
Task force to review hedge funds
Fraud in the $1.2 trillion hedge-fund industry poses an "emerging threat" to investors, the head of the Bush administration's task force on corporate crime said in an interview.
Deputy Attorney General Paul McNulty said the potential for wrongdoing in the lightly regulated investment pools makes them ripe for scrutiny by prosecutors, regulators and investigators. The corporate-fraud task force is also studying the scandal involving backdating stock options for executives, he said.
The task force will discuss hedge-fund fraud at its next meeting at the end of this month, McNulty said. "There's been some interest in the media recently on hedge funds, and that would be a good example of an emerging threat that we would want to talk about and ensure that we are handling," he said.
George Thorogood band sued by former member
George Thorogood & the Destroyers, the rock band known for the 1982 song "Bad to the Bone," was sued by a former member who claims he is being shortchanged in royalty payments.
Henry G. Carter, who sings and plays keyboard, guitar, and wind instruments, says in the suit filed June 30 in federal court in Delaware that he joined the band in 1979 and had been paid 20 percent of net record-sale royalties since the 1980s.
Since being "involuntarily released" by the Landenberg, Pa.-based band in 2003, Carter says he has received royalty checks "that are sporadic and inexplicably reduced by a 'management fee.'"
The band released a retrospective last year, "George Thorogood: 30 Years of Rock," under EMI Group Plc's Capitol Records Inc. label. It sold more than 500,000 copies and was named the top blues album of 2005 by Billboard Magazine, the lawsuit says.
The band didn't immediately return an e-mail seeking comment on the suit. Neither the band nor its management arm, Independent Productions Inc. of Landenberg, have listed telephone numbers.
Verizon aims to spin off yellow pages division
Verizon Communications
said yesterday that it was preparing to spin off its yellow pages division before the end of the year so it can focus more on its wireless, broadband, and television divisions.
Verizon said in a filing with the Securities and Exchange Commission that it had not ruled out selling some or all of the division, known as Verizon Directories, which includes SuperPages.com.
Last December, Verizon said it was looking to unload the division, which financial analysts say could bring in at least $14 billion. Verizon is expected to use the money to help expand the fiber optic network it is building or to buy back some of the 45 percent of Verizon Wireless that is owned by Vodafone.
Sharper Image to stop selling breathalyzers
SAN FRANCISCO » Electronics retailer
Sharper Image
agreed yesterday to stop selling personal breathalyzers and pay $1.2 million in restitution as part of a settlement regarding the devices.
The company incorrectly claimed the "Digital Breath Alcohol Tester" devices were accurate to .001 percent blood alcohol content, according to tests by San Diego's Consumer Protection Unit.
Sharper Image also agreed to pay $100,000 in penalties for inaccurately advertising the effectiveness of the testers.
Monterey County and San Diego law enforcement agencies reached a settlement collectively on the consumer protection case.
In other news ...
Primedex Health Systems Inc.
will buy rival
Radiologix Inc.
for $82.5 million in cash and stock to become the largest U.S. operator of diagnostic imaging centers. The shares of both companies rose. Investors in Radiologix will get $3.59 a share in cash and Primedex stock, 60 percent more than yesterday's closing price.
---
BUSINESS PULSE