| | |
| --- | --- |
| | Newswatch |
---
GROUND ZERO AT PEARL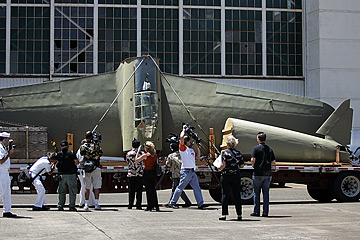 Onizuka name sought on facility
U.S. Rep. Ed Case wants the Air Force to name one of its facilities after Hawaii-born astronaut Lt. Col. Ellison Onizuka once the California base bearing his name closes.
The Sunnyville, Calif., air station is set to close by 2011 in the Pentagon's base-closure process. Onizuka, an Air Force officer, died when the space shuttle Challenger exploded on Jan. 28, 1986. Case has requested that the Air Force rename another facility, preferably in Hawaii, after the Big Island native.
EASTER SEALS LOOKS WESTWARD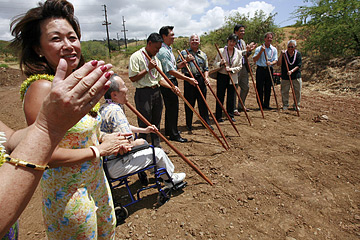 What's inside your Star-Bulletin this weekend:
Saturday
KEEPING FAITH
Nothing can stop them
St. Joseph Church's parishioners weathered the elements under tents while their Waipahu church was renovated for the past year.
Sunday
BUSINESS
Budgeting for a room
Hawaii's budget hotel rooms, which are going up in price because of shrinking inventory and upgrades, are becoming less affordable after rising 53 percent in May over the previous year.
| | |
| --- | --- |
| | Police, Fire, Courts |
---
WAIKIKI
Man and woman in 20s found dead after fall
A man and woman, both in their 20s, were found dead in Waikiki last night after a fall from a building on Ala Wai Boulevard.
Homicide detectives were called to the scene to determine whether the deaths resulted from a double-suicide, a murder-suicide, or were accidental.
The incident happened shortly before 6 p.m. at 2211 Ala Wai Blvd. Further details were not available at press time.
LEEWARD OAHU
Passenger who died in SUV crash identified
The Honolulu Medical Examiner's Office has identified the 34-year-old man who died early Wednesday in a crash in Waipahu as Havons Ludwig of Honolulu. Ludwig was the front seat passenger in a sport utility vehicle that crashed into a tree on Waipio Access Point Road just before 1 a.m.
Two other males in the car -- the driver, 20, and a back seat passenger -- were in serious condition. Police said speed and alcohol were factors in the crash.
NEIGHBOR ISLANDS
Visitor dies on hike near Maui waterfall
WAILUKU » A 56-year-old man from Washington state died while hiking near a waterfall in East Maui.
Police Lt. Mike Kahoohanohano said the man appeared to have slipped backward and hit his head on a rock in an area off Wailua Iki Road, about a mile mauka of Hana Highway.
Police received the call at 11:18 a.m. yesterday, after some people noticed the man on the ground. Kahoohanohano said the terrain is uneven with boulders, rocks and gravel, and a private-property sign is posted warning people to stay out of the waterfall area.
He said an autopsy is scheduled for today to determine the cause of death. Kahoohanohano said the man was traveling with his wife, but she was not there when he apparently slipped. Police said no one saw the man fall.
Kona resident charged in burglary at house
A 20-year-old Kailua-Kona man was charged yesterday with committing a Fourth of July burglary in Kona on the Big Island.
Detectives from the Kona Criminal Investigations section charged Youness Oubad with first-degree burglary, second-degree theft, third-degree theft, theft of a credit card and unauthorized control of a propelled motor vehicle. He is being held at the Kona police cellblock in lieu of $9,000 bail.
Police said Oubad entered a Keauhou home between 4 and 6 a.m. while a 73-year-old woman was asleep and stole her purse, cash, credit card and car keys. He then allegedly went to the victim's garage and took her car, which police recovered later that day at the Keauhou Pier.
Oubad was driven from the pier to Hao Street, the site of the burglary, by a 43-year-old woman and a 40-year-old man. The two were detained and then released without charges yesterday pending investigation.
Detectives executed search warrants and recovered all the stolen property.