---
FAST FACTS HAWAII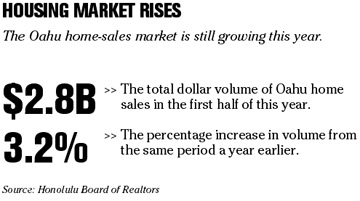 ---
HAWAII
Hawaiian, Aloha fly on time the most
Hawaiian Airlines
and
Aloha Airlines
finished one-two in the nation for punctuality in May, though Hawaiian's performance was well ahead.
Hawaiian's flights were 95 percent on time while Aloha was at 88.7 percent, according to the monthly Air Travel Consumer Report issued yesterday by the U.S. Department of Transportation. Mesa Air Group Inc., the parent of new interisland carrier go!, was 13th with 77.4 percent of flights arriving on time.
The DOT report covered 20 airlines, including nine carriers providing service for Hawaii.
In other categories, Hawaiian was first in baggage handling with 2.57 mishandled baggage reports for every 1,000 passengers flown. Aloha was 10th at 4.68 and Mesa was 18th at 7.92.
In the fewest-cancellations category, Hawaiian was fourth with 12 out of 4,131 flights, Aloha 15th with 45 of 3,653 flights; and Mesa 19th with 538 of 24,678 flights.
For fewest complaints submitted to the DOT, Aloha and Comair, a Delta Air Lines subsidiary, tied for first with zero complaints for 271,050 and 942,318 passengers, respectively; Hawaiian was fourth with one for 502,108; and Mesa was 11th with eight for 1.2 million.
New interisland carrier 82.5% full
Mesa Air Group Inc.
's new interisland airline, go!, filled 82.5 percent of its seats during its first month of operation, the Phoenix-based parent said yesterday.
Go!, which began service on June 9, had an on-time arrival rate of 88.9 percent.
"We are delighted with the initial traffic figures," said Jonathan Ornstein, chairman and chief executive of Mesa.
Mesa, which operates 185 aircraft with more than 1,100 daily departures nationwide, posted an 11.8 percent increase in air traffic in June as more than 1.3 million people boarded flights compared with more than 1.2 million a year earlier.
[HAWAII INC.]
PROMOTIONS
>>
American Savings Bank
has promoted
Derwin Osada
to assistant vice president and investment department manager. He will be responsible for the management and operation of the bank's investment securities portfolio. He has more than 12 years of experience in asset management.
» Charter Funding of Hawaii has promoted Vern Leaman to Mililani branch manager. He will oversee a staff of 15 employees. He previously served as the company's senior loan officer. Charter Funding also promoted Shirley DeRego to Waimea branch manager. She will oversee a staff of nine employees. DeRego was recognized as one of Charter Funding's top loan officers nationwide in 2004.
» American Savings Bank has promoted Kim Greenly to assistant vice president, core deposit product manager. She has 14 years of experience in the banking industry.
» Kaanapali Golf Courses has promoted Scott Ashworth to PGA director of golf. He previously served as the club's PGA head golf professional. He will be responsible for merchandising, sales and marketing, budgeting and agronomics.
» Central Pacific Bank has announced the following promotions and hires: Sally T. Spotkaeff has been promoted to assistant vice president and systems and programming manager. Dean M. Tamanaha has been hired as assistant vice president and asset/liability manager. Katherine M. Uyeno has been promoted to assistant vice president and cash management officer.
» Chart Rehabilitation of Hawaii has promoted Kevin M. Takaki to marketing/administration vice president, and appointed Lynnette N. Masuda as medical administration vice president. Takaki previously served as the center's rehab program coordinator. Masuda will oversee the operations of the Dynamic Evaluation Center.
ON THE BOARD
» The Hawaii Supreme Court has appointed
Michael D. Miyahira
to a five-year term as a trustee for the Lawyers' Fund for Client Protection. He is manager and CFO for
Hawaiian Rainbows Business Development LLC
.
» SKAL International Hawaii has installed the following new officers for the 2006-2007: Richard Oshiro, president; Ron Hee, vice president; Mike Miller, treasurer; Phil Sammer, secretary; Stephanie Uyeda, executive secretary-treasurer; and Deems Narimatsu, Steve Winter, Earl Loo, Shauna Hyswick, Duke Ah Moo, Susan Weander, Ethan Lynette, Brian Crawford and Renee Cochran are directors.
» The Hawaii Island Chamber of Commerce has elected David DeLuz president for the 2006-2007 year. He is vice president of Big Island Toyota. He has over 25 years of experience in the automotive industry.
» Case Bigelow & Lombardi has appointed Lauren R. Sharkey director and shareholder. She concentrates her practice in real estate, taxation and business and commercial law.
» The American Bar Association has appointed Dale W. Lee to its board of governors. He is a partner at Kobayashi, Sugita & Goda. He replaces the late Horace "Hod" Greeley, who died earlier this year.
>> Island Insurance Co. has elected Robert A. Alm and Alton K. Miyashiro to its board of directors. Alm is Hawaiian Electric Co.'s senior vice president, public affairs. Miyashiro is managing principal of Nishihama & Kishida CPA's Inc.
NATION
CEO accused of mob laundering
Francis O'Donnell, the chief executive officer of
Coach Industries Group Inc.
, was charged in a federal indictment with laundering $280,000 in illegal drug proceeds to help the Genovese crime family.
O'Donnell and three conspirators asked an undercover detective to launder purported drug proceeds through Coach, a limousine maker based in Davie, Fla., prosecutors said in a news release. The men laundered the money through six other companies owned by O'Donnell or his employees, not Coach, according to an indictment unsealed June 30 in Miami.
Coach disclosed the indictment yesterday in a Securities and Exchange Commission filing. O'Donnell and five other men charged in the indictment were accused of being associates in the Genovese family. A seventh man who was indicted, Renaldi "Rey" Ruggiero, was accused of being a captain in the family.
Northwest attendants dump union
MINNEAPOLIS »
Northwest Airlines
flight attendants voted yesterday to throw out their independent union and join the larger, stronger Association of Flight Attendants. But with Northwest free to impose new pay cuts and work rule changes on July 17, it may be too late for the new union to negotiate improvements.
Flight attendants voted 62 percent to 38 percent to drop the Professional Flight Attendants Association and join the AFA.
WORLD
China Southern to buy 50 planes
SHANGHAI, China »
China Southern Airlines Co.
, one of China's three biggest carriers, said today it has agreed to buy 50 Airbus A320 aircraft. The airline signed an agreement to buy the planes yesterday after its board approved the purchase, it said in a statement published in the state-run newspaper China Securities Journal.
The catalog price of the jets totals $3.3 billion but the airline said it would pay less, without giving an exact amount. Rival airline China Eastern Airlines Co. last week announced the purchase of 30 Airbus 320s.
---
BUSINESS PULSE