| | |
| --- | --- |
| | Newswatch |
---
IN REMEMBRANCE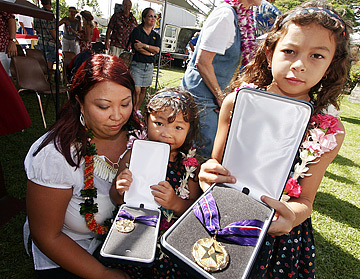 Mayors group picks Hannemann
Honolulu Mayor Mufi Hannemann has been selected to serve as chairman of the United States Conference of Mayors Standing Committee on Tourism, Arts, Parks, Entertainment and Sports. The conference is a nationwide organization made up of mayors from 1,139 cities. Hannemann is the first Hawaii official to serve in a leadership position with the Conference of Mayors since Honolulu Mayor Neal Blaisdell served as its president in the 1960s.
| | |
| --- | --- |
| | Police, Fire, Courts |
---
WEST OAHU
Firefighters report fewer blazes this holiday weekend
Honolulu firefighters reported a busy but mostly safe Fourth of July, with one major brush fire that came near homes in Makakilo.
Fire Capt. Kenison Tejada said Oahu firefighters responded to 52 brush fires, 15 rubbish fires and two Dumpster fires as of 9:20 p.m. Of the brush fires, 18 were determined to be fireworks-related.
The most serious fire occurred off Hunekai Street in Makakilo about 8:30 p.m. The brush fire burned about three acres and came near five homes before it was extinguished.
Five engines and two tankers responded, and firefighters took about 35 minutes to bring the flames under control.
On the Big Island, a dispatch supervisor said five small fires, including one in a chicken coop, appeared to have been started by fireworks as of yesterday afternoon.
At least two other brush fires were reported in Maui.
Last year, about 80 percent of the 101 brush fires, 16 rubbish fires, eight Dumpster fires and six other fires on Oahu during the Fourth of July were believed to be fireworks-related.
The fire department tallies the number of Fourth of July fires each year and a full count is expected to be released sometime today.
HONOLULU
Bicyclist is injured in collision with pickup
A portion of Ala Moana Boulevard was closed for more than two hours Monday night while police investigated a collision between a pickup truck and a bicyclist who was not wearing a helmet.
Police said the bicyclist peddled into the intersection against the light in the Cooke Street crosswalk around 7:40 p.m. when he was struck by a truck heading toward Diamond Head.
Bryan Cheplic, a spokesman for the Honolulu Emergency Medical Services Department, said the bicyclist, who was in his 40s, was transported to the Queen's Medical Center in serious condition.
Police said the bicyclist may have been intoxicated, but speed was not a factor in the case.
The 63-year-old Honolulu man driving the truck was not injured.
Police closed all eastbound lanes and temporarily rerouted traffic to Coral Street.
LEEWARD OAHU
Death in Waipahu is ruled a suicide
A 36-year-old man who police believe shot his ex-wife and her daughter in Waipahu on Monday died from a self-inflicted gunshot wound to the head, according to the city's Medical Examiner's Office.
Police have not released the man's name, but neighbors have identified him as Joe Crow.
His ex-wife, also identified by neighbors as 34-year-old Flores Crow, died from a gunshot wound to the neck, the examiner's office said yesterday.
Autopsies ruled the death of the man as a suicide and the death of the woman as a homicide.
Crow's daughter, 14-year-old Emily Crawford, who was shot once in the face, was last listed in critical condition at the Queen's Medical Center. The hospital yesterday would not give information on her condition.
Police are investigating the shooting as a murder and an attempted murder.
Police seek suspect in Waikele robbery
Police are looking for a man who apparently robbed the Sunglass Hut at Waikele Shopping Center at 3:45 p.m. yesterday. The man was described as in his mid-20s, 5 feet 7 and about 200 pounds. He held what appeared to be a handgun and fled on foot with an undisclosed amount of money.
CENTRAL OAHU
Teen boy arrested in assault of homeowner
Police arrested a 17-year-old boy who allegedly pushed his way into a Mililani home late Saturday.
Police said the boy knocked on the door of the house and when the resident answered, the boy pushed his way in and assaulted him.
The boy then fled but was later arrested at his house for investigation of first-degree burglary.
He was released pending investigation.
NORTH SHORE
Boy is critically hurt in motocross accident
A 12-year-old boy was taken by helicopter to the Queen's Medical Center in critical condition after an accident at the Kahuku motocross track, an emergency services department spokesman said.
The incident happened shortly before 2:30 p.m.
The boy was taken to Sunset Beach Elementary School and picked up by the medevac helicopter after he was injured while riding a motorcycle at the track, the spokesman said.