---
FAST FACTS HAWAII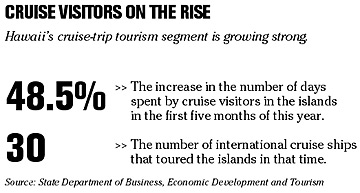 ---
[HAWAII INC.]
NEW JOBS
»
Finance Factors
has hired
Eric Hodnefield
as residential loan division vice president and sales manager. He will be responsible for the overall management of residential loan sales including managing, coaching, evaluating, mentoring and training the company's residential loan officers and business development managers. He previously served as
Hickam Federal Credit Union
's senior vice president of operations.
» Young Brothers has hired Michael MacDonald as manager of safety, quality and environmental protection. He will be responsible for traveling on vessels to observe and edit their safety management system and conduct training and internal audits. He previously served in the Coast Guard as a marine inspector.
» The Honolulu Symphony has appointed Tom Gulick executive director. He previously served as the San Francisco Opera's executive director of marketing and development. He has more than 25 years of experience in marketing and development in the performing arts.
» Castle & Cooke Realty Inc. has hired Ignacio Diago as a Realtor associate. He previously worked as a real estate broker in Florida and Georgia and with Re/Max in Paradise as a Realtor associate.
» The Doris Duke Foundation for Islamic Art has hired Robert Saarnio as associate director of Shangri La. He is the National Endowment for the Arts' Rome Prize Fellow in Historic Preservation at the American Academy in Rome. He will join the foundation's staff in September.
» NorthStar Alliance has appointed Tammy Namihira finance vice president. She will oversee finances and all financial reporting for the company. She has 21 years of executive experience in the industry.
» The state Department of Public Safety has appointed Louise Kim McCoy communications director. She previously served as a reporter for KITV and KGMB.
» Sergio's Italian Restaurant at the Hilton Hawaiian Village has appointed Duane T. Kawamoto general manager and promoted Kyle T. Matsumoto to vice president of Sergio's LLC. Kawamoto has 25 years of executive experience in the food industry. Matsumoto previously served as general manager.
» Aloha Airlines has appointed Mike Malik chief information officer. He has more than 20 years experience in airline business information technology. He previously worked for MAXjet Airways of Dulles, Va.
» Brigham Young University Hawaii has appointed Duane Roberts as communications and public relations director. He previously served as general manager for academics and education at BYU Broadcasting in Provo, Utah. He replaces Rob Wakefield.
---
WORLD
Report says bank will raise key rate
TOKYO » The Bank of Japan will raise a key interest rate to 0.25 percent from zero next week, a news report said yesterday amid conflicting signals from government officials over the wisdom of such a move.
The BOJ has "decided in principle" to raise the rate by a quarter point -- the first hike in almost six years -- at a two-day policy meeting that starts July 13, Kyodo News agency reported, citing unidentified sources.
The report came after banking and economy minister Kaoru Yosano said the economic, price and market conditions were beginning to fall into place to allow the bank to lift borrowing rates after keeping them at zero for five years.
But Finance Minister Sadakazu Tanigaki urged the bank to hold off so as not to torpedo the economy's budding recovery.
Bank of China shares skyrocket
Shares of
Bank of China Ltd.
, the nation's second-largest lender, rose as much as 31 percent on their first day of trading in Shanghai after investors ordered about 33 times the stock on offer in the nation's largest domestic share sale.
The stock rose to 48 cents on the Shanghai Stock Exchange from their offering price of 39 cents as investors bet on rising demand for financial services and the bank's nationwide network. Bank of China last month attracted $84.6 billion of bids from domestic investors for its $2.5 billion share sale.
Bank of China is a litmus test for efforts to channel more of the nation's $1.9 trillion of household savings into equities after restrictions that forced Chinese companies to sell stock in Hong Kong and New York were recently lifted. New deposits by individuals had the smallest monthly gain in May since August 2001, as a surge in Chinese stocks this year led people to divert savings from banks.
Court convicts Georges Duboeuf
VILLEFRANCHE-SUR-SAONE, France » A French court convicted respected wine exporter
Georges Duboeuf Wines
of fraud yesterday after one of its wineries mixed a variety of grapes in its Beaujolais.
The court in Villefranche-sur-Saone in southeast France fined the vintner $38,370 -- well below the $192,000 the prosecutor had requested.
While the small quantity of impure Beaujolais wine never made it to market, prosecutors were pushing for big fines to ensure that such practices don't spread in the struggling French wine industry.
Duboeuf and its former production director were convicted of fraud and attempted fraud for mixing a variety of grapes in 54,150 gallons of wine, thereby violating rules for "appellation" wines that carry France's AOC seal. The seal guarantees that the wine was made from grapes of a specific region.
Company founder Georges Duboeuf, who testified in the trial but was not present for the verdict, denied any wrongdoing.
In a statement afterward, the company said it "formally contests" the conviction and might lodge an appeal.
In other news ...
» German drugmaker
TeGenero AG
filed for bankruptcy yesterday, saying it was unable to attract investors after a drug trial in Britain that left six healthy volunteers fighting for their lives. The company said it filed for insolvency at a court in the Bavarian city of Wuerzberg, where it is based, due to the fallout from the widely publicized drug trial in March.
---
BUSINESS PULSE