HAVE A BLAST!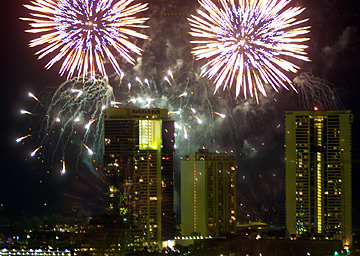 STAR-BULLETIN / 2004
Where to see tonight's fireworks
» Ala Moana Center: 8:30 p.m.; view from mall-level makai parking lot in front of Sears; gates open at 4 p.m. Musical entertainment on the parking deck starts at 6 p.m.
» BayFest 2006, Kaneohe Marine Corps Base: 10:45 p.m.
» Hickam Air Force Base: 8:30 to 10 p.m. Military ID needed to get on base.
» Kailua Beach Park: 8 p.m. Preceded by the Seventh Twilight Airshow at 6 p.m.
» Pearl Harbor: 8:45 p.m. Military ID needed.
» Schofield Barracks: 8:15 p.m., Sills and Desiderio Fields. Military ID needed.
» Also today: The Kailua Fourth of July Parade begins at 10 a.m. on Kainalu Drive.