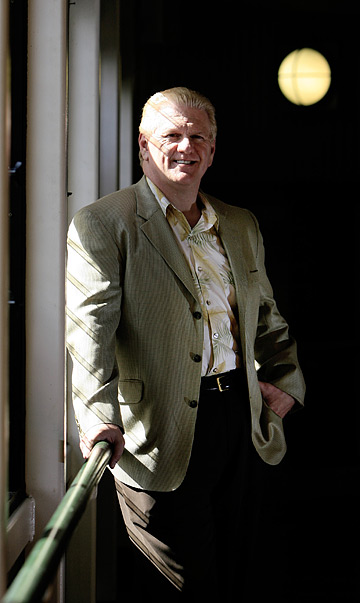 JAMM AQUINO / JAQUINO@STARBULLETIN.COM
"Music is a superb academic discipline. You'd think that the educational systems would come back to the realization that it should be part of the core curriculum, like English and math. ... One of the best ways to train the right brain to deal with mathematics and abstract reasoning is through music."
Tom Gulick
Executive director, Honolulu Symphony
---
Sustaining symphony harmony
A new executive hopes to stop the musical chairs
MANAGEMENT of a cultural nonprofit such as the Honolulu Symphony is a three-legged stool, supported by the executive director, the board president and the musical director. With the appointment last week of Tom Gulick as the symphony's executive director and Curt Lee as board president, two legs have been replaced, while the search goes on for a musical director to give the organization the stability it needs to survive.
It's not news that the Honolulu Symphony has had problems upstairs. Last year several executives and board members departed, after the musicians themselves audited management practices. The people in charge have been pitching in on a temporary basis, particularly acting executive director Gideon Toeplitz, who, with acting musical director JoAnne Falletta, has still managed to compose an interesting new season, and sales are up.
Can Gulick -- who has more than a quarter-century of experience in orchestral management, including stints with the Detroit Symphony, the San Francisco Opera and Orange Country's Ballet Pacifica -- avoid the game of musical chairs that has characterized Honolulu's orchestra?
"It's a very fine orchestra," Gulick said of the group he's joined. "I knew that even when I had not heard them play yet. I was out here some time earlier this year for the last Masterworks concert, and I also heard Matt (Catingub) conduct them at the (Hollywood) Bowl. They sounded great, a very well-balanced orchestra."
In a recent interview, Gulick put on record his thoughts on the task at hand.
---
What about a musical director?
"I've been talking to the board leadership as well as the musicians themselves and we want to move that ahead, obviously, relatively soon. There's certainly been a thorough review by the search committee. They've interviewed candidates, and now some are coming back to play a second time in the fall. I hope after that we'll be in a position to name somebody. Sooner rather than later! A orchestra that's subject to no one at the head, who has to use guest conductors all the time, that's difficult. The orchestra, as well as the audience, deserves a consistent leader.
"Obviously the musical director has the key role in what the program will be. My role will be to make sure there is balance and consistency and that we're taking care of things from an audience perspective as well as from a musical perspective.
"The real brand, if you will, is established by the musical director working with the musicians. Right now, we're missing that key component, and a big part of my job will be getting that key component into place. The other problems - sales levels, efficiencies - all that can be fixed, but you need a fine brand, and for that you need a music director as well as a fine orchestra.
"I don't know if this season coming up is a roadmap for how we proceed in future seasons. We might do it differently. But what has already been done this season is what I like to see. A nice balance of programming and artistry. A big part will be to build the audience back up. It's slipped over the last three, four, five years ..."
What does it take to get the organization back on track?
"One of the financial issues had to do with the board. They haven't had an executive director for almost nine or ten months or longer, so there was a lack of leadership across the board. There's been some excellent consulting in the meantime. Getting Gideon Toeplitz in here as well as JoAnne Falletta, they've put together a really good reason next year. Ticket sales are very strong - certainly better than last year!
"So, that issue of getting programming on track has been dealt with, to some degree, as well as the endowment. The state of Hawaii just made a $4 million grant which was a terrific thing for them to do. The endowment has a separate board and an independent function with fiduciary responsibility. Years ago they had some problems with endowment funds being transferred to cover operating costs. That's no longer possible."
How about the board?
"We've got Curt Lee coming in as new president. He just retired from Servco - last night, in fact! - and he's a great manager, as well as a career military officer before that. He knows structure, delegation, authority! Leadership positions are shifting around, and they've added several new board members in the last six months.
"But we still have financial issues. In the short term, right now, we need cash just to get through the summer. We still haven't identified where the sources will come from to cover it. Curt and I will be very focused on making calls to key donors. If we can solidify the fall program in place before the season starts in late September, that will give us the time to make any additional shifts in the structure of the business plan.
"Boards are essential in a non-profit in the way decisions are made. When you rely on contributions from the public to achieve non-profit status, you immediately have a community responsibility. You need strong governance from volunteers to make that effective.
"We just set up a new committee leadership structure for the board for the next year, and it's going to be a lot more sophisticated than anything they're ever had before. In order to meet the fiduciary responsibilities you have to have the right committees in place, the right leadership, the right plan.
"We have to make all the strategic moves for our medium or long-range future right now, or in two or three years you're not going to be in a place to capitalize on it. You can't totally fixate on the immediate.
"We hope to make (the endowment) at about $25 million. In a good situation, an endowment provides about 20 percent of your operating revenue. Right now, it provides less than five percent, and that's part of the reason why the symphony didn't ride through an economic down cycle. Economies always go through down cycles, or sometimes the symphonies get themselves in trouble - but right now, the economy is pretty strong in Hawaii, so it's a good time to go out and raise money.
"We're at a key moment, a turning point. What does it take to turn an organization around? Well you need new leadership, and it's rare all three of the those positions either changing or vacant at the same time. The musical director, well, it's been a number of years since they had one in place. So, yeah, it is sort of starting from scratch."
What about the starving musicians?
"We have a very fine orchestra here! Let me say that again! And they have issues there as well. They've taken pay cuts, which has been very difficult for them. Curt and I want to move to correct that. The salary, for an orchestra of comparable size on the mainland, is low. Low by any standards. I've heard it's one of the lowest-paid orchestras in any comparable market, but I don't know that to be a fact."
"The orchestra itself is as fine as it's ever been, and we need to address financial issues such as pay cuts. In some aspects, it's like having a clean slate, but it's not like starting an organization from the beginning. We don't! We have a corps of dedicated staff members and the musicians have stayed through thick and thin."
The upcoming season has both a back-to-the-basics feel and an adventuresome Pops cycle.
"What Gideon and JoAnne have done is more in the line of what a lot of orchestras have done. You give them meat and potatoes, but at the same time, you can add excitement from more different kinds of programming.
"It's a very substantial season and subscription sales are well ahead of last year. About 90 percent are gone already. Clearly, audiences are responding. The Los Angeles Philharmonic, for example, gets enormous credit for being innovative, and they do amazing things, but they also take care of the Beethovens and Mozarts."
Despite the increased sales, there were complaints about balcony ticket pricing.
"The balcony decision was made in a vacuum of leadership. They did consult a top research firm and they had substantial good reasons for doing what they did. But how they communicated it could have been improved upon. It will help by having me around to take care of issues like this. Curt and I share the same philosophy - you take care of your people. Customers and musicians and staff. They're the people who create your art for you. It's a two-way street."
Will the symphony engage the public more?
"When organizations go through hard times they tend to cut programs that aren't revenue producing in the short. There are a lot of things we should be doing. We're not just the Honolulu Symphony, we're Hawaii's orchestra, which means we have a responsibility to get out to the Neighbor Islands and be heard. We're definitely going to be doing that. We're actually doing a superb job in educational programs, but there hasn't been someone full-time in charge of that for some while."
Do we actually need music?
"Music is a superb academic discipline! You'd think that the educational systems would come back to the realization that it should be part of the core curriculum, like English and math. It's not just reading, writing and arithmetic that makes a rounded person. One of the best ways to train the right brain to deal with mathematics and abstract reasoning is through music. Kids can learn music before they can comprehend written language, and it's a great international tool because it's taught the same everywhere in the world. A great commonality among all cultures.
"Not every kid can play on a football team, or even a soccer team, but the value in sports in school is seen not just as exercise but in teamwork. Being in a band or orchestra in school is a great way to learn how to excel in working with others. That the whole is greater than the sum of the parts is not an extremist value. And it's a beautiful, enjoyable thing to be a part of.
"You're not only training future musicians, you're training future audiences! The chances of someone getting heavily involved in classical music, who wasn't exposed to it in their earlier developmental years, are not great. When schools cut back on musical programs, the long-term effects on orchestras can be devastating."
Who are in the audiences?
"The biggest correlation in audience participation in the arts is college education. Four years or more of higher education means more than ethnicity, or cultural background, or sexual preference, or anything else. More, even, than wealth. People who pursue a higher education tend to have a higher curiosity and interest in the world.
"Of course, that's a generalization - there are plenty of people who are huge fans of classical music who have never been to college. It's the marketer and statistician in me talking. Statistics taught me years ago to never make a causal inference form correlational data!"
What else have you learned from the symphonic world?
"I look at the European models. If you go to Vienna, they have a symphony, but that symphony also plays for the opera and ballet. It's efficient and effective.
"The support structures are very different in Europe ... the musicians are essentially government employee, but as you move into Britain and the Scandinavian countries, there's more of a free market. In Germany and France, it's all federal money that provides the contributed component. And there's frequently a direct connection to the government in terms of running the facilities and the staffing of these facilities, so the management role is carried out by local or federal authorities. A lot of that burden doesn't fall on the orchestra itself, it falls on the government structure already in place.
"On the other hand, the free-enterprise system in America has created the highest consistent levels of quality. You can hear an amazing symphony like the Berlin Philharmonic, but it's the equivalent of the Chicago Symphony. Or Cleveland or Boston. And you'll find more growth in careers and more growth in programming coming out of America.
"You'd think in a subsidized house they could be more adventuresome, but in Europe, they can be hide-bound to tradition. They think, the music came from here more than a hundred years ago, so that's all we want. But if the government has to make a decision between feeding and housing people, and art, no matter how engrained that art is in the nation's cultural identity, their choice is clear. In countries like Italy, that's already becoming the case.
"Shanghai is one of the great international cities. I was working with the government of Shanghai helping them design fundraising for the Special Olympic games in 2007. Amazing, a totally different world, but it still involved corporate underwriting to subsidize the performing arts. They are very centralized and government run. I was working with one of the seven vice-mayors of Shanghai, who has the Special Olympics in his portfolio along with water purification and investment banking!"
What about classical music in Asia?
"Shanghai has an orchestra, Beijing has one, and they have some wonderful halls that you haven't heard so much about. A lot of the concert-hall managers over there are foreign - they seem to have an affinity for Germans - and they certainly have the facilities, they certainly have the musicians, but it's all internal, they're not exporting what they're doing yet, although I'm sure that's coming.
"The same story can be told in Japan and Korea - music education is an essential part of the curriculum over there. They're following the way things were here, 50-60 years ago, but somehow, our education system has evolved to the point where it was determined that music was extracurricular. But the Asians understand what people get from the study of classical music. A training of the brain. Music is an international language, and there's a mathematics to it that hones the brain and sharpens other skills. Being in an orchestra promotes teamwork, working together, and that's very much an Asian principle."
How does the market here compare to San Francisco, a city of comparable size?
"The opera in San Francisco has been the second biggest in America for 50 or 60 years or longer. The huge Italian population in San Francisco started it. Long-established, sophisticated audiences, and they're been producing opera at an international level certainly since the '60s, with quality equal to the Metropolitan.
"San Francisco is not huge - about 49 square miles and less than a million people, yes, about the size of Honolulu - but it was a city with a lot of corporate headquarters. Not so much any more. Corporate support has waned quite a bit, partly because, for tax purposes, corporations have moved away from cities to less expensive areas, and the level of international competition has increased, so there's an emphasis on being lean and mean."
So. What about corporate funding?
"Philanthropy from corporations is very much linked to education. If your non-profit educates, it's easier to get money from corporations than if you're a cultural organization. The exception, of course, is need-based charities, food and shelter. In philanthropy across America, 75 percent comes from individuals.
"In Hawaii, support comes from a pretty typical mix of individuals and foundations and government, but it has waned over the last few years due to perceived problems. As you lose some of your structure internally, you just become less efficient in the basics of running your business, and it becomes self-fulfilling - your attendance starts to drop, your contributor revenue wanes."
What can be done about that?
"My charge here is the same as any directors' - to put the financial infrastructure, and the personnel to nurture that infrastructure, into place. What are the missing components? What does it take to be a healthy symphony? We have fabulous musicians, but are we taking care of them? You can't take anyone for granted. Curt and I have the same philosophy: take care of your audience, but also those who make your product."
Which brings us back to the missing musical director ...
"I don't want to compare an orchestra to an athletic team, but in both you have to have consistency at the helm. The musical director is the person making decisions on artistic personnel and programming, and they'll be conducting at least half of the programs. The director becomes the brand. When the public thinks about what is a symphony, they're not thinking about people behind the scenes or board members. They think of the musical director as the leader. So you want one for the long term.
"Right now, the primary strength of the orchestra is the musicians themselves. They know what they're doing, no matter who's on the podium!
"A music director not only has to be a great musician, they need to be inspiring, and, more than that, able to communicate that excitement to the public as well. They need to be here and be part of the fabric of the community. Honolulu, like San Francisco, is geographically isolated, with its own uniqueness and heritage. Anyone who comes here has to understand that and we can focus on that as a strength. There are certain things common at every symphony, but there we can meld what's unique to Hawaii to our orchestra and create one like no other."
Tourists?
"One of the great wonders of the Internet is that you can appeal to potential tourists without having to go through 300 travel agents. But seriously, New York is the only cultural and artistic destination in the country."
What got you started?
"I grew up in the Midwest in a small town near Milwaukee. I played tuba, trombone, trumpet throughout high school - just about anything brass. When I was at the University of Wisconsin at Madison, I got heavily involved in the student music and theater committees. I was working some folks who were also very young at the time, like Emmanuel Ax, Yo-yo Ma and Itzhak Perlmann.
"It was something I was doing as a hobby as a student and I became pretty adept at figuring out how to put seasons together, how to raise money, how to promote the events. I figured, hey, I'm pretty good at making things happen behind the scenes. So after graduate school at the University of Michigan I immediately went into a professional career. I'm probably one of the few people who has worked for the top ten symphonies, operas and ballets ... the consistency to that is that all of them have symphonic orchestras. So live classical music has always been a part of my career."
Do you have enough aloha shirts to do this job?
"There are nine in my closet. But I had two before I even came over here!"
---
This is a longer version of the same interview that appears in today's Honolulu Star-Bulletin.