---
FAST FACTS HAWAII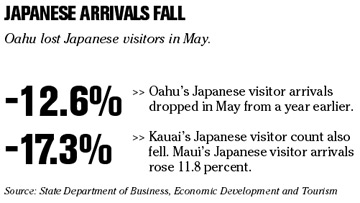 ---
NATION
Deal creates largest satellite operator
Intelsat Ltd.
has completed its purchase of
PanAmSat Holding Corp.
for $3.2 billion, forming the world's largest commercial-satellite operator.
Intelsat also took on $3.2 billion in debt in the transaction that combined the second- and third-largest satellite operators, the company said in a statement yesterday.
Closely held Intelsat, based in Pembroke, Bermuda, adds customers including Time Warner Inc. and News Corp. and has 51 satellites, pushing it ahead of SES Global SA's 43, and provides coverage in more than 220 countries.
Among Intelsat's customers are the U.S. military, France Telecom SA and U.S. television networks ABC and CBS.
Intelsat is owned by private-equity firms Apax Partners LP, Apollo Management LP, MDP Global Investors Ltd. and Permira Advisers LLC. The purchase of Wilton, Conn.-based PanAmSat for $25 a share was announced Aug. 29, 2005.
OfficeMax to offer rebates at checkout
OfficeMax Inc.
, the third-largest U.S. office-supply retailer, said customers can now get immediate rebates on computers, printers and digital cameras at checkout, rather than having to receive them through the mail.
In the past, customers had to save receipts and submit forms within a certain time period to get a manufacturer's rebate, often waiting up to six weeks to get the money, OfficeMax said yesterday. About one-third of people actually send in for their refunds, OfficeMax said, citing data from America's Research Group.
The new program will allow OfficeMax employees to spend more time helping shoppers with purchases, said Chief Merchandising Officer Ryan Vero. OfficeMax, which trails Staples Inc. and Office Depot Inc. in sales, is closing stores and trying to sell more profitable products to reverse five quarters of losses.
Miller Brewing looks for jolt from caffeine
MILWAUKEE » Miller Brewing Co. is moving into the caffeinated alcoholic beverage market with the purchase by its parent company of two brands from
McKenzie River Corp.
for $215 million cash.
SABMiller PLC said yesterday it would buy the Sparks and Steel Reserve brands from the San Francisco-based beverage marketing firm. Milwaukee-based Miller has been brewing both of those brands, which comprise the majority of McKenzie River, for years, Miller spokesman Pete Marino said.
The deal positions Miller, the nation's second-largest brewer after Anheuser-Busch Cos. of St. Louis, to enter the growing caffeinated alcoholic beverage market with the acquisition of Sparks, Marino said.
Motorola cuts forecast on sale
Motorola Inc.
, the world's second-largest maker of mobile phones, lowered its second-quarter revenue forecast to reflect the $1 billion sale of its automotive electronics business to
Continental AG.
Revenue reported for the quarter will exclude about $400 million in automotive unit sales, Schaumburg, Ill.-based Motorola said yesterday in a statement. Motorola adjusted its revenue forecast for the period to $9.9 billion to $10.1 billion, down from as much as $10.5 billion forecast on April 18.
Motorola sold its automotive unit amid growing competition in the so-called smartphone industry. The company, which plans to release second-quarter results on July 19, is seeing rising demand for its Q e-mail phone and has shipped about 50 million Razr phones.
Manufacturing activity slows down
NEW YORK » The nation's manufacturing sector expanded at a slower rate than expected in June and construction spending plunged in May, reinforcing the belief of some analysts that increasing sluggishness in the economy will prompt the Federal Reserve to pause at last in its credit-tightening regime.
The Institute for Supply Management, a trade group based in Tempe, Ariz., said yesterday that its manufacturing index registered 53.8 in June, slightly below the 54.4 reading in May. It was the slowest growth reading since the gauge registered 53.5 last August. Analysts had forecast a June index of 55 to 56.
WORLD
EU wins backing to fine Microsoft
European Union regulators won backing from member states to fine
Microsoft Corp.
as much as $2.6 million a day for failing to comply with an antitrust order, said three people with knowledge of a closed-door vote.
National competition authorities, meeting in Brussels yesterday, gave unanimous support to the European Commission's view that Microsoft hadn't provided sufficient information to competitors on the inner workings of the Windows operating system, as required under a March 2004 ruling, said the people, who declined to be identified because the meeting isn't public.
BP's oil and gas output drops
LONDON » Energy company
BP PLC
said yesterday that oil and gas output fell for the fourth straight quarter and that its refinery explosion in Texas will cost it $500 million more than it had anticipated.
BP is struggling to increase its output as Venezuela enforces its demand for a majority share in operations by foreign companies and as a storm-damaged platform in the Gulf of Mexico takes months to repair.
---
BUSINESS PULSE