---
FAST FACTS HAWAII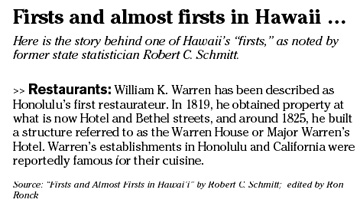 ---
NATION
It's a dog's life in the workplace
Would you work like a dog if your dog joined you in the office? According to a recent survey, a majority of dog owners would work longer hours if man's best friend was sleeping under the desk.
Two-thirds of dog owners would put in more time at the office, while 55 percent would commute a greater distance to a dog-friendly company. Nearly half would switch jobs, and 44 percent would take a salary reduction.
SimplyHired.com and Dogster.com surveyed 150 dog owners online in January. The two companies offer a dog-friendly job search on www.SimplyHired.com/DogFriendly.
While most companies that are dog-friendly are smaller and often serve the pet population -- such as vets, groomers and pet stores -- some larger companies like Google Inc. and Amazon.com Inc. have opened their offices to canine companions.
"I think employers see it as a way to offer a less expensive benefit," said Kay Luo, director of marketing for SimplyHired.com. "And smaller companies can compete for talent in a creative way."
Employees frown on office thieves
We've all done it or known someone who has. At one time or another, we have swiped a half dozen pens, one brand new stapler or a pack of copy paper from the supply room for our own personal office at home. But most employees think it's wrong, according to one survey.
In a Spherion Corp. survey, which polled 1,630 employed adults in April, only one out of 10 feel that taking office supplies for personal use isn't wrong.
That number is higher for younger adults, aged 18 to 29, at 17 percent. But employees over 50 years old are less likely to condone such thieving behavior, at 7 percent.
Still, about one-quarter of younger employees have stolen office supplies in the last year, while only 13 percent of the older crowd has taken anything. In total, nearly one in five employees have pocketed office goods for their own use.
Blacks' retirement savings lagging
Black Americans may be more vulnerable to eroding company pensions than their white counterparts, a recent survey showed.
About two-thirds of blacks work for organizations with traditional pension plans, compared to about half of white employees. What's more alarming is the gap in retirement savings. White workers have earmarked $93,000 in retirement savings, while blacks have saved only $59,000.
While white Americans' investments in the stock market have remained steady at about 83 percent since the first poll in 1998, only 64 percent of black Americans have stock markets investments. Black Americans are more likely to invest in more conservative assets like real estate and insurance products, according to Lisa Toppin, director of human resources and diversity programs at Charles Schwab & Co.
---
BUSINESS PULSE