| | |
| --- | --- |
| | Newswatch |
---
Lions host school supply drive
The Wahiawa Lions will collect school supplies or money to benefit needy children July 22 and 29 from 10 a.m. to 2 p.m. at Wahiawa Shopping Center. Among the supplies needed: #2 pencils, ballpoint pens, three-hole wide-ruled binders, portfolios, glue, paper towels, napkins, facial tissue, liquid soap, crayons and scissors. For more information on what else is needed or to make a donation, call Jack Kampfer at 621-5109, ext. 226, or Paul Misaka at 621-5236.
SWEET CENTENNIAL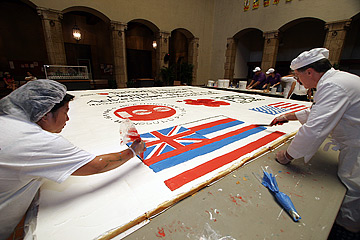 | | |
| --- | --- |
| | Police, Fire, Courts |
---
LEEWARD OAHU
Waianae car crash sends 5 to hospital
A two-car collision in front of the Waianae Police Station last night sent five people to the hospital, an emergency services department spokesman said.
Two of three people in a car that overturned were sent by helicopter to the Queen's Medical Center, one in critical condition.
Another passenger in the overturned car and the driver and passenger in the other vehicle were taken by ambulance in serious condition.
The crash happened about 7:30 p.m. Police closed the Makaha-bound lanes of Farrington Highway and one townbound lane and diverted traffic around the accident scene onto Waianae Valley Road.
HONOLULU
4 possible Molotov cocktails are found
Remnants of four possible Molotov cocktails were found Friday morning in Kalihi and Chinatown, police said.
A glass bottle on the ground with a cloth sticking out of the top was found after firefighters extinguished a blaze around 5:50 a.m. that caused an estimated $1,000 in damages to a two-story wooden structure in Chinatown.
About an hour and a half later, a security officer found an unattended backpack in a Kalihi parking lot containing three bottles with paper sticking out of the tops. One of the bottles contained a suspicious liquid, police said.
Police would not confirm the exact location where the devices were found.
Swimmer drowns off Ala Moana Beach Park
A man apparently drowned yesterday morning while swimming off Ala Moana Beach Park.
About 8:10 a.m., bystanders noticed the man floating face down not far from shore in about 3 feet of water. Lifeguards gave the man CPR before he was taken to Straub Hospital in critical condition, said Emergency Services Department spokesman Bryan Cheplic.
The man was between 50 and 60 years old, Cheplic said.
NEIGHBOR ISLANDS
Escaped felon found in Maui High building
Sheriff's deputies on Friday arrested a felon who escaped from the Maui Community Correctional Center more than six months ago.
Kenneth Heintz was alone when he was arrested around 11:30 a.m. at an abandoned building at the old Maui High School campus, said Louise Kim McCoy, spokeswoman for the state Department of Public Safety.
Heintz, 52, had been on the run since Dec. 17.
Heintz was given a one-year prison term in July 2005 for violating probation on a second-degree assault conviction.