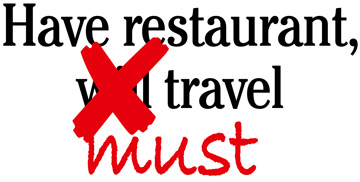 A busy owner's quest for more room offers a seat on the difficulties of choosing -- and finding -- the right site for a restaurant
Savas Mojarrad, owner of the Olive Tree Cafe in Kahala, is really particular about where he will move his 10-year-old bistro.
His lease at 4614 Kilauea Ave. is up by the end of the year, and though he has the option to renew for three more years from landowner Kamehameha Schools, he's decided to move.
The question he faces is one that many smaller restaurant owners ask these days -- where to move?
On Oahu, the options for restaurant real estate are pretty limited.
The challenge is in finding a space where occupancy costs (rent, maintenance fees, taxes and insurance) don't eat up more than the industry standard of 8 percent of sales. Also, a space with adequate parking and visibility.
Other than the usual options in downtown Honolulu and Ala Moana Center, there are regional malls and small neighborhood shopping centers, like Manoa Marketplace, where you might end up on the second floor.
Mainland chains tend to dominate tourist spots like Waikiki and Aloha Tower Marketplace.
Independent and family-owned restaurants, on the other hand, tend to cluster along King Street, Kapahulu Avenue and Kaimuki.
Rents are pushing upward as the retail vacancy rate dips further below 5 percent.
Base rents for restaurants can start from $1.80 and go up to $30 or more per square foot per month in the prime spots of Waikiki. Common-area maintenance fees add at least another $1 on top of that, and in some cases, can be higher than the base rent.
In addition, some landlords take a certain percentage of monthly revenue.
Mojarrad says the maintenance fees are a little high at the current location. Besides that, parking is tight, and the 50-seat restaurant is getting too crowded.
He's pretty specific about his goal -- a stand-alone location somewhere between the edge of downtown Honolulu to Kahala.
But finding an ideal location for the amount of rent he wants to pay is like trying to climb Mt. Olympus.
"The economy is good right now," he said. "There's a saying that when the ground is full of seeds, even a blind chicken can find the seeds. A lot of operations that wouldn't be surviving in a tight economy are surviving."
Make or break
Depending on your target market, a restaurant location can make or break the business.
Take the Cheesecake Factory at the Royal Hawaiian Shopping Center in the heart of Waikiki, for instance. Its brand name, combined with high-traffic location, has catapulted it to the No. 1 spot among 100-plus franchises in the nation.
Mainland chains, which tend to have deeper pockets, have more clout when it comes to securing spaces in much of Waikiki's new redevelopment projects and major malls.
"Renting a space is now becoming very, very expensive," said Les Hong, owner of the former House of Hong and a handful of other Waikiki restaurants pushed out by Outrigger's Beachwalk project.
When you add in the base rent, plus maintenance fees, and property tax, Hong said only the "really big guys" like Cheesecake Factory and Ruth's Chris Steakhouse could afford it.
Fed up with terms set by landlords, Hong decided two years ago to invest in a 1.5-acre lot in Kapolei and build his own restaurant. He's in the design phase for his new venture, Ray's Steak & Seafood.
A crowded parking situation is hampering business for Kevin Hanney, the chef owner of 12th Avenue Grill in Kaimuki. Hanney specifically chose to open his 55-seat, contemporary-style bistro in Kaimuki, where rent was more reasonable.
"Kaimuki is a good place, but the parking situation is hurting everyone here," said Hanney. "We could maybe be doing some bigger numbers if we weren't operating within the parameters of our space."
Shopping centers and malls come with restrictions on operating hours, he said. In Kaimuki, he has the freedom to set his own hours. But he also has limited space to accommodate the line of customers waiting outside the door.
"It's tough to open a new restaurant these days," concurred D.K. Kodama of Sansei. "Now you see a lot of mainland chains."
Last year, he moved Sansei Seafood Restaurant & Sushi Bar from Restaurant Row to the Waikiki Beach Marriott, at the same time, opening d.k steakhouse next door to target the visitor market.
Kodama has been one of the few local restaurateurs successful in his move. At Restaurant Row, meanwhile, which he says brings in mostly local clientele, he left behind Hiroshi Eurasian Tapas and Vino.
Risky spaces
Restaurant Row, which has a historically high turnover of restaurants, tends to be risky unless you've scored one of the visible corners or spaces fronting Ala Moana.
Aloha Tower Marketplace doesn't get as much consistent traffic as other tourist spots.
The rent at Aloha Tower is comparable to Restaurant Row, according to restaurateur Fred Livingston, who's owned everything from Crouching Lion Inn to Trattoria, Davey Jones Ribs and the Tahitian Lanai.
Livingston recently sold off Sunset Grill, but owns Don Ho's Island Grill at the Aloha Tower Marketplace and recently signed a 10-year lease for his second restaurant there.
The Tower Grill is expected to open in a 6,000-square-foot, second-floor space formerly occupied by Big Island Steak House in September. Livingston said when the opportunity presented itself, he decided to take it.
"It has a better ocean view than Don Ho's," said Livingston. "It's got a panoramic view."
Livingston said he's not interested in neighborhood restaurants like the ones in Kaimuki.
Mojarrad, on the other hand, has ruled out Waikiki, Restaurant Row and Aloha Tower Marketplace.
He's confident that he won't need to rely on foot traffic, having built up his customer base at the Kahala location the last 10 years.
"It's just that our target market is locally intelligent eaters," he said. "I have customers who will follow me."
On any weekend night at Olive Tree, it's clear the restaurant is pushing the limits of capacity.
A line of customers crowds before the tiny space in front of the counter, and some stand for up to half an hour or more waiting for a table.
Nearly a third have resorted to ordering takeout, estimated Mojarrad.
Ironically, the comparatively empty Tropical Garden Restaurant next door to Olive Tree has been for sale for the last six months or so, with no apparent buyer.
Colliers Monroe Friedlander has the listing, and is asking for a base rent of $1.82 plus operating expenses of $1.43 per square foot per month. The lease is good until 2010.