Windward site to offer road driving tests
After two years of having to cross the Koolaus to get a driver's license, Windward Oahu residents finally will be able to take a road test closer to home.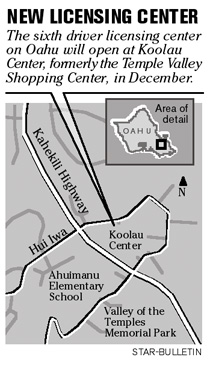 Since the city closed a testing center at the Kaneohe Police Station, residents like Jillian Takushi, have had to get to Kalihi, Pearl City, Kapolei, Wahiawa or Waianae to take the road driving test for their licenses.
"I woke up at 2:30 a.m. because I didn't make an appointment to take my test," said the 33-year-old Kaneohe resident. "If there had still been a test place on this side, then I could have slept longer and saved my friend on gas."
The new site at Koolau Center, formerly known as the Temple Valley Shopping Center, will open in December next to Times Super Market. Six license examiners will conduct road tests.
More than 10 people every day call or walk into the satellite city hall at the Windward Mall for road tests, said an employee. But the site offers only driver's license and permit renewal and duplication.
A renovation of the police station in Kaneohe resulted in permanent closure of the licensing test site in 2004 due to safety, limited staffing and parking.
The parking lot is shared with the Kaneohe library. The danger of applicants turning into traffic across from Benjamin Parker Elementary School on Waikalua Road was another concern, officials said.
"I remember my first attempt to getting my license," said Carl Turner, who applied to take the road test in Kaneohe 30 years ago. "I failed before I even left the lot because a car almost broadsided me."
Turner plans to take his 15-year-old son, Melvin, to get his driver's license at Koolau Center when it opens. This will be his son's second time taking the road test.
"Hopefully, I'll pass the test this time, especially since I am familiar with the Ahuimanu area," Melvin Turner said.
The city will pay $3,068 per month once the 3,000-square-foot center opens.
The $96,000 contract to build the licensing center in Ahuimanu was awarded to Stan's Contracting Inc., which had the lowest of three bids submitted to the city.
Stan's Contracting will also renovate the Pearlridge Center Satellite City Hall early next year. Upon completion, the satellite office will offer driver license duplicate and renewal services.