$200M wind farm project set for Maui
The first phase at Ulupalakua Ranch will be online by 2008
Oil giant Shell has reached an agreement to begin developing a $200 million wind power plant at Ulupalakua Ranch on Maui that, once completed, could generate 20 percent of the island's electricity needs.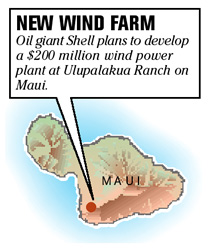 John Hofmeister, president of Shell Oil Co., made the announcement yesterday along with Gov. Linda Lingle and executives from Hawaiian Electric Co. and Ulupalakua Ranch.
The Auwahi wind project is expected to take three to five years to complete, with the first phase of 20 wind turbines coming online by 2008, officials said.
Officials said it was too early to say what kind of an impact the wind power plant could have on electric bills.
"The whole intent here is to focus on the diversity of fuel," said Mike May, president and chief executive of Hawaiian Electric Co. "One of the added benefits will be the economic consequences, but to say that we know the specifics of the final contract would be premature."
HECO's alternative energy subsidiary, Renewable Hawaii Inc., helped conceive the wind farm project with Ulupalakua Ranch and Shell WindEnergy.
Hofmeister noted that the plans still have to go through the permit and public hearing process to address environmental concerns that are likely to arise with a project of this scale.
"There are several key success factors we have to work our way through," he said, adding that the project may also include a hydro-electric component that would use an elevated reservoir to use water for generating power.
Shell now is applying for permits to set up meteorological monitoring towers on the site to measure the available wind source.
Officials said the turbines would stand in a remote corner of the 20,000-acre ranch and the site was chosen because it would have minimal visual impact on the land.
Sumner Erdman, president of Ulupalakua Ranch, welcomed the project, saying it will allow the ranch to diversify its interests while also remaining sustainable as a cattle ranch.
"I've been very impressed with Shell WindEnergy and Shell as a whole in their sensitivities to our goals and our beliefs of agriculture, open space, archaeological and environmental issues," Erdman said. "For us in the agriculture industry, it is extremely important for us to find alternative ways to, economically, stay sustainable, and these are projects that are very, very critical for us to do that."
State Sen. J. Kalani English, who also attended yesterday's announcement, said he believes Erdman and the ranch traditionally have been forthcoming in the past with surrounding communities, environmentalists and cultural practitioners, and that this project will be no exception.
"Ulupalakua has a very solid record of being culturally and environmentally sound," said English (D, East Maui-Lanai-Molokai). "I think based on their flawless commitment and follow through, I don't see very much opposition from the cultural community and even from the environmental community.
"I think that we all recognize that Ulupalakua Ranch is a true agricultural company and their desire is to stay in agriculture, so this is allowing them to produce the income that they need to keep farming, ranching and keep on with their environmental projects."