BAYFEST 2006
5-night festivity
The annual celebration has something for everyone with big-named entertainment from Juvenile to Molly Hatchet
Organizers of the 17th annual BayFest Fourth of July concert and fireworks festival are hoping for record crowds, after the announcement of some big-name entertainment and adding an extra day to this year's celebration.
BayFest 2006
» Place: Marine Corps Base Hawaii

» Times: 5 p.m. to 1 a.m. Friday; noon to 1 a.m. Saturday and Sunday; 5 p.m. to 1 a.m. Monday; noon to midnight Tuesday

» Admission: Friday and Monday, and after 5 p.m. Saturday, Sunday and Tuesday: $20; $15 military; $10 children 6 to 12; under age 5 free. Before 5 p.m. Saturday, Sunday and Tuesday: $12; $10 military; $5 kids 6-12; under age 5 free.

» Call: 254-7679 or visit www.bayfesthawaii.com
More than 48,000 people made the trek to Marine Corps Base Hawaii in 2005 to take in the carnival rides and games and explore various military displays. Other returning crowd-pleasers include the "Build-Your-Own-Boat Bathtub Regatta," the "BayFest BodySearch" and both exotic and new-car displays.
Each night of "BayFest" will also feature a fireworks display by the Grucci Brothers, with an extended show on July 4. The "BayFest Island Expo" will showcase more than 30 local businesses and nonprofit organizations, and the annual "McKenna Motors Paper Airplane Contest" will give attendees a shot at a Ford F-150 truck valued at $55,000.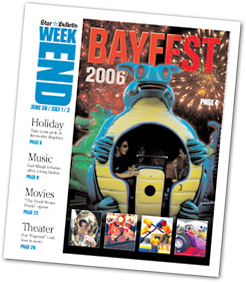 BUT THE biggest draw at "BayFest" is the nightly entertainment. As always, a mix of hip-hop, rock and country is planned, with a different headlining act each evening. Local boys Natural Vibrations get things started on Friday, followed by a performance by Louisiana native Juvenile.
With more than 9 million records sold, the rapper born Terius Gray made a name for himself adopting the pop-friendly "bounce" style of Southern rap long before D4L and Dem Franchise Boyz. Songs like 1999's "Back That Thang Up," 2002's "Momma Got A-" and 2004's "Slow Motion" all cover his favorite subject matter -- the bouncing female booty.
On Saturday, country star Chris Cagle performs after opening acts Ghost and Willie K. After dropping out of college at age 19, Cagle spent five years trying to get his foot in the door of the music business, finally succeeding when the assistant to the president of Virgin Records Nashville met him in a restaurant where he was working.
Cagle signed with Virgin, only to leave after releasing his debut album, "Play it Loud," in 2000. He followed with a self-titled release on Capitol Records in 2003, with "Anywhere But Here" hitting record stores last year.
Sunday's lineup includes a performance by this year's "BayFest Battle of the Bands" winner and a return performance by local favorite Go Jimmy Go. Headlining the night is Staind, the "Nu-Metal" quartet best known for songs like "So Far Away," "It's Been a While" and "Right Here Waiting."
IF THE weekend's performances are geared toward slightly younger audiences, classic rock fans will be happy with the bands booked for Monday and Tuesday.
Despite the loss of former lead vocalist Danny Joe Brown last year, Southern rockers Molly Hatchet perform Monday after local opener Dita Holifield. They'll be followed by country trio Trick Pony, who returns on Tuesday for an encore performance following opening act Slug.
And wrapping things up before the final fireworks display on July 4 is .38 Special, the classic rock band led by Donnie Van Zant (brother of Lynyrd Skynyrd's Ronnie Van Zant). Big in the '80s, .38 Special has spent much of the past 15 or so years touring off the strength of songs like "Second Chance" and "Caught Up in You."
Friday
» 5 to 8:30 p.m.: Island Lifestyle Expo, McKenna Motors New Car Show, Military Static Display and NAPA Auto Skills Center Custom Car Show
» 5 p.m. to midnight: E.K. Fernandez carnival rides, games and food
» 7:30 to 8:30 p.m.: Natural Vibrations
» 9:15 to 10:15 p.m.: Juvenile (above)
» 10:15 to 10:25 p.m.: Grucci Brothers' Fireworks Display
» 10:25 p.m. to 1 a.m.: Tent Party with DJ Victor Effler
Saturday
» Noon to 6 p.m.: All-Hawaii Cruises' Coconut Island boat rides
» Noon to 8:30 p.m.: Island Lifestyle Expo, McKenna Motors New Car Show, Military Static Display and NAPA Auto Skills Center Custom Car Show
» Noon to midnight: E.K. Fernandez carnival rides, games and food
» 2 to 4 p.m.: Marine Forces Pacific Party Band Festival Stroll
» 3 to 3:30 p.m.: Papa John's Pizza-Eating Contest
» 4 to 5 p.m.: BayFest BodySearch Fitness Challenge
» 5:15 to 6:15 p.m.: Marine Forces Pacific Show Band
» 6:30 to 7:15 p.m.: Ghost
» 7:30 to 8:45 p.m.: Willie K
» 9:15 to 10:30 p.m.: Chris Cagle (above)
» 10:30 to 10:40 p.m.: Fireworks by the Grucci Brothers
» 10:40 p.m. to 1 a.m.: Tent Party with DJ Victor Effler
Sunday
» Noon to midnight: E.K. Fernandez carnival rides, games and food
» 3:00 to 3:30 p.m. Papa John's Pizza-Eating Contest
» 4 to 5 p.m.: Bathtub Regatta
» 5 to 6:15 p.m.: Marine Forces Pacific Show Band
» 6:30 to 7:15 p.m.: "Battle of the Bands" contest winner
» 7:30 to 8:45 p.m.: Go Jimmy Go
» 9:15 to 10:45 p.m.: Staind (above)
» 10:45 to 10:55 p.m.: Fireworks by the Grucci Brothers
» 10:55 p.m. to 1 a.m.: Tent Party with DJ Victor Effler
Monday
» 5 to 6:30 p.m.: Marine Forces Pacific Show Band
» 5 to 7 p.m.: Custom Chopper Display and Mystery Biker autograph session
» 5 to 8:30 p.m.: Island Lifestyle Expo, McKenna Motors New Car Show, Military Static Display and NAPA Auto Skills Center Custom Car Show
» 5 p.m. to midnight: E.K. Fernandez carnival rides, games and food
» 6:30 to 7:15 p.m.: Dita Holifield
» 7:30 to 8:45 p.m.: Molly Hatchet (above)
» 9:15 to 10:30 p.m.: Trick Pony
» 10:30 to 10:40 p.m.: Grucci Brothers' Fireworks Display
» 10:40 p.m. to 1 a.m.: Tent Party with DJ Victor Effler
Tuesday
» Noon to 6 p.m.: All-Hawaii Cruises' Coconut Island Boat Rides
» Noon to 8:30 p.m.: Island Lifestyle Expo, McKenna Motors New Car Show, Military Static Display and NAPA Auto Skills Center Custom Car Show
» Noon to Midnight: E.K. Fernandez carnival rides, games and food
» 2 to 4 p.m.: "FestTent Rock 'n' Roll" Marine Forces Pacific Party Band Festival Stroll
» 4 to 5 p.m.: Nathan's Military Hot Dog-Eating Challenge and New South Wales Fire Brigades Band and Precision Drill Marching Team
» 5 to 6:30 p.m.: Marine Forces Pacific Show Band
» 6:30 to 7:15 p.m.: Slug
» 7:30 to 8:45 p.m.: Trick Pony (above)
» 9:15 to 10:45 p.m.: .38 Special
» 10:45 to 11:05 p.m.: Fireworks by the Grucci Brothers
» 11:05 p.m. to midnight: Tent Party with DJ Victor Effler