---
FAST FACTS HAWAII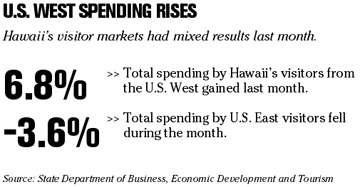 ---
[HAWAII INC.]
PROMOTIONS
»
PM Realty Group
has promoted three of its top Hawaii staff members.
Scott Kuklish
has been promoted to Pacific region director. He has over 25 years of experience in property management.
Wendell Brooks III
has been promoted to senior vice president of retail leasing and investment sales. He began his commercial real estate career in 1986 with
Chaney, Brooks & Co.
Linda Gee
has been promoted to senior vice president of office leasing and investment sales. She joined the company in 2000 as vice president of office leasing and investment sales.
» Bank of Hawaii has announced the following executive appointment and promotions: Marc Adelberger has been promoted to vice president and credit and risk manager in the leasing division. He previously served as a senior financial analyst for Continental Airlines. Edward S. Hanashiro has been promoted to vice president and credit compliance officer. He will be responsible for developing and maintaining compliance policies and procedures, in addition to coordinating and monitoring the bank's compliance with consumer laws and regulations. Kimberli M. Komo Lo has been hired as vice president and private client services team leader. She will be responsible for managing a team of specialists representing trust, private banking, investment, brokerage, sales and insurance.
» Energy Industries LLC has promoted Brian Kealoha to senior vice president. He will be responsible for the global sales division, which includes key markets in the Northwest, West, East and International. He previously held the title of business development vice president.
» Shell Vacations Club Hawaii has promoted several sales executives. Matt Ozelie has been promoted to SVC-Hawaii regional sales director. Chance Bowling has been promoted to Kona Coast Resort sales director. Joyce Fahey has been promoted to sales director at the Waikiki Marina Resort at the Ilikai. Sean White has been promoted to Kauai Coast Resort sales director.
» Jackson Volvo has promoted Alan Uyeoka to general manager. He will be responsible for running the dealership's day-to-day operations. He previously served as general sales manager.
---
NATION
Mortgage rates hit highest in 4 years
WASHINGTON >>Interest rates on 30-year mortgages rose for a third straight week, hitting the highest level in more than four years as investors continued to express worries about inflation.
Freddie Mac, the mortgage company, reported yesterday that rates on 30-year, fixed-rate mortgages increased to a nationwide average of 6.78 percent this week, up from 6.71 percent last week. It was the highest level for 30-year mortgages since they averaged 6.81 percent the week of May 24, 2002.
Rates on 15-year, fixed-rate mortgages, a popular choice for refinancing, increased to 6.43 percent, up from 6.36 percent last week.
Scrushy found guilty of bribery
HealthSouth Corp.
founder Richard Scrushy was found guilty of bribing the governor of Alabama, a year and a day after being acquitted of masterminding a $2.7 billion accounting fraud at his own company.
Former Gov. Don Siegelman and Scrushy were convicted yesterday by a federal jury in Montgomery after 12 days of deliberations and a near-mistrial. The Justice Department said Scrushy paid Siegelman $500,000 for a seat on the state's hospital regulatory board while Scrushy served as chief executive of HealthSouth, the largest U.S. rehabilitation hospital chain.
WORLD
China to rein in immoral blogs
BEIJING » China's Internet regulators are stepping up controls on blogs and search engines to block material it considers unlawful or immoral, the government said today.
"As more and more illegal and unhealthy information spreads through the blog and search engine, we will take effective measures to put the BBS, blog and search engine under control," said Cai Wu, director of the Information Office of China's Cabinet, quoted by the official Xinhua News Agency.
The government will step up research on monitoring technology and issue "admittance standards" for blogs, the report said, without providing any details.
---
BUSINESS PULSE