---
FAST FACTS HAWAII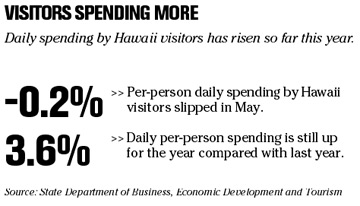 ---
HAWAII
A&B sells 2 Phoenix centers for $35.6M
Alexander & Baldwin
has sold two retail centers in the Phoenix metropolitan area for a combined price of $35.6 million.
The sale of the 85,000-square-foot Carefree Marketplace was to Jackett Carefree LLC; the 133,600-square-foot Mesa South Center was sold to Jackett Mesa South LLC. A&B acquired Carefree Marketplace in 2001, following its purchase of Mesa South in 1999.
Mesa South Center, built in 1981, sits on 18 acres in a residential community in Mesa, east of Phoenix. Carefree Marketplace, built in 1988, occupies a 6.5-acre site north of Scottsdale, near several upscale master-planned communities.
NATION
Pentagon sued over wind farms
SAN FRANCISCO » The Sierra Club sued the Department of Defense in federal court yesterday for allegedly halting construction of new wind farms across the United States by failing to complete a study on whether they interfere with military radar.
The suit filed in U.S. District Court in San Francisco claimed that Defense Secretary Donald H. Rumsfeld and the Pentagon missed a deadline for completing a study that is holding up more than a dozen wind farm projects in the Midwest. The study was ordered earlier this year by Congress. The Federal Aviation Administration has halted projects in Minnesota, Wisconsin, Illinois, North Dakota, and South Dakota until the agency can determine their impact on military radar.
A Pentagon spokeswoman said the department has updated Congress and that delays are needed to ensure that arrays of huge wind turbines do not interfere with long-range radar.
Network neutrality dealt setback
In a dramatic tie vote yesterday, a U.S. Senate committee rejected an amendment that would have preserved the status quo of equal pricing for all Internet traffic, an issue known as network neutrality.
Although the net neutrality amendment did not prevail in the committee, the issue could be revived. The amendment that failed was part of a larger telecommunications bill that passed the committee and now heads to the full Senate. A similar amendment could be reintroduced into the larger bill before that vote.
Exec suspended over prostitution case
Barrett Associates Inc., a
Legg Mason Inc.
-owned investment firm, suspended its chief investment officer after he was named by an alleged New York prostitution ringleader as someone who provided her financial support.
Andrea Schwartz, a Brazilian woman arrested in New York earlier this month on drug, money laundering and prostitution charges, told police she received money from at least two finance executives, including Barrett's Robert Voccola.
In a statement made public yesterday by Manhattan prosecutors, Schwartz said Voccola, who oversees $1.7 billion for New York-based Barrett, gave her $50,000. Voccola declined to comment when reached by telephone.
"We've been made aware of the situation and have suspended Mr. Voccola pending an internal investigation," Russ Vernon, chief operating officer for Barrett, said in a telephone interview.
Northwest to abandon DC-10s in October
Northwest Airlines Corp.
, the last major U.S. passenger carrier flying DC-10s, will speed up the retirement of the final 12 of the planes and replace them with newer
Airbus SAS
and
Boeing Co.
jets to reduce costs.
Northwest has operated DC-10s since 1972 in the United States and on routes across the Atlantic and Pacific oceans. All of the jets will leave Northwest's international fleet by Oct. 31.
---
BUSINESS PULSE