U.S. WOMEN'S OPEN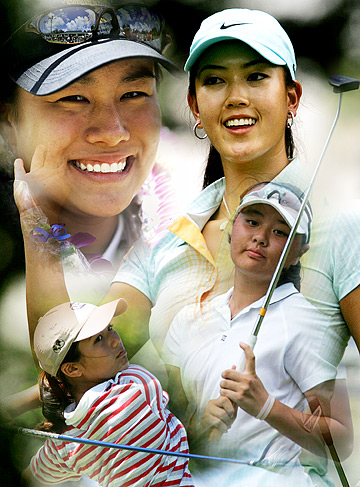 PHOTO ILLUSTRATION BY DAVID SWANN / DSWANN@STARBULLETIN.COM
Hawaii golfers Stephanie Kono, clockwise from top left, Michelle Wie, Ayaka Kaneko and Kimberly Kim will play at the U.S. Women's Open at Newport Country Club in Rhode Island tomorrow.
Hawaii kids Open up
Wie, Kono, Kim and Kaneko play this week in Rhode Island
NEWPORT, R.I. » Ayaka Kaneko moved to Hawaii to become the best golfer possible. Kimberly Kim left the islands for the same reason. Michelle Wie thought about doing the same, but decided to stay.
Somehow, along with fellow Hawaii teenager Stephanie Kono, they've all ended up here -- 5,000 miles away from home and in the field of the U.S. Women's Open.
All four tee it up tomorrow in the first round at historic Newport Country Club.
Other states have had as much young talent hit the big stage all at one time, but not often. It is unprecedented for Hawaii; veteran USGA official Mary Bea Porter couldn't think of a previous year when even four adults from Hawaii made it to the Open.
Wie, the only one of the four not making her debut in this most prestigious of women's golf events, finished tied for 23rd last year after going into the final round tied for first. The 16-year-old Punahou School student is still looking for her first win since turning pro last year.
It could come this week, but only if her putting improves from recent mediocre performances with the flat stick that cost her strokes at the LPGA Championship and the men's U.S. Open qualifier.
"I feel like every putt I make, every putt I miss, every putt that goes around the toilet bowl and every putt I don't make, it's one step closer to being a better putter," Wie said.
The other three Hawaii players will focus on making the cut and see where that takes them. Since they don't hit the ball as far as Wie or many of the other pros, that could prove to be a challenge; possible rain showers won't affect the experienced players and the long bombers as much as the kids still developing their length off the tee.
Wie and her family, father B.J. and mother Bo, won't leave Hawaii now. Michelle has only one more year at Punahou School. But it was considered at one point, Wie said.
"Oh, definitely," Wie said at yesterday's news conference. "I was thinking that, it's just a long travel from Hawaii to the mainland. But that would be giving up my other life. That would be giving up my friends. That would be giving up my 16-year-old life, and I don't want to do that. If I can have both lives ... I've been doing fine up to now. Of course it enters my mind a lot of times, but I never went through with it."
Wie probably thought about it during yesterday's nine practice holes with Kim, who was born in Hilo and lived in Pahoa until recently. The youngest player in this year's tournament at 14, Kim will be a sophomore in high school in the fall -- but not at Waiakea, where she went for most of last year.
The Kim family moved from the Big Island to the big continent so Kimberly could play in more big tournaments.
"It was a family decision, but I'm really happy with it. I miss Hawaii, but I think I'm getting better (at golf)," said Kim, who is coming off last week's runner-up finish at the U.S Women's Amateur Public Links in Pueblo, Colo. "This makes travel a lot easier. We can go by car to a lot of places."
The Kims lived in Temecula, Calif., last spring and Kimberly went to Linfield Christian Academy (the alma mater of University of Hawaii kicker Dan Kelly and former UH kicker Eric Hannum) for a quarter. They soon moved to Arizona, which gives Kimberly even more range for competition.
"And I wasn't getting better (at golf) there," she said.
A coaching change helped, too. Her new mentor is Kene Bensel.
"I used to have an inside swing and hooked it a lot," Kim said. "I hit a lot straighter ball now and my backswing is better."
JAPAN PRODUCES some very good golfers. But when Katsumi Kaneko's daughter, Ayaka, got serious about the game four years ago, the former Chunichi Dragons second baseman decided it was time for him to get serious about her development.
"The situation in Japan is not as good for her. You can only get 40-50 minutes at a time at a driving range, the golf courses are all far apart, and the traffic is so bad," the father said.
With his friend, Japan baseball great Wally Yonamine -- his former manager and also an icon in Hawaii -- helping to ease the transition, the Kanekos moved to Hawaii. Kaneko opened a senior care project in Kaimuki, similar to businesses he owned in Hong Kong.
Katsumi knew of and respected David Ishii, a superstar pro golfer in Japan and recent Hawaii Golf Hall of Fame inductee from Kauai. When Ishii agreed to coach Ayaka, Katsumi's plan fell into place.
"In Japan, I couldn't practice every day," said Ayaka, 16, who will be a junior at Sacred Hearts this year. "My goal is to be a professional golfer, and I have a better chance of reaching that goal being in Hawaii."
Ishii's calm style is just right for Kaneko.
"He told me to make sure I stay relaxed when I play," Kaneko said. "That's very important for me. I get a little nervous sometimes."
Ishii couldn't be here this week, but Kaneko's father will be right with her to calm her down. He is caddying for her.
"It's a hard job," he said. "For a very, very lucky father."
U.S. Women's Open
Where: Newport, R.I.

When: Tomorrow-Sunday.

Course: Newport Country Club (6,594 yards, par 71).

Purse: $3.1 million.

Winner's share: $560,000.

Television: ESPN (Tomorrow-Friday, 8 a.m.-noon; Monday, if necessary, 6 a.m.-playoff conclusion) and NBC (Saturday-Sunday, 9 a.m.-noon).

Last year: South Korea's Birdie Kim holed a 30-yard bunker shot on the final hole for an unlikely birdie and a two-stroke victory over teenage amateurs Morgan Pressel and Brittany Lang. Kim finished at 3-over 287 at Cherry Hills in Colorado.

Last week: South Korea's Jeong Jang won the Wegmans LPGA for her second tour title, beating Paraguay's Julieta Granada by a stroke. Jang, the eighth South Korean winner this year, also won the 2005 Women's British Open.

Notes: Annika Sorenstam, the 1995 and 1996 champion, is winless in eight starts since opening the season with a victory in the MasterCard Classic. Last year, she won six of her first nine starts and finished with 10 victories in 20 tournaments. ... Michelle Wie received a special exemption into the tournament. She also will play in the HSBC Women's World Match Play Championship next week in Gladstone, N.J., and the PGA Tour's John Deere Classic the following week in Silvis, Ill. ... Karrie Webb won the first major of the season, the Kraft Nabisco, and lost a playoff to Se Ri Pak in the McDonald's LPGA Championship. ... Newport Country Club, one of the USGA's five founding clubs, was the site of Tiger Woods' 1995 U.S. Amateur victory. William Davis, the club's first professional, designed the first nine holes that opened in 1894, Donald Ross added the second nine in 1915 and A.W. Tillinghast did extensive renovations in 1923. ... U.S. Open winner Geoff Ogilvy received $1,225,000 from the $6.8 million purse at Winged Foot two weeks ago, more than twice the women's figures. ... The 2007 tournament will be played at Pine Needles in Southern Pines, N.C., and the 2008 event is set for Interlachen in Edina, Minn.