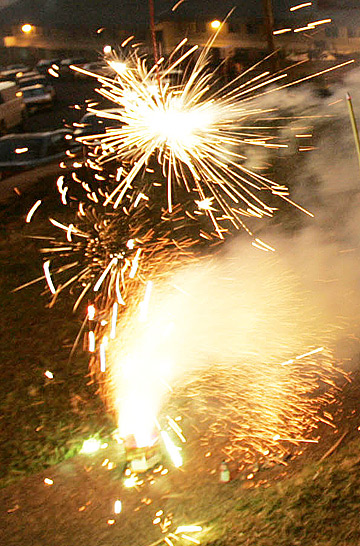 STAR-BULLETIN / DECEMBER 2005
PLAYING WITH FIRE(WORKS)
Firefighters worry about dry summer brush as fireworks go on sale tomorrow for July Fourth
With the first two major brush fires breaking out on Oahu yesterday, Honolulu firefighters are taking precautions against more of them from fireworks during the Fourth of July.
"There are usually the most brush fires during the Fourth of July season because of the drier brush," said Capt. Kenison Tejada, Honolulu Fire Department spokesman, as vendors prepared to start selling fireworks tomorrow for the July Fourth holiday.
"The brush may not be as dry as last year, but there is still potential for bigger fires," Tejada said.
Yesterday, firefighters were busy at two brush fires.
A fire near the Kapolei archery range burned three acres about 3:45 p.m., causing smoke that disrupted traffic on Fort Barrette Road. At an earlier blaze, firefighters arrived at the Waialua Sugar Mill about 3 p.m. in time to stop the fire from reaching a nearby fertilizer storage, Tejada said.
According to Tejada, there were 992 brush fires on Oahu in 2005, with many of them during the Fourth of July holiday. Fire officials said fireworks may easily ignite the dry brush during this time of year.
Injuries due to the use of fireworks have declined statewide to 86 in 2005 from 115 in 2004. Of those injured last year, 61 percent were 14 years old and younger.
"Parents often get fireworks for their children, but they don't always supervise them," said Battalion Chief Lloyd Rogers of the HFD Fire Prevention Bureau.
Common injuries from fireworks include burns to the hands and fingers, eye injuries and face injuries.
With the sale of fireworks beginning tomorrow, Tejada advised people to use them responsibly.
The sale starts at 12:01 a.m. tomorrow and goes until 9 p.m. Tuesday throughout the islands at all licensed retail sites.
But people are still limited to getting nonaerial fireworks permits at satellite city halls despite a recent law signed by Gov. Linda Lingle that allows permits and fireworks to be sold at the same location.
"We're trying to write guidelines for this process before the new year," Rogers said. "The county governments may authorize vendors."
The city and HFD are still "kicking around" the idea for Oahu vendors to sell permits and fireworks, Rogers said.
The bill, which was signed in May, will help make encounters with vendors running out of fireworks less likely for those who bought permits.
Each permit costs $25, which is already thought to be an inconvenience by some, Rogers said.
The bill will help the fire departments account for fireworks retailers' inventories and sales, Rogers said.
For the Big Island, the law will go into effect for this July Fourth weekend.
So far, only one vendor in Hilo will be selling fireworks permits this holiday, which is not as popular as New Year's Eve, said Chief Darryl Oliveira of the Hawaii County Fire Department.
The department favored the bill, as many residents must commute more than 100 miles to purchase permits.
"Now, I can drive down the street to buy a permit and don't have to worry about wasting all that gas," said Hilo resident Clifford Kapono.
A two-year pilot program in which Big Island vendors sold permits and fireworks proved the need for such a law, Oliveira said. The pilot program did not lead to an increase in fireworks sales on the Big Island.
FIREWORKS NO-NOS
It is unlawful to:
» Remove or extract pyrotechnic contents.
» Throw any ignited fireworks from a moving vehicle.
» Set off fireworks in the vicinity of health-care facilities and animal-care facilities.
» Set off fireworks by schools.
» Set off fireworks on public ways, in parks, cane fields or places of worship.
» Set off, ignite, discharge or otherwise cause to explode any fireworks within 500 feet from any Waikiki hotel.
» Offer for sale, sell or give any fireworks to minors, and for any minor to possess, purchase, set off, ignite or otherwise cause to explode any fireworks. Parents or guardians may allow the minor to use fireworks while under the immediate supervision and control of an adult.
» Possess or use aerial fireworks unless the fire chief issues a public display permit.
---
FIREWORKS SAFETY
A few safety tips from the Honolulu Fire Department:
» Use only approved fireworks from a licensed retail outlet that has posted their retail license at its sale site.
» Always read and follow all warnings and instructions listed by the manufacturer.
» Never point or throw fireworks at a person, building or animal.
» Never ignite fireworks indoors.
» Never shoot fireworks in metal or glass containers.
» Have a garden hose or a bucket of water ready in the event of a fire.
» Never give fireworks to small children.