| | |
| --- | --- |
| | Newswatch |
---
Lab School fund raises $40,100 so far
Donors have given $40,100 to the University Laboratory School Fire Recovery Fund as of yesterday morning.
The Manoa school sustained $6.5 million in damage from an arson-caused fire.
Contributions are still being accepted online at www.uhf.hawaii.edu; by phone at 956-8849; or by mail to the University of Hawaii Foundation, P.O. Box 11270, Honolulu 96828-0270.
| | |
| --- | --- |
| | Police, Fire, Courts |
---
BOAT FIRE EXTINGUISHED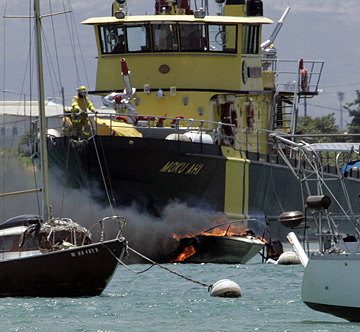 LEEWARD OAHU
Suspected Subway robber is arrested in Maili
Police arrested a 40-year-old man suspected in the gunpoint robbery of two Subway sandwich shops over the weekend.
Acting on tips received via CrimeStoppers, police went to the man's home in Maili about 4 p.m. Monday and arrested him for investigation of two counts of first-degree robbery.
Police believe he is the man who was armed with a gun when he robbed the Subway in the Waimalu Plaza Shopping Center on Saturday and the same man who fired a gun during the robbery of the Subway at the Aiea Commercial Building on Sunday night.
HONOLULU
Male suspect sought in 2 purse snatchings
Police are looking for a man suspected in two purse snatchings on June 21.
The man, who appeared to be in his 20s, allegedly grabbed the purse of one of two women walking by a bus stop in front of 810 N. Vineyard Blvd.
He then allegedly grabbed the second woman's purse and pushed her to the ground, police said.
The man was seen running across North Vineyard Boulevard.
The man is described as 5 feet 10 inches tall, weighing 160 to 180 pounds, with brown eyes and brown complexion. He was not wearing either a shirt or shoes, and wore long blue denim pants.
Anyone with information is asked to contact CrimeStoppers at 955-8300 or *CRIME on a cell phone.
NEIGHBOR ISLANDS
3 charged in robbery of Big Island man
A man and two juveniles were charged Saturday in connection with the robbery of a 34-year-old man at Kailua Pier the day before.
Patrol officers arrested the three Friday shortly after receiving the report. Officers also recovered several of the items taken from the victim.
Gerald Yamasaki, 26, no permanent address, was charged with robbery and theft. His bail was set at $7,000. Yamasaki was unable to post bail and remains in custody at Hawaii Community Correctional Center in Hilo. Yamasaki also was arrested for promoting dangerous drugs after he was found with crystal methamphetamine, police said. The drug case is pending.
The two juveniles were charged with robbery, curfew violation and being beyond parental control. They were transported to the Hawaii Youth Correctional Facility on Oahu.
Police ask anyone with information about this case to call Detective Mark Haggerty of the West Hawaii Criminal Investigations Section at 326-4646, ext. 277; the police nonemergency number 935-3311; or CrimeStoppers at 329-8181 in Kona or 961-8300 in Hilo.