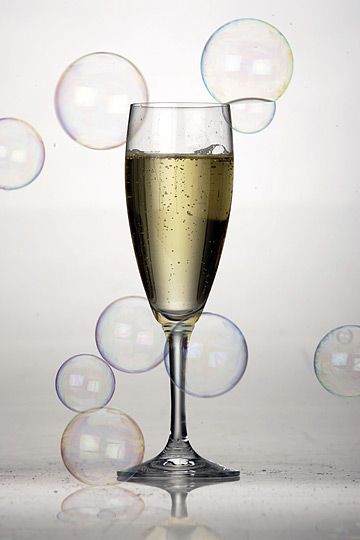 NEW YORK TIMES
A toast to the toast
How did toasting begin? Why the name toast? And what should you do if asked?
THE BEST WEDDINGS you've ever attended were probably as different as the blossoms chosen for the bridal bouquets. So what made them stand out in your memories? Most likely, it was the elements that bound them to weddings throughout the centuries -- respect for the traditions of family, religions, cultures ... all acknowledgments that something larger was going on than a simple exchange of promises.
Among those traditions is the wedding toast -- worth a close look when designing a memorable affair. Even if you're not involved in wedding planning, reading about wedding toasts can be amusing.
How did toasting begin? Why the name toast? And what should you do (and definitely not do!) when called upon to lift your glass and wish the newlyweds a blessing-filled future? Read on.
Looking WAY back
In the 17th century, European nobles who raised their glasses and wished each other well (a darned good definition of "toasting," that) began putting a little crouton into those glasses. Why, I can't document. Possibly they needed a snack with their drink, or they thought the toast added to the drink's flavor or, more likely, the last person to receive the compliments got a treat when he drained his glass.
Don't think too much about that, just trust me when I say that although people made similar salutes in ancient Greece and Rome, they didn't know they were toasting (being illiterate in English), so those toasts didn't count. Etymologists credit the Brits with the word's origin.
A notable, and possibly even true, anecdote is historically significant. Isaac Bickerstaffe, himself a Brit, wrote in the 18th-century newspaper the Tatler that when a celebrated beauty was in the Cross Bath, a "half-fuddled" admirer took a glass of the water she stood in and drank to her health, swearing that though he "liked not the liquor, he would have the toast!"
The fellow's friends stopped him from plunging into the bath and accosting the unnamed beauty, but the story helps us date the first use of the word "toast" for a person (as in the "Toast of the Town").
Another British writer reported that as early as 1682, toasting took place before weddings, when the bride's and groom's parents (no kids allowed) met to make the arrangements. As they reached an agreement on terms, they sealed the match with toasts from a bottle of whiskey. Their children probably didn't feel left out because bachelor parties, during which all sorts of toasting rituals were observed, were held even then.
For even earlier Britons, the sharing of wine and food was the wedding ceremony. For 30 days before they became man and wife, the couple drank mead as their nuptial rites. The word "bridal" came from that drink -- the "bride's ale."
My favorite historical tale involves a toast offered on the occasion of an A.D. 450 feast, during which a lovely Saxon woman named Rowena wished her British king, Vortigern, good health. Her "Louerd King, waes hael" so enchanted Vortigern that he made passionate love to her, bargained with her father for her hand in marriage, then married her -- in that order, and all on the same evening.
Ah, the power of a perfect toast, delivered by a beauteous babe!
Today's toasts
Enough of yesterday. Toasting traditions continue, and here's a little primer to help you navigate the perilous toasting seas of today's weddings.
First, where and when might toasts be offered? Before and after the ceremony, abundant opportunities arise.
Often, the wedding rehearsal dinner offers a more relaxed and unstructured opportunity for toasting than does the post-ceremony reception. If time for toasting at the reception is short, or if someone is intimidated by speaking at a larger gathering, the rehearsal dinner is ideal.
Bridal showers and, yes, even bachelor parties provide outlets for even more uninhibited toasting. These often are more "roasts" than "toasts," and hopefully, the participants will get the lame jokes about past loves and the smutty honeymoon stories out of their systems so that the wedding reception can remain more pristine.
It's at the actual reception that traditions are followed most closely.
The best man usually offers the first toast, welcoming all and saluting the wedding couple, attendants, family and guests. Quite often, the bride's father follows, with the groom then toasting his bride, offering gratitude to her parents, perhaps, and to friends who might have brought them together.
Next, the bride might respond to her husband's toast with one to him. And finally, members of the wedding party, family and friends will be invited to present their toasts.
All rise and lift their glasses when joining in the toast -- except for those being toasted. The "toastees" don't participate. When the bride is toasted, for example, she sits, looks fetching, and graciously acknowledges all those compliments and good wishes with a smile and a humble nod.
And last -- what to toast with? This one's easy. Champagne, or at least sparkling wine if true French champagne is economically out of reach. There are other traditional toasting drinks, of course (as previously mentioned, mead, ale, wine and bath water), but champagne rules.
Oh, all right then! Glasses of festive fruit punches and nonalcoholic drinks transfer wedding blessings every bit as well.
A great toast is ...
Heartfelt. Sincere. Egoless. Tasteful. Brief. That's it.
It may also be funny, sentimental (the father of the bride has just this one opportunity to speak tenderly about his "little girl") and inclusive of family traditions (mazel tov! ... banzai!), but the above adjectives are key.
Heartfelt and sincere: Without heartfelt emotions, toasts are just about drinking. Guests expect expressions of love and gratitude, and as long as toasts don't become super-schlocky, those wishes are what weddings are all about. Sincerity is also treasured, so remember that ancient saying, "If you can't say anything nice about your new sister-in-law, don't say anything at all." It's easy to detect dislike or jealousy when the kind words slide through clenched teeth.
Egoless: It isn't about you, your importance to the groom, your cleverness with words, your zany sense of humor. You're toasting the main characters here. Focus!
Tasteful: Not that it has to be bland and boring, but a toast shouldn't hurt, offend or embarrass those who have entrusted you with this small part in their celebration.
In a Newsweek column, Rabbi Marc Gellman described disastrous affairs in which the masters of ceremonies offended everyone in the room while the newlyweds watched the carnage with wan smiles. The rabbi guessed that the cause was usually an emcee's drunkenness, attempts to be funny, or both.
"Being successfully sober is much easier than being successfully funny," Gellman wrote, "so unless you are you are professionally hilarious, like me, my advice is to go for the tender personal toast over the potentially funny but usually tasteless toast."
He also warned about extemporizing: "Write it out and read the damn thing. ... What you lose in spontaneity, you will gain by not dissolving into a pool of sobbing incoherent goo, or saying something you just thought up that minute which will make the bride and groom hate you for the rest of their lives."
Brief: The word is subjective, but also essential. One reference I found mandated that the ideal wedding toast be exactly four minutes long. That toast was the formal one in which the honored "Friend of the Family" offered the bride sage advice on wifely virtues and such, with some allowance for humor.
Old-fashioned advice, to be sure, but brevity is much appreciated. If your toast runs more than a single-spaced half-page, cut it down. Anything longer and guests will lose circulation in their uplifted toasting arms and begin muttering under their wine-scented breath.
This toasting guide ends now with some words of Martin Luther that would fit nicely into a wedding toast: "There is no more lovely, friendly and charming relationship, communion or company than a good marriage."
To the bride, the groom and the toaster!