---
FAST FACTS HAWAII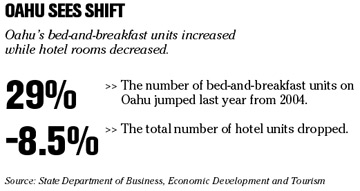 ---
HAWAII
Deb's, others snag commissary deal
The federal agency that operates grocery stores on military bases has selected eight new local companies to do business with.
Supplying products to the Defense Commissary Agency's Hawaii stores for the first time will be Akamai Pacific (Big Island Delights), Fritz's European Bakery, Deb's Ribs & Soul Food, Wong's Meat Market, Sugarmill Cookies, Hawaiian Fudge, PacifiKool and Poppi Co.
New items include frozen prepared meat, ginger syrup, island-style lollipops, European bread and organic guacamole.
Blake Baird joins A&B's board
Alexander & Baldwin Inc.
has expanded the size of its board of directors to nine members from eight with the addition of W. Blake Baird.
Baird, who also will be on the audit committee, is president and a director of San Francisco-based AMB Property Corp. AMB acquires, develops and operates industrial property throughout North America, Europe and Asia.
[HAWAII INC.]
NEW JOBS
>>
Aloha Airlines
has appointed
Capt. R. Peter Clark Jr.
flight operations vice president and operations director. He will serve as operations liaison to the Federal Aviation Administration and direct the airline's system operations control and flight operations administrative staff personnel.
» Castle & Cooke Realty Inc. has hired Margo Munden as a Realtor associate. She most recently worked for Nakamoto Realty.
» Kahala Nui has hired Terence Fowler as assistant executive director. He will be responsible for overseeing plant operations, housekeeping and resident services. He has more than 25 years of experience in management and human resources.
» KGMB-9 has appointed Keahi Tucker co-anchor of its weekday 6 p.m. and 10 p.m. newscasts. He once served as a reporter for the station, then worked on the mainland.
» Hawaiian Airlines has appointed Janis Saito Bumgarner senior director, labor relations. She will be responsible for maintaining relationships among the airlines' six labor groups and administering the contracts of its largest union group. She previously served as a flight attendant and instructor for the company.
» C.M. Bidwell & Associates has hired Orm Limpisvasti as vice president in charge of marketing and client relations. He previously served as a consultant for various life science companies in the San Francisco Bay area.
» Benchmark Hospitality International has appointed Mike Wilkins sales and marketing director for the Turtle Bay Resort. He most recently served as a senior executive with the Centennial Service Group in Atlanta and has more than 30 years of experience in the hospitality industry.
AWARDS
» The Hawaii Aloha Chapter of Certified Residential Specialists has designated the following Realtors as certified residential specialists:
Barbie Y. Hee, Primary Properties Inc.
, Honolulu;
Alan Kaufman, Equity One Real Estate Inc.
, Pukalani, Maui;
Chickadee Moniz, Abe Lee Realty LLC
, Honolulu; and
Laura Pamatian, Whaler's Realty Inc.
, Lahaina, Maui.
---
NATION
J. Crew price beats expectations
NEW YORK »
Shares of J. Crew Group Inc.
, the New York-based preppy clothing retailer, priced late yesterday at $20 per share, above the expected range. J. Crew shares are set to trade today on the New York Stock Exchange under the symbol "JCG."
In an earlier regulatory filing, J. Crew said it had expected to sell the 18.8 million shares at an estimated range of $15 to $17 each. With the strong price, the company will receive net proceeds of $351.6 million and will use the money to redeem its preferred stock.
The timing of the public offering of J. Crew isn't exactly the best given worries about a consumer spending slowdown. But the hope is that investors will focus on one tangible amid the uncertainty: Millard Drexler, the company's CEO, known as the fashion industry's merchant guru.
Warner investigation clears exec
Time Warner Inc.
, the world's largest media company, said an investigation found no evidence that Chief Financial Officer Wayne Pace misused company money to help a woman accused of running a prostitute ring.
"We conducted a review assisted by outside advisers and found no evidence of illegal conduct by Mr. Pace or any misuse of corporate assets," Time Warner spokesman Ed Adler said yesterday in an interview.
The woman, Andrea Schwartz, had said her luxurious lifestyle was made possible by several men including Pace, the New York Daily News reported on June 17, citing an interview with her at the Rikers Island jail. Schwartz was being held on prostitution and drug charges, the Daily News reported then. She denied being a prostitute, the Daily News said.
Intel Corp. selling troubled division
SACRAMENTO, Calif. » Working to regain its financial footing as a chip-making colossus,
Intel Corp.
said yesterday it's selling a troubled mobile microprocessor division for $600 million to
Marvell Technology Group
of Santa Clara.
Shedding the unit, which employs an estimated two dozen workers in Folsom, is the first of two expected sales of underperforming assets by Intel, the world's leading chip maker. The transaction is expected to close in four to five months.
The mobile processor division reportedly generates about $100 million in revenue a year, just one-quarter of 1 percent of Intel's 2005 sales of $38.8 billion.
---
BUSINESS PULSE