---
FAST FACTS HAWAII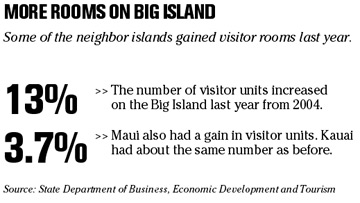 ---
NATION
Low-level Enron exec gets 2-year probation
HOUSTON » Like Enron Corp. founder Kenneth Lay and other colleagues, Larry Lawyer emerged from the company's sprawling scandal a convicted felon.
But the former low-level Enron finance executive who pocketed tens of thousands of dollars in kickbacks won't see a prison cell.
Lawyer was sentenced yesterday to two years' probation in what could end up being the lightest punishment faced by Enron felons, including Lay and former Chief Executive Jeffrey Skilling.
Lawyer faced up to three years in prison and a fine of up to $250,000 for filing a false tax return in 2000 that didn't note his kickbacks as income.
"This was a tax case and not an Enron fraud case," his attorney, Robert Sussman, said.
U.S. District Judge Kenneth Hoyt noted that Lawyer was a minor player caught up on the fringes of fraud. The judge did not assess a fine because Lawyer gave the amount he received in kickbacks -- nearly $79,500 -- to a fund for unemployed former Enron workers.
'Grand Theft' maker subpoenaed
NEW YORK » Video game maker
Take-Two Interactive Software Inc.
said yesterday it has received two subpoenas from the Manhattan District Attorney related to hidden scenes in the popular video game "Grand Theft Auto: San Andreas."
The documents subpoenaed date back to October 2001, and are connected to whether company officers and directors had direct knowledge of the secret scenes, commonly referred to as "hot coffee."
The district attorney was also seeking compensation documents linked to current and former officers and directors as well as information about acquisitions in 2005, partnering arrangements and earnings results.
Internet firms to fight child porn
In the face of government pressure, a group of Internet companies is undertaking a cooperative effort to help combat child pornography online.
The group, organized last week by AOL, includes Yahoo, Microsoft, Earthlink and United Online. It will initially pay $1 million for a new project of the National Center for Missing and Exploited Children that will develop systems meant to help identify child exploitation on the Internet and refer cases to law enforcement.
The first project is to create a central database that could help identify images of child pornography sent by e-mail.
Disney loses as court turns away Pooh case
Walt Disney Co.
, the second-largest U.S. media company, lost a round at the nation's highest court in a 15-year-old legal feud with the company that owns the merchandising rights to Winnie the Pooh characters.
The Supreme Court, without comment, turned away an appeal by Clare Milne, granddaughter of Pooh creator A.A. Milne. Clare Milne and Disney have been working together to wrest rights away from Stephen Slesinger Inc., which traces its stake in the Pooh characters to a 1930 agreement with A.A. Milne.
Disney was seeking to end its obligation to pay royalties to Slesinger. In a separate case not directly affected by today's action, Slesinger contends Disney underpaid royalties by hundreds of millions of dollars over the past two decades.
Intel hopes new chip will win back sales
Intel Corp.
, the world's largest computer-chip maker, released a new processor for servers that runs faster and consumes less power as the company seeks to win back sales lost to
Advanced Micro Devices Inc.
Intel Vice President Tom Kilroy showed a system based on Intel's new chip working in competition against an Advanced Micro chip-based machine at a presentation yesterday in San Francisco.
Intel's chip, a new version of its Xeon product known as Woodcrest, marks the first of three new models that Chief Executive Paul Otellini is rushing out after gains by Advanced Micro forced his company to less than 80 percent of the market for the first time in more than four years.
WORLD
Fraud found at China state bank
BEIJING » Auditors have found fraud cases totaling $1.1 billion at the Agricultural Bank of China, one of the country's biggest state-owned commercial banks, the government announced yesterday.
Auditors have uncovered a string of cases of fraudulent lending and other abuses at Chinese state-owned banks as they undergo scrutiny in preparation for selling shares to private investors.
At the Agricultural Bank, auditors found 51 cases of criminal wrongdoing involving 157 people during an investigation of the bank's 2004 financial statements, the National Audit Office announced.
Most of the fraudulent loans were for auto and real estate financing, the report said. It said some employees colluded with outsiders to defraud the bank.
Auditors also found $1.8 billion in improperly handled deposits and $3.5 billion in illegal loans, the office said.
a


---
BUSINESS PULSE