---
FAST FACTS HAWAII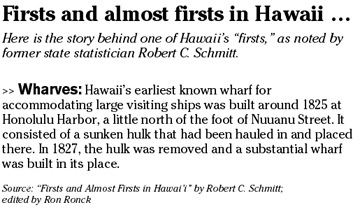 ---
NATION
Flexibility valued in retirement jobs
NEW YORK » A majority of baby boomers and early retirees believe that flexibility -- being able to work part time, or a week here and there -- is the most important quality in determining their "ideal job" in retirement.
This was followed by the desire for an employer they could stay with for a while, as opposed to job hopping, and an employer who would give them independence and autonomy in their work, according to a survey by RetirementJobs.com, an Internet job information site.
The results came from an online survey of more than 400 job seekers age 50 and over, followed by interviews with a sample of the respondents.
Other attributes that older workers said would attract them to jobs in retirement included the ability to provide a useful service and cash compensation.
Getting revenge with your boss
After spending years taking orders from the most incompetent, inconsiderate and perhaps idiotic boss, you may win a much-needed vacation for your endurance.
Working for America, the community affiliate of the AFL-CIO, recently launched the My Bad Boss contest at www.workingamerica.org/badboss/.
Contestants can post descriptions of their worst bosses and the winner is determined by a popular vote. The grand prize is a one-week vacation to anywhere in the United States, Canada, Mexico and elsewhere around the world plus $1,000 round-trip airfare.
So far, Graphics Girl in Pennsylvania and Wounded Healer of Michigan lead the entries. The contest closes Aug. 9.
"When you read the newspaper, you hear that unemployment is down and the economy is good, but we wanted to get working America talking," said Karen Nussbaum, director of Working America. "We wanted to fill out the picture of what is going on the workplace."
Ford is most talked-about brand
What companies do you gab about to your friends? A recent study from the
Keller Fay Group
reveals which brand is most talked about and which one receives the most positive word of mouth.
Ford Motor Co., which also ranks as the fifth largest U.S. company on the Fortune 500, is the most talked about brand followed by Verizon Communications Inc., Dell Inc. and Cingular.
The automaker, however, doesn't make the top 10 list for the most positive word of mouth. Its competitor, Toyota Motor Corp. took the top spot on that list.
Despite much negative press, Wal-Mart Stores Inc., the world's largest retailer, received the second most positive word of mouth.
The Keller Fay Group surveyed 700 consumers each week since April, and polled data from 11,000 conversations.
---
BUSINESS PULSE