| | |
| --- | --- |
| | Newswatch |
---
MARCHING AGAINST DEVELOPMENT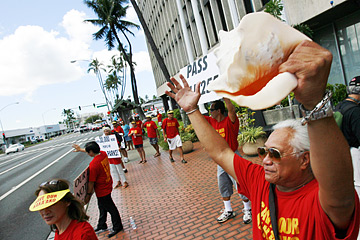 $7.7 million grant expands joint cancer research program
The Cancer Research Center of Hawaii and Tripler Army Medical Center have expanded a research alliance under a three-year grant of $7.7 million from the Department of Defense.
The funding will support a basic laboratory research program that will investigate cancer cell metastases and focus on discovery and development of new anticancer agents and study of quality-of-life issues related to cancer survivorship.
Dr. Carl-Wilhelm Vogel, Cancer Research Center director, and Maj. Gen. Gail Pollock, commander of Tripler, said they look forward to a significant increase in a long and successful collaboration between the institutions.
School donations top $35,000
The donation total to help the University Laboratory School rebuild after a major fire has topped $35,000.
As of Friday, the University of Hawaii Foundation had received $35,440.
On June 12, an arson fire caused about $6.5 million damage to the UH Lab School. Donations can be made online at www.uhf.hawaii.edu; by phone at 956-8849; or by mail to UH Foundation, P.O. Box 11270, Honolulu 96828-0270.
On vacation
John Heckathorn is on vacation. "What the Heck?" returns next Sunday.
| | |
| --- | --- |
| | Police, Fire, Courts |
---
NEIGHBOR ISLANDS
Big Isle man charged in plot to kill police
Hawaii County police charged a 37-year-old man Friday in connection with an alleged plot to kill two police officers.
Francis O. Carter, also known as "Adobo," was charged with two counts of first-degree terroristic threatening.
The threatened officers work on the department's Ice Task Force.
Carter was recently freed on $100,000 bond for pending drug offenses, police said. Yesterday he was being held at the police cellblock in lieu of $200,000 bail for the new charges until his initial court appearance.
Man hurt after jump from Rainbow Falls
A 58-year-old man was injured yesterday after he jumped from a 30-foot cliff at Rainbow Falls in Hilo, according to the Hawaii Fire Department.
About 2:42 p.m., firefighters found the man outside the water, crawling on his hands and knees and complaining of back pain. It took 16 firefighters using a long line and a basket to pull the man from the area.
The man was taken by helicopter to Hilo Medical Center.
WEST OAHU
Driver arrested after chase in stolen car
A 26-year-old man allegedly driving a stolen car was arrested yesterday after being chased for one hour from Pearl City to Wahiawa, police said.
About 12:30 p.m., a police helicopter alerted officials about a reckless driver headed to Wahiawa on the H-2 freeway near the Pineapple Road overpass, said Sgt. David Hernandez of the Honolulu Police Department. Police followed the man to Rose Place in Wahiawa, where he jumped out of a blue 2002 Toyota Highlander and started running.
Officers chased the man as he tossed away clothes carrying crystal methamphetamine, Hernandez said. After a brief struggle with police, the man was arrested on Rose Street, Hernandez said.
The man was arrested for investigation of auto theft, escaping police, promoting dangerous drugs, unlawful drug paraphernalia, reckless driving, trespassing and burglary in the first degree.